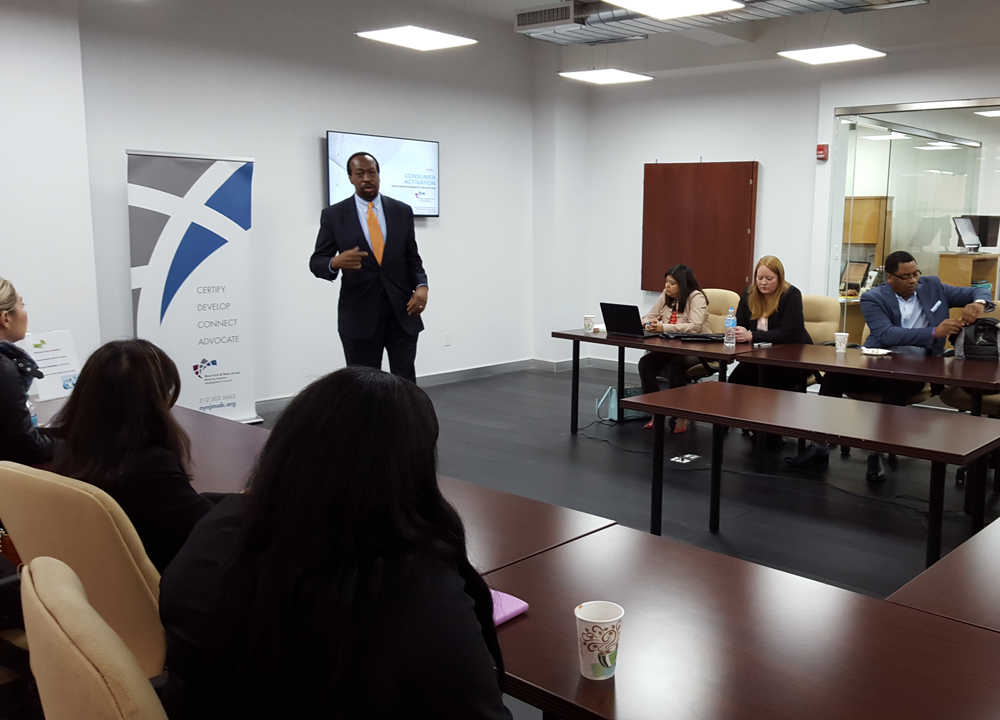 Diverse businesses (which include minority-owned, woman-owned, veteran-owned and LGBT-owned businesses) are key drivers of the U.S. economy, generating over one trillion dollars in annual sales, as well as millions of job opportunities. As a company that prides itself on an unwavering commitment to diversity & inclusion in our work force and the communities where we live and work, we seek to exemplify this commitment by leveraging our resources and expertise to increase opportunities for minority-owned businesses. In 2014, Nielsen's supplier diversity team started the Supplier Diversity Academy, which provides education and counsel to help diverse businesses prosper. These collaborations have resulted in over 200 jobs being created at minority-owned firms as a direct result of doing business with Nielsen.
To give diverse businesses the tools they need to grow, the supplier diversity team has developed a slate of workshops that tap the expertise of Nielsen's senior leaders across a variety of topics, including finance, sourcing and marketing. At these workshops and events, they share best practices and key strategies that Nielsen employs to ensure our business' success with the goal of helping diverse suppliers incorporate these lessons into their own businesses. In April 2015, for example, Jamere Jackson, Nielsen's Chief Financial Officer presented a virtual webinar where he walked diverse business owners through fundamental aspects of Nielsen's financial strategies and wins and discussed how those lessons can be transferred to small- and mid-sized businesses.
"Companies with a global presence have a responsibility to foster the growth of diverse businesses and suppliers in the communities where they work," said Lamont Robinson, vice president of supplier diversity for Nielsen. "At Nielsen, we've taken that responsibility seriously and used our unique position as a market research leader to provide diverse businesses with the tools they need to succeed in a constantly changing marketplace."
Another important aspect of the Supplier Diversity Academy is the introduction of essential market research tools that are often not available to diverse businesses. In May 2016, the Nielsen supplier diversity team partnered with our expanded verticals team and the New York/New Jersey Minority Supplier Development Council on a series of workshops designed to give an introduction to the importance of market research and Nielsen's measurement and analytics capabilities to over 900 member businesses of the council. Through these workshops, diverse business owners also learned how to leverage their unique local, multicultural perspective when looking either to grow or to collaborate with a larger company.
"Nielsen's commitment to diversity stems from its interest in promoting growth and innovation," said Paul Rossetti, managing director of expanded verticals for Nielsen and a key member of the New York/New Jersey Minority Supplier Development Council partnership. "By educating small businesses on the importance of using data to support marketing decisions, Nielsen is helping them attract and grow their consumer base."
In 2017, our supplier diversity team aims to build upon the successful mentoring and education programs already in progress in the academy by engaging with more Nielsen senior leaders throughout the company. Doing so will help the supplier diversity team achieve its goal of 10% company-wide spend with diverse businesses. This goal serves as a north star for the supplier diversity team and informs all its efforts. Reaching this goal also allows diverse businesses to thrive. When diverse businesses are prospering, they are creating jobs and enriching the communities in which they do business. We believe that Nielsen's role, as a company that also works in these same communities, is to use our resources and expertise to ensure these small businesses have the opportunity to succeed.