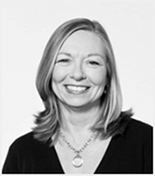 Nielsen Vice Chair Susan Whiting delivered a keynote presentation and participated in a panel session at Mobile World Congress, the world's largest mobile conference today. The event is attended by tens of thousands of people from more than 200 countries representing carriers, technology and consumer brands, and device manufacturers, among others. The topic of the keynote presentation was "Mobile in Media" and examined some of the disruptions taking place around content consumption. In this Q&A, Susan Whiting offers context on the topic and highlights some of the points she made in her presentation.
Q: Your presentation and panel session dealt specifically with the developments, disruptions and patterns as they pertain to mobile content. What do you see as a key need in the area of mobile content?
It is crucial that we make sure we're asking the right questions about mobile. For content creators, the question really is: What do you want to happen? Figuring out that answer is the key to success.
Q: Can you explain what you mean?
The most successful mobile content is action-driven—it performs a task and delivers a clear outcome that satisfies a demand. Think about some of the most widely used apps. Each one solves a problem. Google Maps, Facebook's mobile app, YouTube's app are all popular because they deliver on a need.
Q: Are all mobile users created equal? In other words, do content solutions scale on a global basis?
There are certainly some content solutions that scale in the mobile space. But a mobile user in the U.S. is generally very different from mobile users in developing markets. For example, in Africa, we see very meaningful mobile penetration and use of cell phones for monetary transactions—and these aren't on smartphones. They're doing these transactions on simple feature phones. In major developed markets, cell phones to this point have been less about transactions and more about content consumption.
Q: How do mobile devices fit into the landscape of other devices in our collective world?
Our research shows that consumers are not abandoning one platform for another—they are spending more time than ever viewing and reading content. A report we released here yesterday demonstrates this very clearly. Roughly one-third of Chinese smartphone users we surveyed online said they have actually increased their viewing of traditional TV, despite also watching video on their mobile devices.
Q: Where do you see social media fitting into the world of mobile usage?
Mobile social media networking is, without a doubt, growing on a global basis. And mobile social chatter—with its unrivaled publishing speed and reach—is affecting other media platforms as well. Conversations around TV shows, for example, can have a real-time impact on the success of those shows. There is particularly heavy use of social media during television viewing by people 18 to 24 years old. The way we think about this, and it was discussed in the session here in Barcelona, is that mobile has the ability to amplify conversations taking place, no matter what the topic. We think that presents terrific opportunity.
Q: Is it just age groups we should be thinking about when it comes to understanding mobile habits in more detailed ways?
Well, as they say, age is just a number. It's also just one data point. We have also seen strong trends across age groups, based on ethnicity, race and gender. In the U.S., for instance, we have found that African-Americans, Hispanics and Asians all spend more time on their mobile phones than whites.
Q: Lastly, why is this event important and how does Nielsen fit into a mobile conference of this nature?
Our business is understanding what people watch and what they buy—and they are doing both in the mobile space. We are in a unique position because we have the ability to understand the purchasing habits and viewing habits of people throughout their day—as they toggle back and forth between a mobile device and other platforms. As smartphones and tablets become our constant companions, understanding our complex relationships with them is the key to unlocking huge untapped potential for our clients.