There's never been a time when U.S. consumers have had as much video content to choose from as they do today. But even with myriad options—and more coming online every day—few areas of the media landscape have the power to engage consumers the way local TV does.
Amid the changing landscape of media consumption and consumer habits, the unique nature of local markets stands out as a major difference-maker when it comes to how we choose to watch TV. According to the latest Nielsen Local Watch Report, live viewing remains the most popular way to watch in primetime, but more consumers are viewing time-shifted and video on-demand content as they become more aware of these options and as media companies make more content available through them.
Across the top 25 local people meter (LPM) markets that Nielsen measures, more than one-third of all primetime ratings (34%) are driven by time-shifted content that viewers watch within seven days of their airing, and another 10 percent comes from video on-demand content.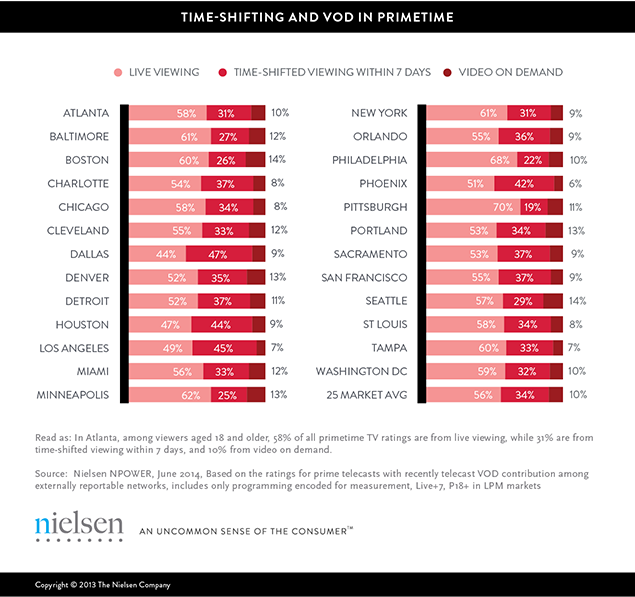 And when you take a closer look at the individual market profiles, it becomes apparent how the uniqueness of each local area plays a big role in shaping the viewing habits of consumers. Live TV viewing in primetime is most common in Pittsburgh, where 70 percent of the total TV ratings are derived from consumers watching live programming. Comparatively, less than half (44%) of the primetime ratings in Dallas come from live TV, and 47 percent of the ratings are attributed to time-shifted content. In fact, Dallas is the top market for time-shifted viewing within seven days, followed by Los Angeles (45%), Houston (44%) and Phoenix (42%). At the other end of the spectrum are Pittsburgh (19%), Philadelphia (22%) and Minneapolis (25%), where time-shifted viewing contributes much less to primetime ratings.
Video-on-demand is also an increasingly popular way to view, and in markets like Seattle (14%), Boston (14%), Denver (13%) and Portland (13%), viewers are more likely to use it to watch primetime content than the average consumer in the top 25 LPM markets.
Technology is also affecting how we watch video, as it creates even more viewing opportunities, including streaming. Smart TVs, which allow users to stream content from the web directly to their sets, have a long way to go before they become as mainstream as smartphones (72% penetration in LPM markets) or approach a tipping point like tablets (41% penetration in LPM markets), but usage is growing. Currently, 12 percent of all households in the top 25 markets have a smart TV.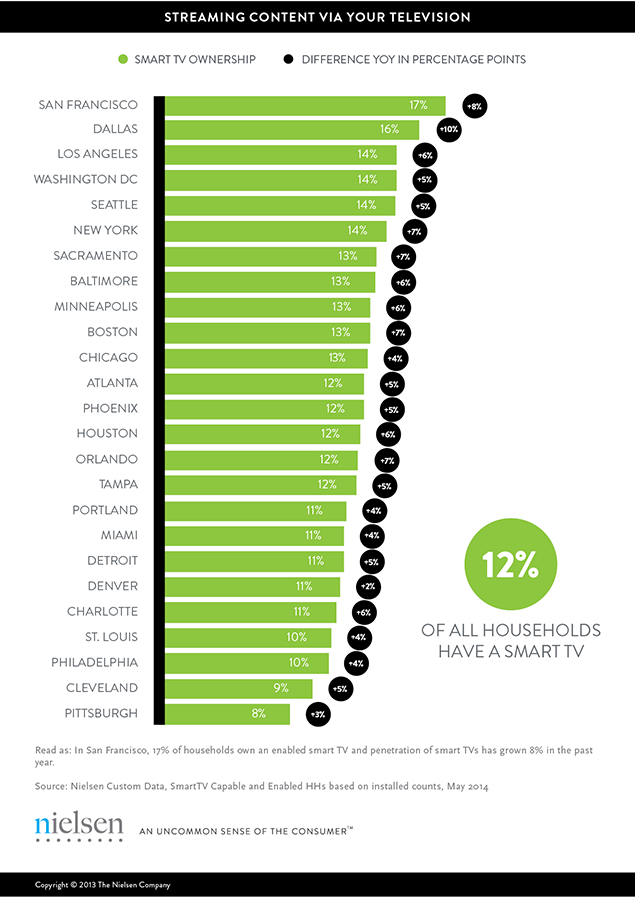 Interestingly, the data reveals that many of the markets with higher-than-average smart TV penetration (San Francisco at 17%, Dallas at 16%, Los Angeles and Seattle both at 14%) are also the markets where consumers are more likely to time-shift their primetime viewing or use video-on-demand, even though smart TVs are designed to offer consumers more options to stream content. On a year-over-year basis, smart TV ownership has grown the most in Dallas (10.2%), San Francisco (8.2%), Boston (7.3%) and Orlando (7%).