Three factors form the foundation of a successful ad campaign: Reach, resonance and reaction. Reach the right audience, and ensure your advertising resonates positively so you can generate the desired reaction. Simple–right? Wrong.
The advertising landscape is evolving at an extraordinary pace as media proliferation and technology advances create new ways of connecting with consumers. We watch videos on phones, stream music on laptops and read newspapers on tablets—sometimes all at once. Needing to reach, resonate with, and get a reaction from the right audience in a world of choice can make it difficult to decide where to allot one's advertising dollars.
While there isn't one simple rule for maximizing advertising effectiveness in such a saturated market, understanding how consumers feel about the ads served on the various media platforms they use every day is a good place to start.
The circle of influence is wide
The most credible advertising comes straight from the people we know and trust. For that reason, it should come as no surprise that more than eight-in-10 global respondents (83%) say they completely or somewhat trust the recommendations of friends and family. But trust isn't confined only to those in our inner circle, as two-thirds (66%) say they trust consumer opinions posted online—the third-most-trusted form of advertising.
"The power of digital ad formats cannot be underestimated, as they offer many advantages for achieving effective reach," said Randall Beard, president, Nielsen Expanded Verticals. "But few brands have mastered online word-of-mouth marketing techniques, the results of which can go viral very quickly. Passionate brand advocates can be powerful allies to amplify your message, but you need to give them a reason to talk. Evolve the relationship from a one-way sales pitch to a two-way conversation. And be transparent and accountable. Online brand advocates can quickly become adversaries with the power to damage credibility and reputation if things go wrong."
Owned (brand-managed) online channels are also among the most trusted advertising formats. In fact, branded websites are the second-most-trusted format, with 70% of global respondents saying they completely or somewhat trust these sites. In addition, more than half of respondents (56%) trust emails they signed up for.
Looking at two-year digital trends, trust in paid online and mobile ads has stayed relatively consistent since 2013. Almost half of global respondents say they completely or somewhat trust online videos ads (48%, no change from 2013), ads served in search engine results (47%, down one percentage point) and ads on social networks (46%, down two percentage points). About four-in-10 global respondents trust online banner ads (42%, no change) and mobile advertising (43%, down two percentage points). Just over one-third say they trust mobile text ads (36%, down one percentage point).
"Brands have been steadily increasing their digital ad spend as they get increasingly comfortable with digital advertising and measurement, but TV formats still deliver the highest unduplicated reach (i.e., the ad reaches each audience member only once) of 85%-90%," said Beard. "While digital ads can offer considerable benefits—such as precision-focused campaigns, in-flight adjustments and more creative options—moving from TV to an all-display digital plan is a bold move for any marketer. Consider a mix of both offline and online channels for the best ROI."
Trust in traditional advertising is still strong
Despite continued media fragmentation, the proliferation of online formats has not eroded trust in traditional (offline) paid channels. TV, newspapers and magazines remain trusted advertising formats. More than six-in-10 global respondents say they completely or somewhat trust TV ads (63%), up one percentage point from 2013. Slightly fewer trust ads in newspapers (60%) and magazines (58%), which fell one and two percentage points, respectively, from two years ago.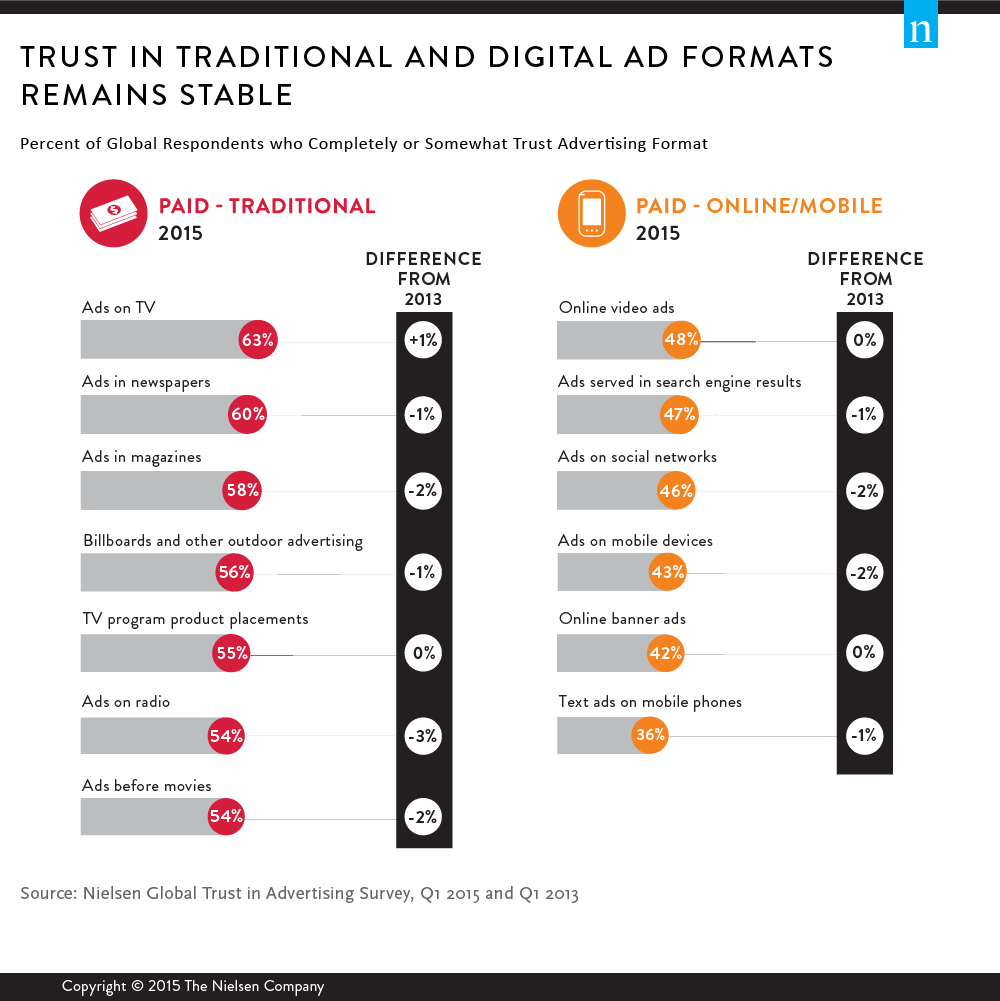 Other findings include:
Millennials show the highest levels of trust in 18 of 19 advertising formats/channels, including TV, newspapers and magazines.
Self-reported action based on advertising exceeds trust by more than double digits for ads served in search engine results, ads on social networks and text ads on mobile phones.
Humorous ads resonate most in strongly in Western markets; health-themed ads are rated highest in Latin America; and ads depicting real-life situations are most appealing in Asia-Pacific and Africa/Middle East.
High-energy/action advertising themes resonate more with younger respondents, while pets/animal- centered ads resonate more with older respondents.
For more detail and insight, download Nielsen's Global Trust in Advertising Report.
About the Nielsen Global Survey
The Nielsen Global Trust in Advertising Survey was conducted between Feb. 23 and March 13, 2015, and polled more than 30,000 consumers in 60 countries throughout Asia-Pacific, Europe, Latin America, the Middle East, Africa and North America. The sample has quotas based on age and sex for each country based on its Internet users and is weighted to be representative of Internet consumers. It has a margin of error of ±0.6%. This Nielsen survey is based only on the behavior of respondents with online access. Internet penetration rates vary by country. Nielsen uses a minimum reporting standard of 60% Internet penetration or an online population of 10 million for survey inclusion. The Nielsen Global Survey, which includes the Global Consumer Confidence Index, was established in 2005.