For most parents, their kids grow up way too fast. They transform from diaper-wearing toddler to attachment-centric first-grader to a fickle teen in what seems like no time, quickly clamoring for independence, privacy and to make their own choices.
But as young consumers grow up, so do their media habits. In fact, a Nielsen analysis found that as young viewers cognitively and developmentally change, so too do their cross-platform habits. These changes often begin to occur around eight years old, when curiosity, social interaction and specific interests begin to grow in young viewers.
Kids' media consumption across age ranges is akin to transitioning from strained peas to silverware—with distinct differences in taste, viewing and listening preference, and even WHO they're viewing with.
For instance, while more than 95% of all kids (2-17) prefer to watch traditional television to the tune of over 20 hours weekly—with Hispanic kids averaging about a half-hour more—the analysis found that older kids and teens go online on computers more, as about 29% of teens 14 to 17 years old were online via computer for at least one minute in March 2014.
And as kids progress through the 2-17 year old demo, their independence is undeniable. And what's more, the incidence of co-viewing becomes less frequent on many platforms.
On traditional TV, the analysis found that 75% of kids 2-4 co-viewed with someone else in the home, but the percentage steadily declines as children age. In fact, only 37% of teens 14-17 years old co-view with someone in the home.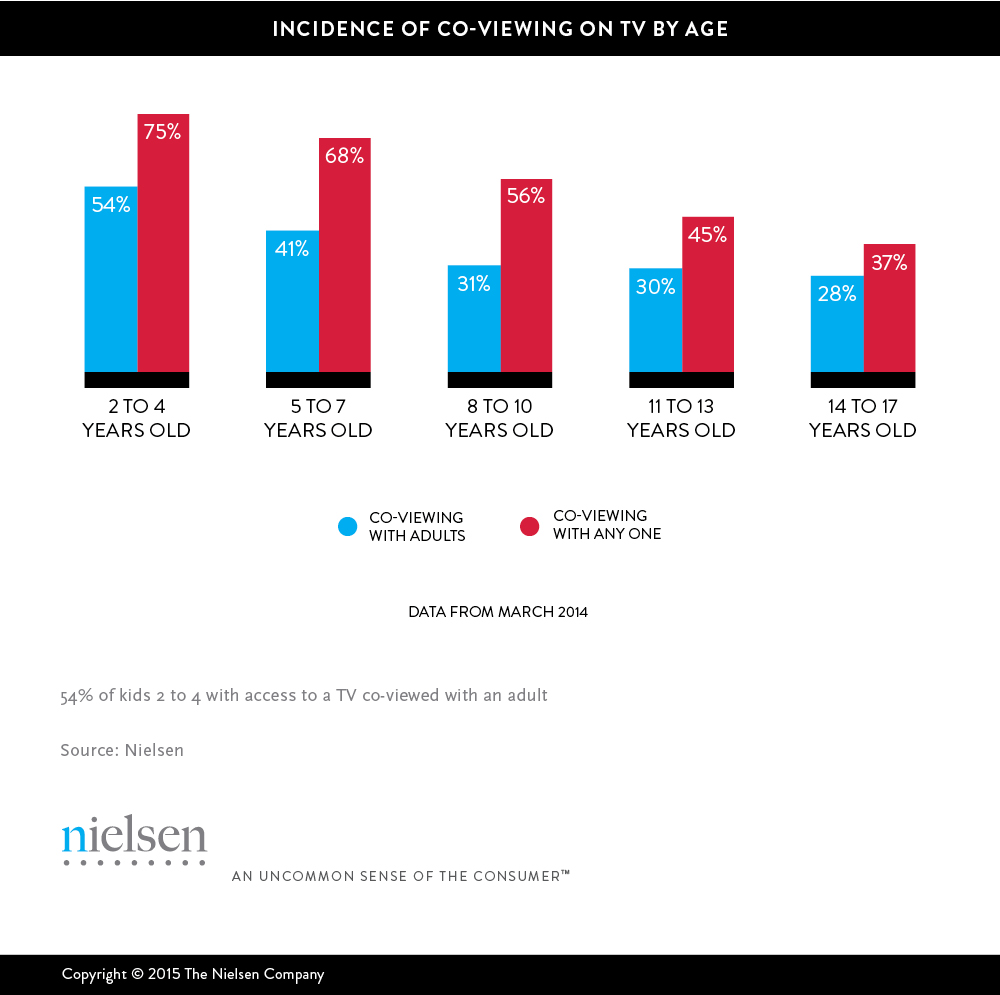 In terms of device usage, tablets are more commonly used by younger kids, who are often using someone else's device. By contrast, most 12-17 year-olds use their own smartphones. For instance, 80% of teens 14-17 years old used their own smartphone in 2014, and social networking was one of the drivers of that usage. In fact, 80% of respondents 14-17 years old with their own device said they accessed a social network, browsed the web or used apps, and 90% of this group watched videos on their devices!
But differences don't just exist among what kids see. They also exist among what they hear.
While radio usage among all kids is still near 90% across kids 6-11 and teens 12-17 years old, the content each group listens to is notably different. The analysis also found that co-listening is pervasive and influential on the type of content consumed. For example, when kids listen with adults, 39% of their time is spent jamming to the adult contemporary or contemporary hits formats. However, without this adult influence, nearly half (47%) of kids' average quarter-hour share is spent listening to these same formats.
Knowing the preferences that kids have in terms of both content and device choice can help marketers and programmers determine the best path for potential return on investment, as well as a way to reach younger consumers directly. After all, how can any parent say no to the toddler pitching a fit for the box of cereal, the latest toy or a new video game?
Methodology
Television and computer data on media consumption is collected from the Nielsen National People Meter (NPM) panel and is a representative of U.S age, race and ethnic demographics. Mobile device media consumption was collected via a specifically designed representative telephone survey conducted in both English and Spanish languages. Radio consumption data was collected from the Nielsen Portable People (PPM) panel. All data was COPPA compliant and culled with parental consent.