E-commerce has been around for many years now, however being PC-bound meant that it was only accessible to a small section of society. In the past three years all that changed with the explosive growth of smartphones. Today there are far more mobile-based internet users than PC based internet users.
E-commerce players know this and from the middle of 2014 have been promoting and offering discounts on purchases made through their mobile apps. In order to get users hooked to the app, players are shutting their sites and transitioning users solely to their apps instead. Myntra was the first to execute this in May '15, and Flipkart has announced plans to follow suit in September 2015.
If 2014 was the year when E-commerce finally came into its own in India, 2015 promises to be the year of the mobile shopping app. The Indian shopper is increasingly embracing shopping on the go, spurred by widespread E-commerce campaigns and easy access to smartphones that have seen an explosive growth in penetration. Sale periods are in sync with festivals and public holidays, and along with aggressive app launches and promotions, they have reinforced the growing trend.
The number of smartphone users who use shopping apps has jumped to 54% in May 15, from just 21% a year back. In comparison, the growth in popularity of shopping websites has been moderate, increasing from 28% to reach 45%.
Consumer Trends & Insights
In the early days of online commerce, a widespread belief was that women will adopt and drive mobile shopping. However, up until a few months ago, it was actually men who were driving the adoption and growth in mobile shopping. Data from real-time smartphone usage tracking provides insights on consumption patterns of smartphone users and reveals some unexpected facts about the reach of mobile shopping in India.This could be attributed to two key factors: the male appetite for technology and the fact that men are often the ones who make the payment.
The majority of E-commerce products viewed and bought are electronics items, a segment that young men drive. The other possibility is that even when women make a purchase decision, they ask men to compare costs or complete a transaction.
In the past 2 to 3 months however, we see that women have caught up and today they spend 16 mins a month more than men on mobile shopping apps.
ENGAGEMENT ON E-COMMERCE APPS
Our data shows that users in non-metros are slightly more engaged on shopping apps than users in metros. The former has limited shopping alternatives, especially in the electronics and apparel category, although the latter has a higher spending power. The cash-on-delivery option is also a driver of small town adoption for shopper apps.
While time spent is similar across India, it's not similar across all handset price bands. Specifically, users with more expensive handsets, those exceeding INR 15,000, spend 1.6x the time on shopping apps compared to those with cheaper phones. Higher time spends can be loosely correlated to higher spending power in mobile shopping.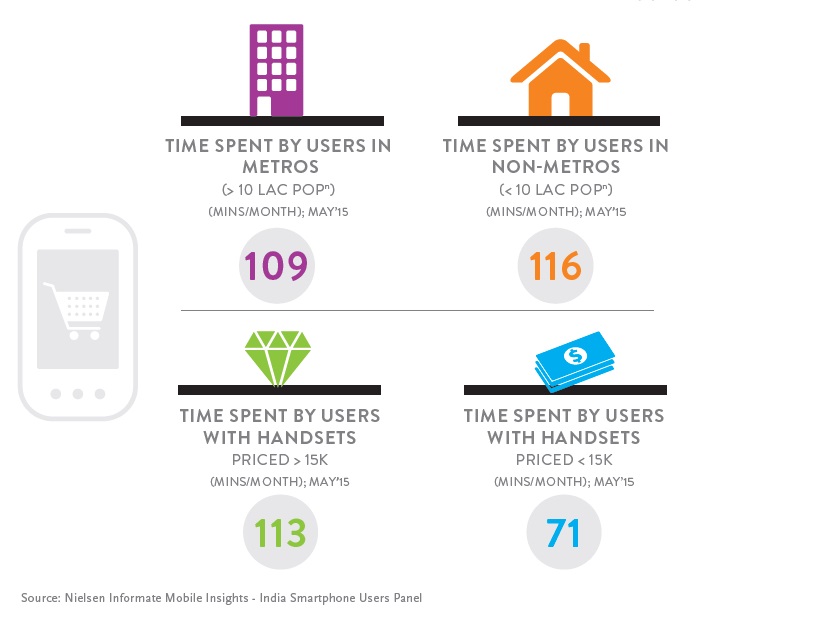 For more details, download the full report (top right).