From la música to las noticias, Hispanic American adults are avid radio listeners. In fact, 97% of this population tunes in each week. And since 2011, the weekly national Hispanic radio audience has grown 11% (from 36.5 million to 40.4 million).
This increase in radio listening likely reflects the overall increase in Hispanic consumers in the U.S. In the last 15 years, the Hispanic population has more than doubled, and growth shouldn't stop any time soon. In the next five years, Hispanics are projected to account for 53% of the U.S. population growth.
But Hispanics are diverse—from birthplace and country of origin to generation and language preference. And these differences play a role in how Hispanics consume media, including listening to the radio.
While immigration has traditionally been the primary source of the U.S. Hispanic population's growth, migration slowed down around 2000 and rising birthrates have continued to drive growth. As a result, 64% of Hispanics today are U.S. born, and of those, 75% are between the ages of 2 and 34. 
These young Hispanics are listening in different ways than their older counterparts. Radio reaches almost 15 million Hispanic Millennials, significantly more than just 6.3 million of their Boomer counterparts. However, older Latinos listen longer—by more than three minutes each week.
Language also plays a role in how Hispanics listen. Spanish-dominant radio listeners spend the most time tuning in among all U.S. adults 18-49. These super listeners spent 13 hours and 12 minutes listening a week in 2015, compared with 11 hours and 48 minutes for English-dominant listeners.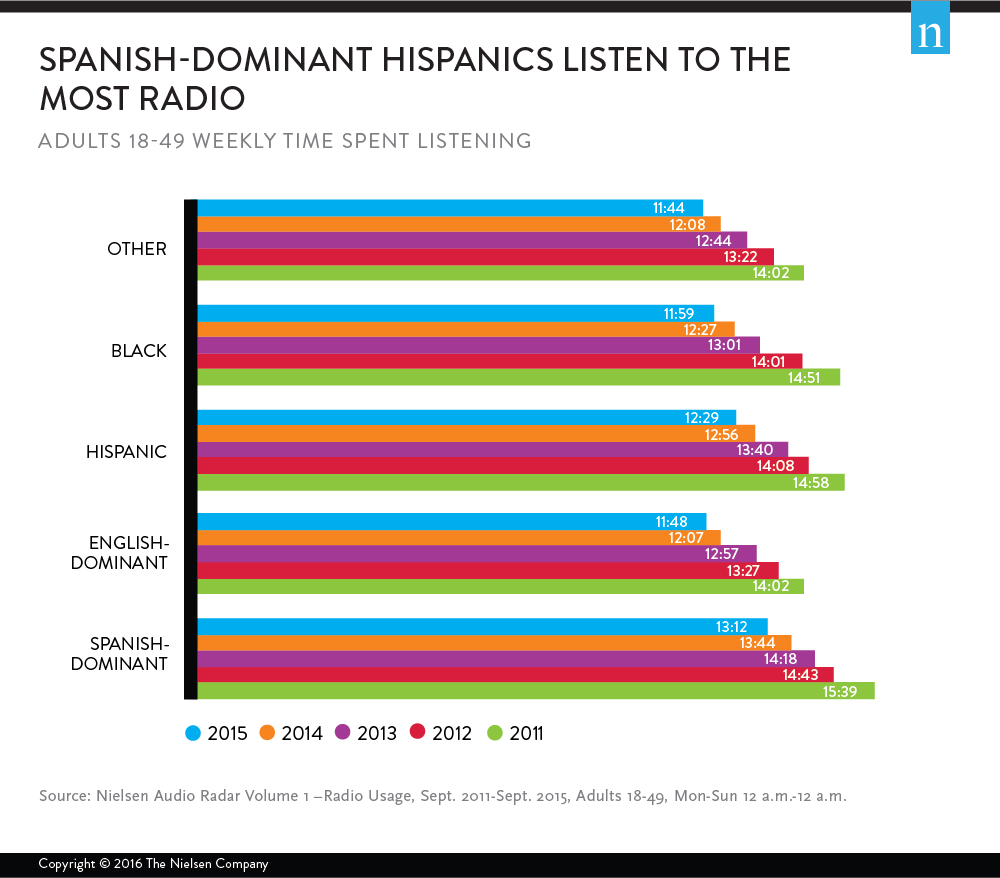 But with a growing young, U.S.-born Hispanic population, younger listeners are increasingly bicultural. As a result, the share of Hispanic listeners 18-49 tuning in to Mexican Regional has decreased, while Pop CHR and Hot AC have grown in popularity with this demographic. And Latin music artists like Enrique Iglesias, Jennifer Lopez and Pitbull are crossing between Spanish and English to reach these increasingly young and U.S.-born listeners.
Still, the majority of Hispanics—no matter their age and country of origin—are retaining their unique identity and preserving their culture. In fact, 85% agree that their culture is important. And increasingly, Hispanics have access to their cultural heritage and language through product and service offerings that brands are aiming to reach the Latino community.
So how can radio programmers and advertisers best reach these diverse Latino listeners?
Know your market
U.S.-born Hispanics are now the majority across the country, but that's not the case in every city. For example, while 83% of Latinos in San Antonio were born in the U.S., 75% of Hispanics in Miami were born abroad. Since radio is local in reach, understanding the background of Hispanics in each market is crucial to crafting content and advertising to best reach different segments of these radio listeners.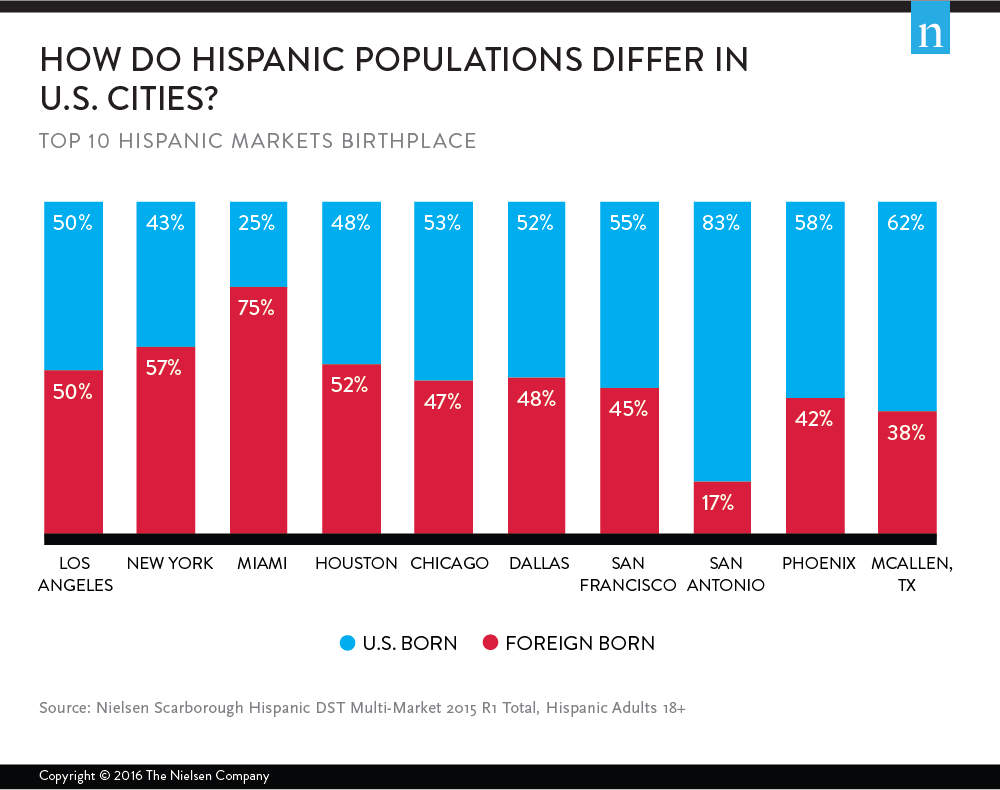 Go digital
Radio reaches almost all Hispanic adults each week, but mobile usage is growing, and smartphones reach 83% of the Hispanic population. With the increased popularity of smartphones among this demographic, online media consumption has also grown significantly between 2006 and 2014.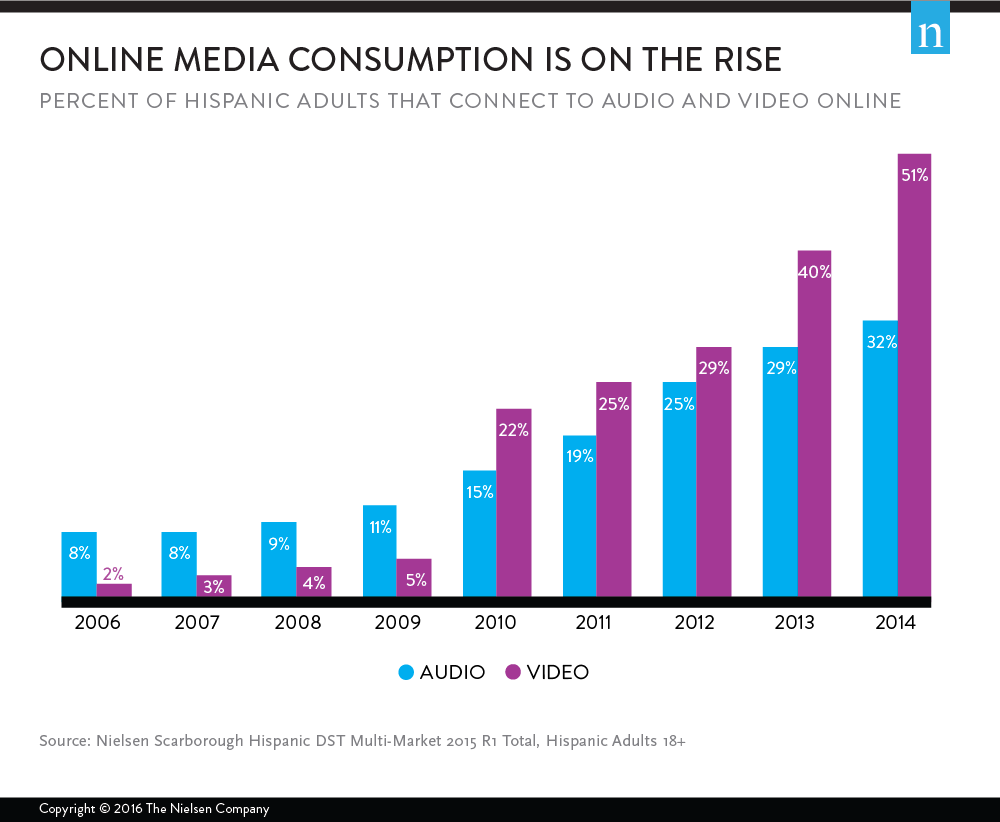 Those looking to reach Hispanic consumers need to consider just who they're trying to reach in this diverse population. Differences in birthplace, country of origin, generation, language preference, music orientation and culture are all factors in media consumption.
NOTE
Data used in this report is inclusive of multicultural audiences. Hispanic consumer audiences are composed of both English- and Spanish-speaking representative populations. Sources include: U.S. Census Bureau, Population Division; Nielsen NPOWER Jan15 Hispanic Adults 2-99; Nielsen Audio NRD, Spring 2011-Spring 2015 Hispanic Adults 18-49 full week; Nielsen Audio Radar Volume 1 – Radio Usage, Sep. 2011-Sep. 2015 Hispanic adults full week; Nielsen Scarborough Hispanic Multi-Market 2015 R1 Total, Hispanic Adults 18+; and The Nielsen Total Audience Report Q1 2015, Adults 18+.