If you believe the misconception that local news has fallen out of favor, think again. In actuality, news viewing increased from 2015 to 2016 and has shown continued growth in early 2017.
According to Nielsen's first-quarter 2017 Local Watch Report, local broadcast TV news is the most common source of news on TV among Americans.
For example, across all U.S. TV news consumption, which includes local broadcast news, cable news and national broadcast news, local news has a higher reach among persons 18+ and persons 25-54 than any other news segment. Local news reach is 18% higher than national broadcast news and more than double (46% vs 22%) that of cable news among adults 18 and older. Meanwhile, local news reach is 25% higher than national broadcast news and more than double (40% vs 17%) that of cable news among persons 25-54. Additionally, adults spent two hours and 22 minutes watching local news, which is more than double the amount of time they spent watching national broadcast news.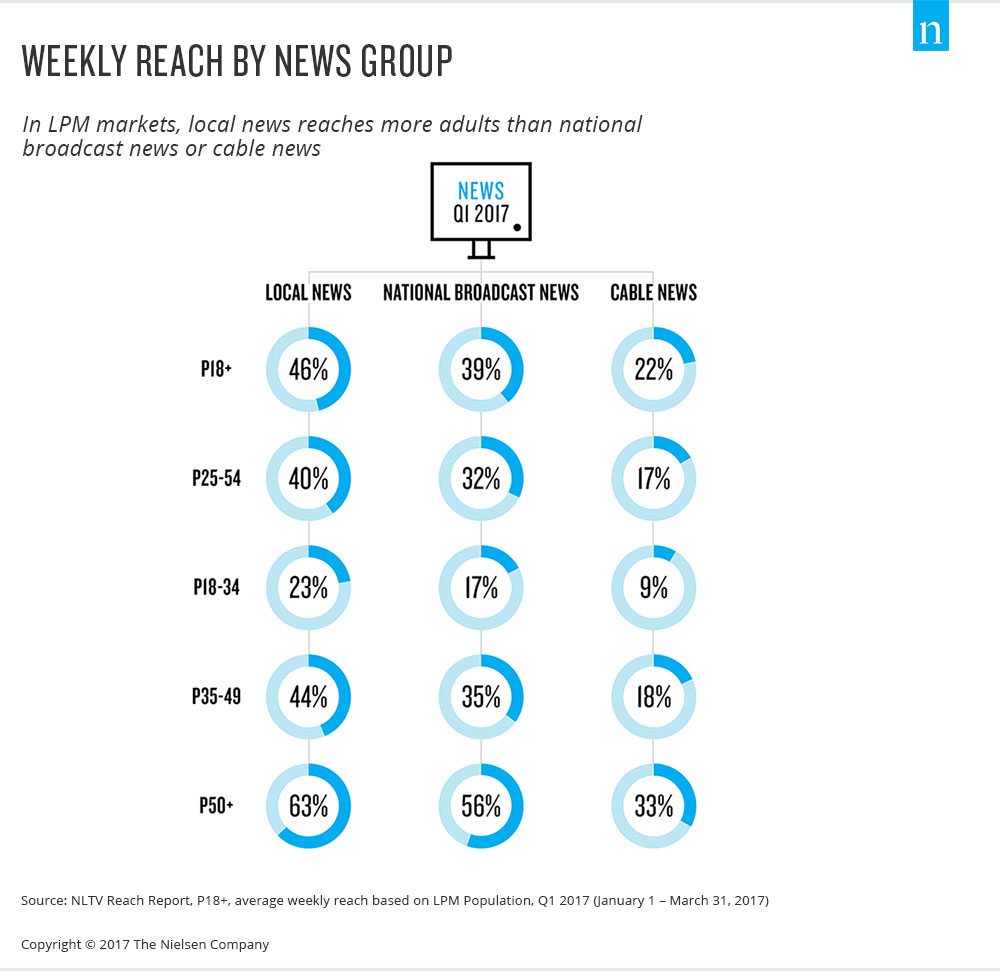 On average, adults in LPM markets are consuming over 44 billion minutes of news content on TV in a typical week, which translates to nearly six hours per person each week (5:47). News accounts for approximately 18.2% of total television viewing, which is up from 14.7% in 2015.
And when it comes to news consumption, the new report found that Memphis was the top Set Meter market for time spent watching local news, at three hours and 55 minutes per person per week, while Cleveland was the top Local People Meter (LPM) market at three hours and 27 minutes.
Diverse, Young and Tuning Locally
But the story doesn't end there. Out of the total population, local news reaches more African-Americans than both national broadcast and cable news. When looking at all news consumption within race/ethnicity, African-American adults also spend the most time watching news on TV at seven hours and 17 minutes per week. White adults spend slightly less at six hours and 12 minutes per week, but news consumption makes up 19% of their share of all TV viewing, which is highest within race and ethnicity. This is followed by Asian adults at 18%, African-American adults at 17% and Hispanics at 13%.
When it comes to Millennials, the first-quarter Local Watch Report debunks the misconception that this group doesn't watch broadcast TV, particularly local news. In addition to having high engagement with diverse audiences, local news has a higher composition of younger viewers than both national broadcast and cable news: 27% of local news' audience is 18-49, compared with 24% for national broadcast and 19% for cable news.
Digital News Consumption on the Rise
There's also strong growth on the digital news front. Across the top 25 U.S. TV markets, news consumption via personal computers increased 100% and 52% via smartphone from 2015 to early this year. Meanwhile, news consumption in medium-sized markets increased 98% via personal computer and 64% via smartphone. While news consumption via smartphone and laptop/PC is growing faster than news viewing on traditional TV screens, the overall reach and time spent watching local news on TV is much higher than they are on PCs and smartphones.
In the weekly viewing universe of news consumption (persons 18+ average weekly reach), local TV news is ahead at 45.9%, national broadcast news at 38.8%, 22.1% cable news, 26.5% news on smartphones and 25% consumed on personal computers.
What does this mean for the future of news overall? The data shows that local news holds a prominent and important place in people's lives, with more viewers than ever tuning in to get information that affects their daily lives in their communities.