For marketers seeking to reach African-American women, integrated campaigns—inclusive of not only traditional platforms such as television and radio but also digital and social—is paramount. With a combination of digital prowess, social savvy and voracious media consumption, Black women have very unique media habits and preferences.
MOBILE TECHNOLOGY OWNERSHIP
Black women are seemingly always connected. Eighty percent of Black women own smartphones, a rate 8% higher than non-Hispanic White women. And 57% own a tablet, which is somewhat on par with non-Hispanic white women. Black women's high ownership of mobile technology gives them access to a multitude of apps and sites (including social networks) and is a key driver of the way their time is spent consuming media. For example, Facebook (72%) is the top social media networking site used by Black women. YouTube, Instagram, Twitter and Google+ are also sites visited more frequently by Black women than their non-Hispanic White counterparts.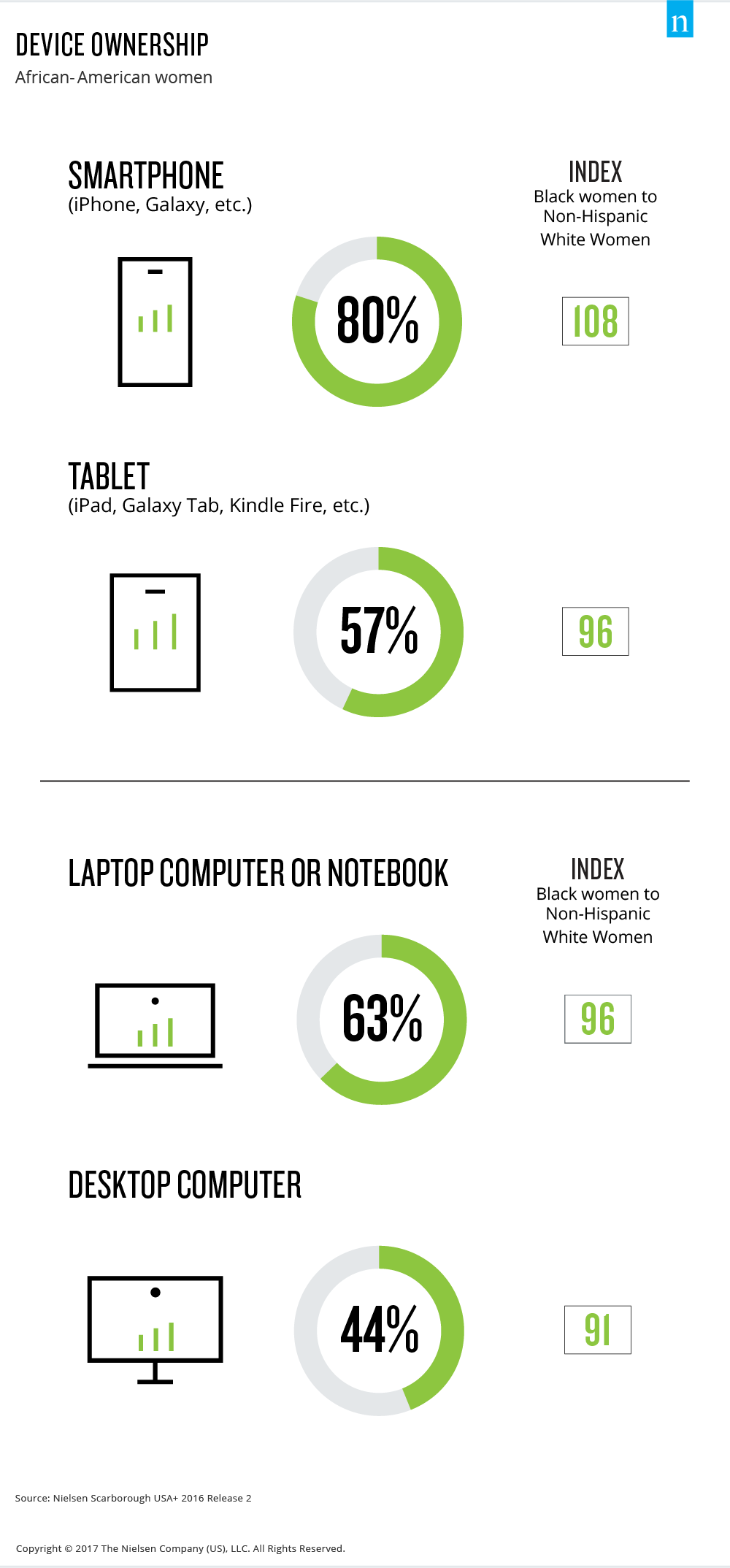 VORACIOUS CONSUMPTION ACROSS PLATFORMS
When it comes to live television viewing and DVR/time-shifted TV, Black women spend nearly 15 more hours each week on these platforms (51 hours and 36 minutes) than total women in the U.S. (36 hours and 38 minutes). Also, due in part to their high smartphone ownership, Black women spend more weekly time using apps and browsing the web on smartphones (19 hours and 27 minutes) than total women (17 hours and eight minutes). And Black women of all ages have increased consumption of other digital platforms as well, including internet on a PC, video on a PC, multimedia devices and video on a smartphone.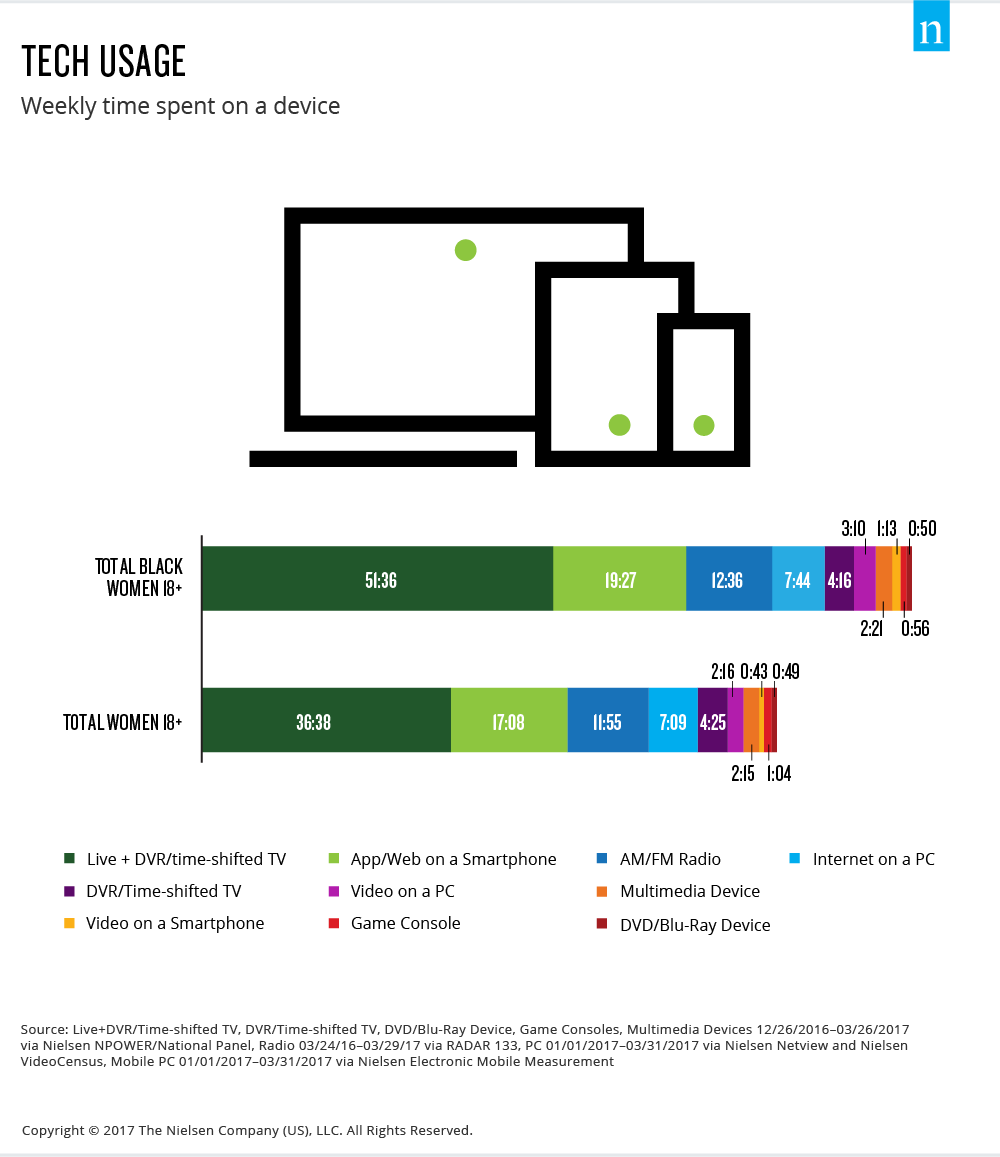 RADIO OFFERS  DOMINANT REACH
In addition to their high weekly time spent on digital platforms and watching television, radio is an incredibly effective medium to reach Black women. In fact, 92% of Black women listen to radio weekly, while 90% watch television. Additionally, Black women spend more weekly time listening to radio (14 hours and 7 minutes) than non-Hispanic White women (11 hours and 55 minutes). Taking a look at station formats by age, Black Millennial women (18-34) are most likely to listen to the Urban Contemporary radio genre, reaching 58% of this demographic. Meanwhile, the Urban Adult Contemporary genre reaches 51% of Black women who are over 18.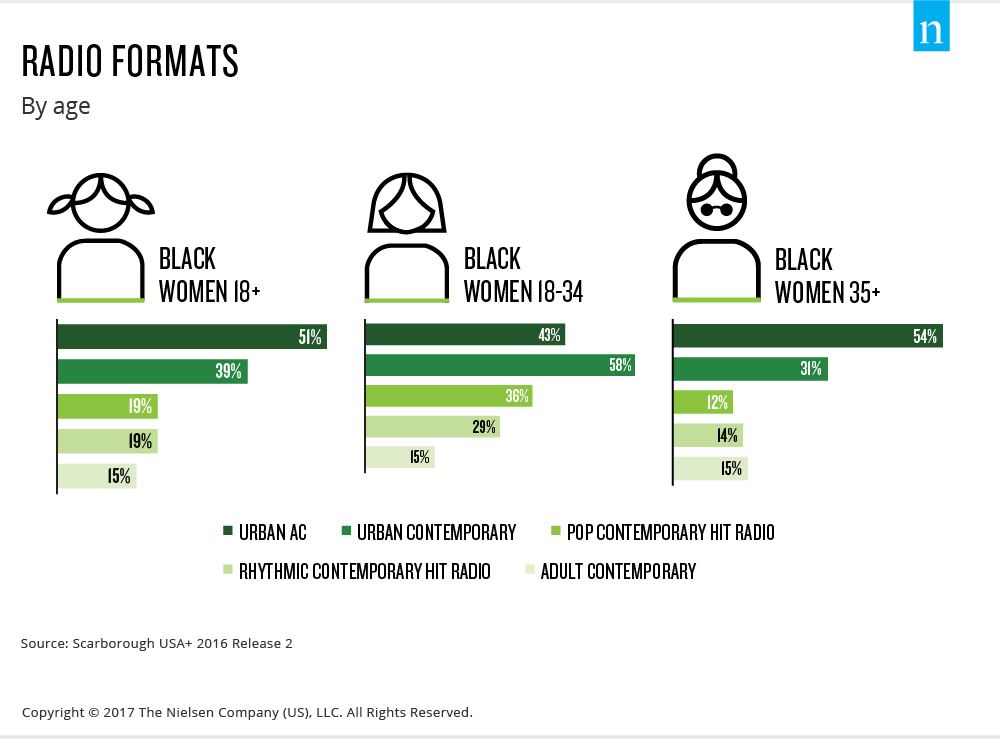 Most importantly for advertisers, Black women say they are receptive to advertising on radio. Thirty-eight percent of Black women agree that advertising on radio provides them with useful information about bargains (20% higher than non-Hispanic White women), and 38% also agree that radio provides them with information about new products and services (16% higher than non-Hispanic White women).
CONSUMPTION VARIES BY AGE
Although there are media consumption trends that can be found among all adult Black women, these consumption habits often vary by age group, which is helpful for campaign segmentation.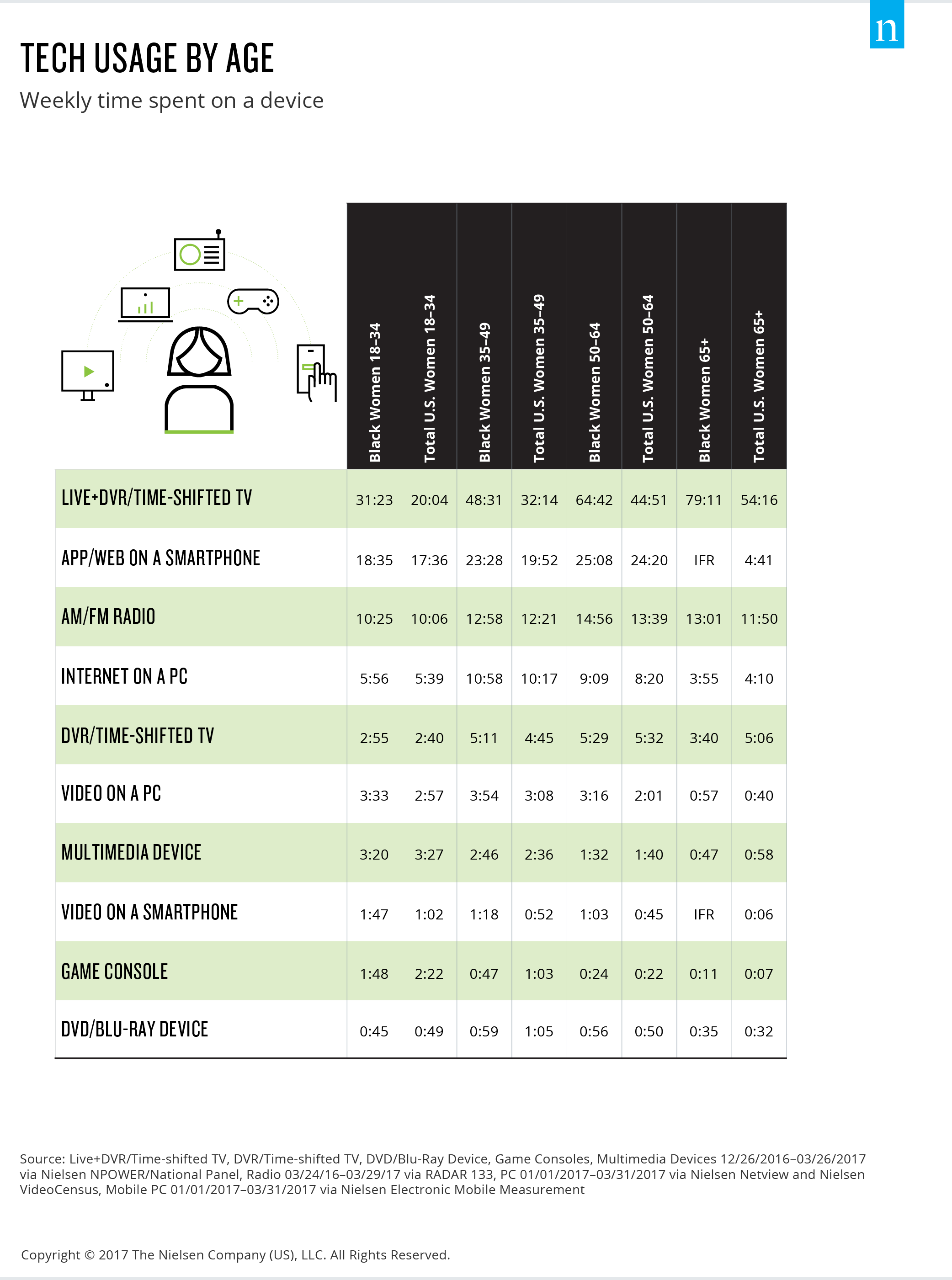 Black Millennial women (18-34) spend more weekly time than their older counterparts on multimedia devices and game consoles. Black women who are 65 and older, spend more weekly time watching television (nearly 80 hours) and less time using multimedia devices, the internet on PCs and game consoles than their younger counterparts. Understanding these media consumption differences and device preferences can prove essential in designing effective campaigns.
For more insights, download Nielsen's African-American Women: Our Science, Her Magic report.