While sports stadiums around Australia continue to gather dust due to the COVID-19 lockdown, sports fans are still finding a way to get their sporting fix. In fact, video views of sports content on social platforms is actually up, despite the lack of actual live sporting events.

In the final week of March, when no live sports events were played, there were more views of sports-related video content on social platforms than a week prior when the AFL Premiership was kicking off and the NRL was entering week two of its season.

In the absence of televised sports, fans have turned to social media to stay connected with their favourite leagues, teams and athletes.

According to Nielsen's Social Content Ratings, engagement of sports-related videos across social media exceeded 12 million views in the first week without live sporting content (March 26-April 1), which is over 1.2 million more than the prior week (March 19-March 25).

While the total amount of owned video content published by leagues, teams and athletes was down (-18%), views per video increased by 35%, demonstrating fans' eagerness to stay connected with their favourite teams and athletes.
Football Australia's decision to stream a replay of the Socceroos famous victory over Uruguay in the 2006 World Cup Qualifier on Facebook, proved a masterstroke and saw the Socceroos jump to the top of Nielsen's Social Content Ratings ladder.

Measuring social engagement across more than 150 teams, the Socceroos were the number one ranked team with the most social interactions on the day of broadcast (March 31).
For the weekly period (March 26-April 1), the Socceroos managed to retain an overall ranking of third off the back of this initiative, wedged between AFL club leaders.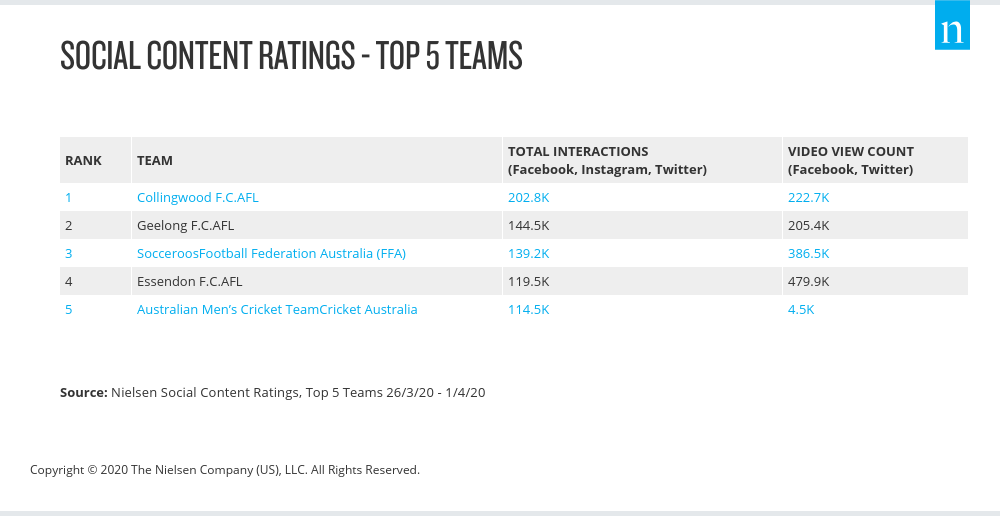 Nielsen's Managing Director of Media and Sports, Monique Perry said: "COVID-19 might have affected sports events worldwide, but our passion and thirst for sports content remains strong among Australians. Despite no on-field action, the increase of video views of sport content on social platforms is clear proof we are still avid sports fans".
Rival sports leagues have also turned a little nostalgic of late and published content reliving some of their most famous moments to help drive stronger social engagement trends during this challenging period.

In the final week of March, the AFL still had over 2.1 million total interactions on social media despite no matches being played, with 76% of their engagement coming on Instagram.

Cricket Australia edged out the NRL in second spot, while the A-League and Supercars rounded out the top five.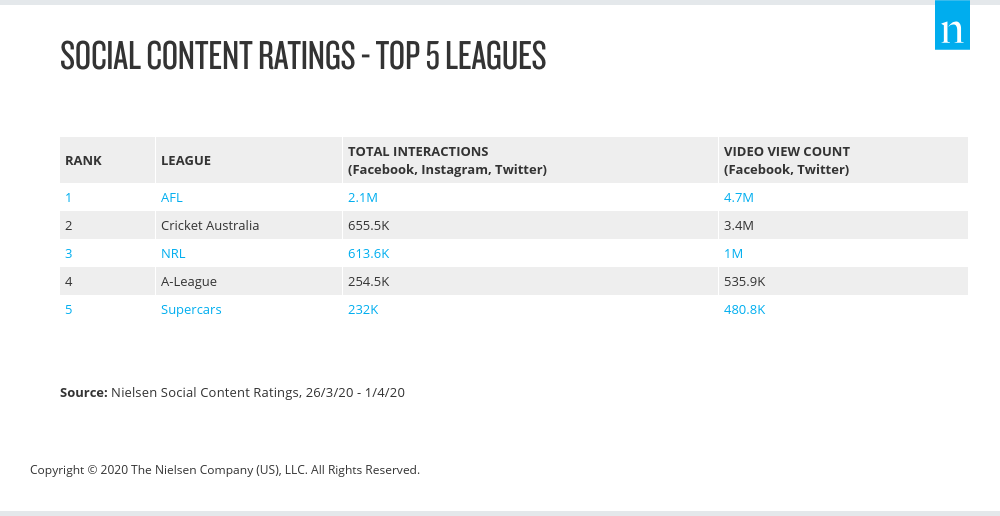 The influencing power of athletes has also been noticeably clear in recent weeks with some of Australian sport's biggest names using social media to help drive engagement with their fans.

Athletes accounted for 21% of content and 23% of engagement in the final week of March, up from 16% and 19% respectively the week prior.
Brisbane Broncos back Jordan Kahu turned to Facebook on March 31 to remind his followers to "Stay Connected" while in lockdown, was the most viewed video of the week posted by Athletes.

The NRL star teamed up with rugby league and rugby union players from both sides of the Tasman to pass a virtual "Kiwi head nod" to one another from their respective lounge rooms during isolation.
"Embracing social and digital platforms will be essential for leagues, teams and athletes to retain valuable connections with fans, helping to drive positive engagement through these unparalleled and uncertain times. Measuring the performance of social and digital initiatives to gain an understanding of these new ways to connect will be critical to achieve this," concluded Perry.