It's easy to see how audiences could feel overwhelmed by the wealth of new streaming services. The abundance of services, in fact, has many wishing for something that many cord cutters were once trying to get away from: bundled content.
Despite the notable rise in streaming adoption, the premise of bundled content is rooted in something audiences have never wanted more than they do today: convenience. As detailed in our recent State of Play report, 64% of streaming subscribers say they wish there was a single company that would allow them to choose as few or as many video streaming services as they wanted, "more like channels."
While today's TV landscape is much different than when multichannel programming started back in the late 1940s, bundled video content back then was rooted in the same idea: content access. Specifically, the advent of multichannel television gave national TV audiences access to a wide range of programming options through a single subscription. That model remained dominant until cord cutting picked up speed with the arrival of the Great Recession, at which time the average U.S. household had access to 189 different channels.
Despite the wealth of options, TV households only tuned into an average of 17 channels. That, combined with the weight of rising unemployment amid the recession, left many households unable to justify a monthly cable bill that averaged $71, resulting in a rise in cord cutting. But convenience has never fallen out of favor with audiences. It's just evolved.
Today, 44% of U.S. households have cut the cord (i.e., they don't rely on cable or satellite for their TV content), but cost isn't the motivating factor that it once was. Today, the growing variety of over-the-top (OTT) streaming services—many with their own unique offerings—has many audiences adding to their existing options to avoid FOMO.
Today, cost is less of a concern than it was back in 2007-08, and consumers are gravitating to over-the-top (OTT) streaming options for choice of content—often as a complement to their existing TV services. In fact, 36% of streaming subscribers1 say they would add a new service as an incremental cost when faced with the prospect of missing content that's available on a service they don't currently have access to. Another 12% say they'd rather drop a non-video subscription before simply not adding a new video service.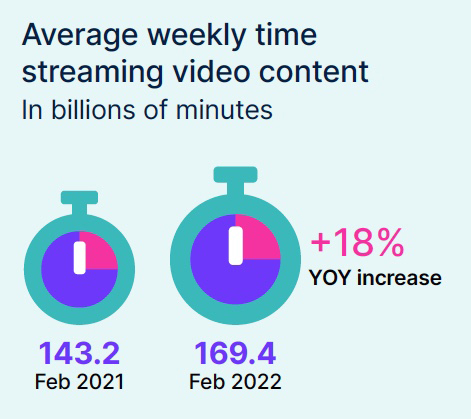 It would be naive to say that streaming audiences aren't concerned with cost, but saving money is no longer the value proposition that video streaming showcases. In fact, Nielsen's recent streaming media consumer survey found that 15% of respondents now spend $50 or more each month on their streaming services; 17% spend between $30 and $49.99.
The increase in consumer spending on services correlates with the growing wealth of streaming service choice, which some estimate exceeds 200. With more than 817,000 unique program titles2 to choose from across traditional TV and streaming services, it's easy to see why audiences are increasingly subscribing to more than just one or two services.
As much as the TV landscape has evolved amid the rise of video streaming, convenience remains a top desire among audiences, especially as many are finding it hard to navigate the expanse of platform choice.
46% of streaming subscribers: "It's getting harder to find the video streaming content that I want to watch because there are too many streaming services available"

Nielsen streaming media consumer survey
In fact, ease of use (i.e., convenience) and variety of content are almost as important to consumers as cost.
Few would argue that more content is a bad thing, and the significant shift in how consumers engage with video content has forever altered TV viewing. Importantly, 93% of consumers say they plan to increase their streaming usage over the coming year, highlighting that the crowded industry isn't having a negative effect on audiences' overall experiences. The sentiment about feeling overwhelmed—while consumers simultaneously increase their streaming time and spend—highlights an opportunity to deliver on a need that continues to stand the test of time: convenience.
Notes
Nielsen streaming media consumer survey