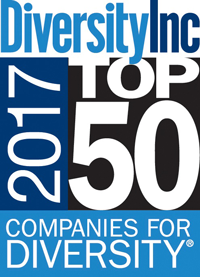 We're proud to announce that, for the fourth consecutive year, Nielsen was included on DiversityInc's 2017 Top 50 list for Corporate Diversity and Inclusion. The list highlights those corporations that are deeply committed to diversity and inclusion in the areas of hiring, retaining and promoting women, minorities, people with disabilities, LGBT and veterans. We also earned additional honors from the magazine for our LGBT, recruitment and global initiatives.
"Combining shared values and objectives with diverse backgrounds and experiences drive growth, strength and innovation," said our CEO Mitch Barns. "Nielsen greatly appreciates the direction and benchmarks provided by DiversityInc's process, and it is an honor to be recognized for this important work."
This year, we ranked No. 32, advancing nine slots from last year. A major reason for the jump focused on tracking internal representation, retention and developmental opportunities for employees at the company. One example of how we encourage our employees' career development is through our Diverse Leadership Network (DLN)—an 18-month leadership development program created in 2013 designed to grow, mentor and challenge high-potential associates. The program has seen big success; 100% of the program graduates having moved into new roles within the company, with a 95% retention rate.
"As cultures intertwine and demographics shift, the products and services that appeal to consumers are also changing," said Nielsen Chief Diversity Officer Angela Talton. "At Nielsen, diversity is far more than what you see; it is inclusive of diverse ideas, experiences, talents, backgrounds and cultural nuances. When we leverage those differences, we are able to provide superior results for our clients."
As the definitive source of insights and measurement for diverse audiences, we also invest resources in producing thought leadership on the impact and importance of the population shifts taking place around the world. As such, we continue to release the Diverse Intelligence Series reports bringing attention to the buying, viewing and listening power yielded by diverse communities, including annual reports on African-American, Asian-American and Hispanic consumers. Our employee resource groups (ERGs) authored and published a new report on people with disabilities (ADEPT ERG) and an expanded report on LGBTQ consumers (PRIDE ERG).
Our Supplier Diversity program has been another standout initiative. Across 66 countries, 93% of our people managers have received foundational diversity and inclusion training that was led in partnership with a minority-owned supplier. In addition, the company tapped a women-owned diverse supplier to provide more than 1,400 "Unconscious Bias" training sessions to teams across the globe, ensuring that our diversity and inclusion practices are spread throughout the organization and not just the c-suite.
The last 12 months have seen several milestone diversity and inclusion achievements for Nielsen. The company earned a perfect score on Human Rights Campaign's Corporate Equality Index for a fourth consecutive year and a 90% score on the Disability Equality Index® (DEI), as well as the No. 50 spot on Forbes' Top 50 Best Workplaces for Diversity and the No. 58 listing on Forbes' Top 100 Best Workplaces for Millennials.
DiversityInc's extensive annual survey yields an empirically driven ranking based on recruitment, talent development, senior leadership commitment and supplier diversity. We are joined on the list by a number of clients and partners. To learn more about the ranking process and the other organizations who were named to this year's list, visit https://www.diversityinc.com/top50.