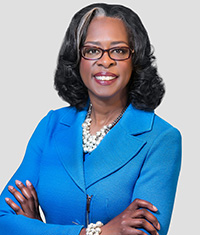 Globally, consumers are becoming more diverse. This demographic shift makes the world in which our clients operate—providing the products and services that appeal to diverse consumers and creating content on the mediums they use—a mosaic. To give businesses a clear picture of today's consumers, we at Nielsen need to be able to understand the nuances of consumer preferences and provide insights into consumers' purchase, viewing and listening decisions.
This starts with employing a workforce that reflects the diversity in the 106 communities around the globe where we do business—across all levels within our organization and in all of our business units. But representing this diversity isn't enough.
At Nielsen, we value differences; our entire business is predicated upon the measurement of all consumers—measuring how we are the same and how we differ. It is because of our differences that our measurement must be inclusive. We must acknowledge, respect and include different thoughts, opinions, ideas and insights so that our measurement is accurate and truly reflects the whole market.
Inclusion is the difference between simply having a seat at the table (diversity) and having an acknowledged voice at that table. As the global measurement and data analytics company providing the most complete and trusted view of consumers worldwide, it's a business imperative that we get diversity and inclusion right.
We have been fortunate to have a CEO in Mitch Barns, who lives by the credo "Diversity and inclusion is crucial to Nielsen's growth, strength and ability to innovate." As he leads by example, our other leaders follow suit, and we have benefited from viewing diversity and inclusion as a key operating philosophy of our overall strategy.
For more than 13 years, Nielsen has been on a journey to further it's diversity and inclusion initiatives. Over the last few years, we have leveraged best practices, listened to our creative associates, designed programs to develop top talent, increased thought leadership initiatives to share diverse insights and strived to learn and make improvements along the way. Because our business is rooted in helping clients better understand the science behind what's next, we are now sharing what we are learning about diversity and inclusion in our third-annual Diversity & Inclusion Annual Report to pay it forward and help shape what's next in the world of business via more diverse, equitable and inclusive practices, policies and procedures.
Sharing this information is also personal for me. When I accepted my first position with the Diversity & Inclusion team after more than 17 years in Operations, I was astounded by this welcoming, accommodating and willing-to-share community of diversity and inclusion professionals. I want Nielsen to pay it forward and likewise share our information. I particularly want to share those programs that I believe have been the catalyst to our leaderships' understanding, engagement and ultimate endorsement of diversity and inclusion at Nielsen.
Developing our Diverse Leadership
Our Diverse Leadership Network is a 15-month internal "mini-MBA" program that allows us to grow talent from within. The program has participation goals by race and gender, with 25% representation from African American, Hispanic, Asian and White associates and at least 50% female participation. We give participants visibility, access and opportunity through experiential learning, faculty workshops, curriculum exploration and coaching for the entire program duration.
The program results speak for themselves. More than 60% of Diverse Leadership Network graduates have received promotions, with 20% advancing to a VP or general manager level. And they're 30% more likely to remain with Nielsen than other employees. If you are looking to hire top talent, we've found that you may need "look no further than your own backyard."
Growing our Employee Resource Groups
Our employee resource groups (ERGs) have also played a crucial role in sourcing top talent and creating a sense of community for our diverse workforce. Our employees volunteer their time, energy, creativity and ingenuity to these organizations. And we're proud to share that, thanks to their efforts, we have at least
By growing ERG and ERG ally participation and constantly examining and enhancing benefits championed by our employees, we have improved our outreach to differently-abled and LGBT+ associates. We have achieved a Corporate Equality Index score of 100 for the last five years with the Human Rights Campaign, and we have earned a 90% Disability Equality Index score the last two years from USBLN. Our Women in Nielsen ERG has also grown exponentially and opened the door to partnerships with such organizations as NEW (Network of Executive Women) and the LEAD Network (Leading Executives Advancing Diversity). As a result of our global efforts, Nielsen has been recognized in the U.K. and India for diversity initiatives focused on advancing women and in Mexico for the equivalent recognition to the HRC Corporate Equality Index.
Heeding the Voice of our Employees
By listening to our employees, Nielsen found itself ahead of the times as it relates to inclusion with the LGBT+ community. Long before marriage equality was a reality in the U.S., Nielsen stood in support alongside our LGBT+ associates by offering partner benefits to associates in relationships strictly on the honor system.
Two years ago, we listened to non-verbal queues as we identified a retention issue amongst African American associates. As a result, Nielsen's CFO Jamere Jackson and I sponsored a two-day professional development forum for Black associates—the first event of its kind in our history. We followed suit with a Hispanic Employee Form last year in Fort Lauderdale to provide a leadership development opportunity to another subset of employees in an effort to retain and invest in our top talent.
We have seen the benefits of hosting employee forums, which allow associates to engage with senior leaders, to network, to learn about key business strategies and to celebrate diverse cultures and history. Our retention rates have improved as a result, up 12% for African American associates and 18% for Hispanic associates who attended the forums. An Asian Employee Forum is planned for this year.
We've learned over the years that there are many paths to progress. Similar to other companies, some of our initiatives were initially spun out of adversity. The highs of our journey have reinforced our commitment to these efforts, and the lows were teachable, eye-opening moments that changed how we viewed diversity and inclusion going forward.
Today, we know that diversity is not limited to only what you see. Diversity is a combination of skills, experiences, talents, cultural backgrounds and nuances. We define inclusion as leveraging our differences to deliver superior results for our clients, recognizing fully that diverse teams lead to better outcomes. That's what you get when you give employees not only a seat at the table but a voice as well. In an increasingly diverse world where representation matters, those diverse voices make it possible for Nielsen to explain the science behind what's next.
For more information about Nielsen's Diversity & Inclusion efforts, please download the 2017 Nielsen Diversity & Inclusion Report.