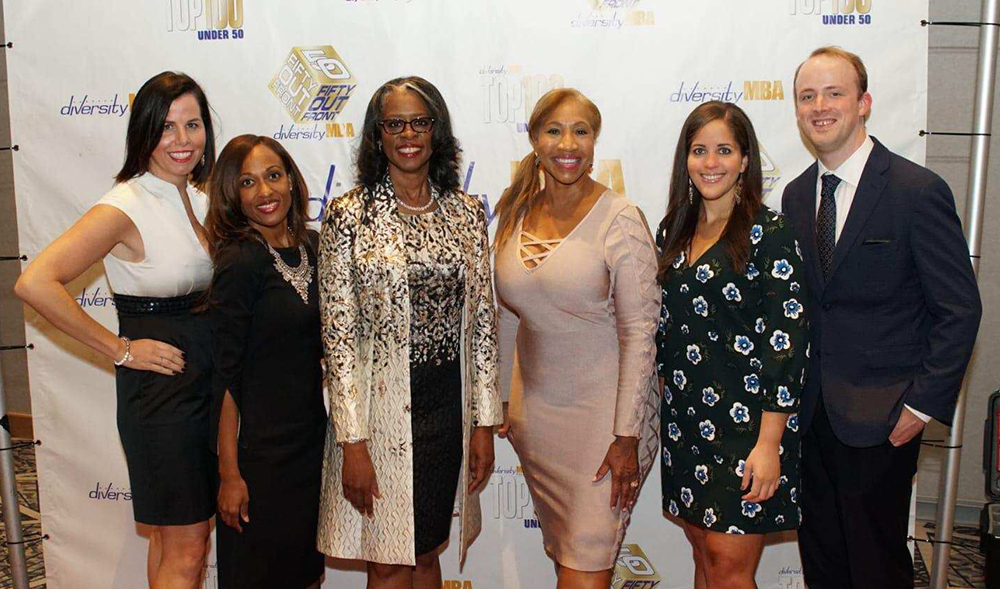 Nielsen was recently named the Top Company for Women and Diverse Managers on the Diversity MBA 50 Out Front list at the organization's annual conference. As Diversity MBA's top company, Nielsen's Chief Diversity Officer Angela Talton gave the keynote address at the awards gala. Also honored during the event were Nielsen's Kelly Abcarian, SVP, Product Leadership, and Natasha Miller Williams, VP, Talent Engagement and Development, who were named to the Diversity MBA Top 100 Under 50 Emerging and Executive Leaders list.
After accepting our recognition from Pam McElvane, CEO of Diversity MBA, Angela led attendees through Nielsen's decade-plus diversity and inclusion journey, identifying key milestones along the way where we celebrated, advocated for and invested in diversity. Angela highlighted the creation of the Diverse Leadership Network, a 15-month internal mini-MBA for high-performing diverse talent, which graduated its fourth class in 2018; our Hispanic and Black Employee Forums, which collectively convened nearly 500 diverse Nielsen associates for leadership development; and the creation of our External Advisory Council, comprised of business experts and community leaders who help us continuously improve our measurement of and outreach to diverse communities.
"We're grateful to be honored as the Top Company for Women and Diverse Managers," said Angela. "Simultaneously, we feel energized to push our diversity and inclusion journey forward and are excited to have Diversity MBA, and their extended network of corporate allies, to help contribute to a larger effort to drive diverse and inclusive workplaces across the U.S.—and the world."
Natasha and Kelly also spoke during the conference program. Kelly joined a panel discussion on how the growth of e-commerce as a preferred shopping platform for diverse consumers is reshaping the retail industry. Natasha participated in a conversation on developing skills for cultivating an inclusive workplace environment from a leadership position. Kelly and Natasha's presence at these sessions put Nielsen at the forefront of diversity dialogues that will inform diverse and inclusive best practices at companies across the globe.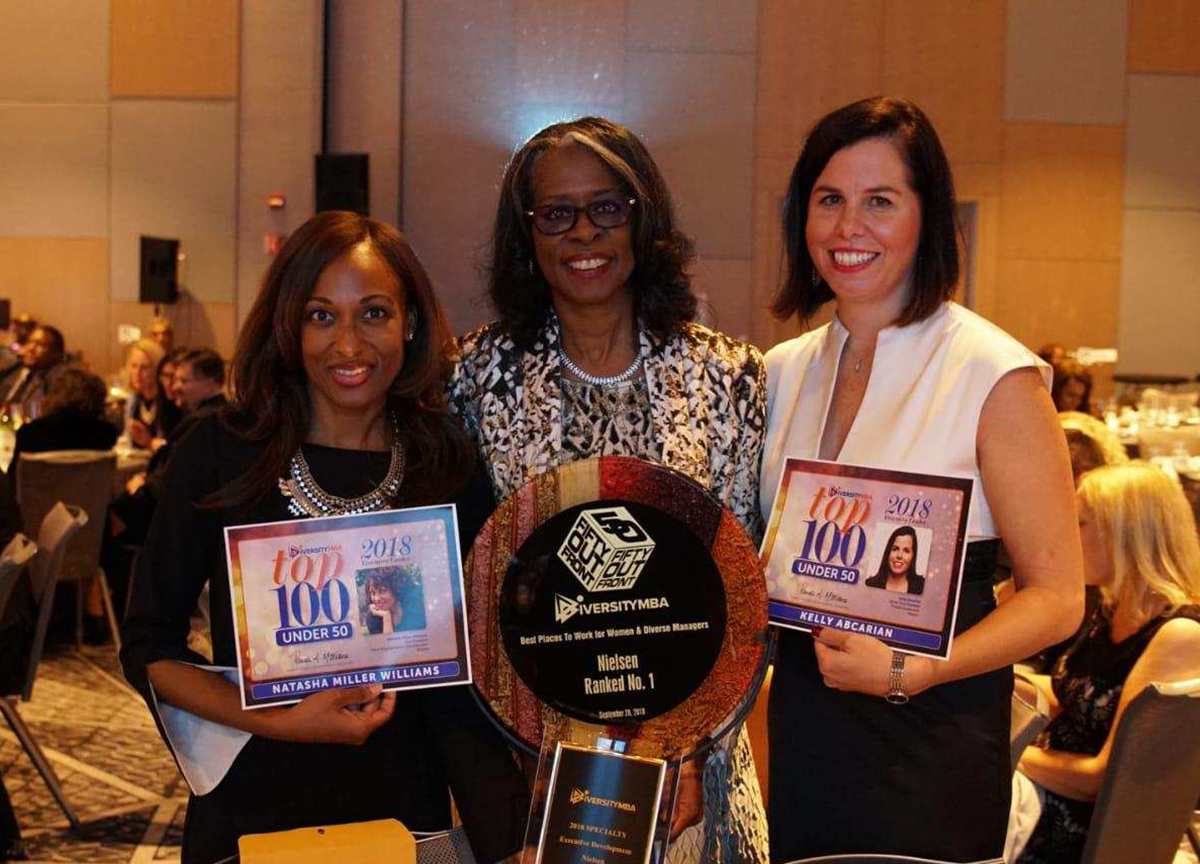 In addition to being named the Top Company for Women and Diverse Managers, Nielsen was named to several specialty lists by Diversity MBA:
Recruitment: Honors companies that have a proven track record of attracting women and diverse talent;
Succession Planning: Recognizes companies that intentionally advance the careers of diverse associates,
Workplace Inclusion and Retention: Celebrates companies committed to retaining diverse talent by promoting culturally inclusive engagement strategies.
Accountability: Reserved for companies whose executives have an explicit responsibility to also be diversity and inclusion leaders.
Board Diversity: Includes companies with boards made up of an average of 55% women and people of color.
Our inclusion on these lists is a sign that our five-prong strategy to infuse diversity and inclusion into everything we do has made an impact at all levels of our company, by increasing our ability to recruit, retain and advance our diverse talent. However, as Angela remarked in her keynote speech, "Now, the hard work begins anew. We, as Diversity and Inclusion leaders, must figure out how to sustain the progress we've made and the momentum we've generated. And so, the story continues."
Our placement at No. 1 on the 2018 50 Out Front list follows six straight years of appearances on the list, and three consecutive years in the top 10. Learn more about Diversity MBA and the 2018 50 Out Front list.
You can read more in the Diversity MBA magazine issue, featuring a Nielsen cover story, which will hit newsstands in late October.