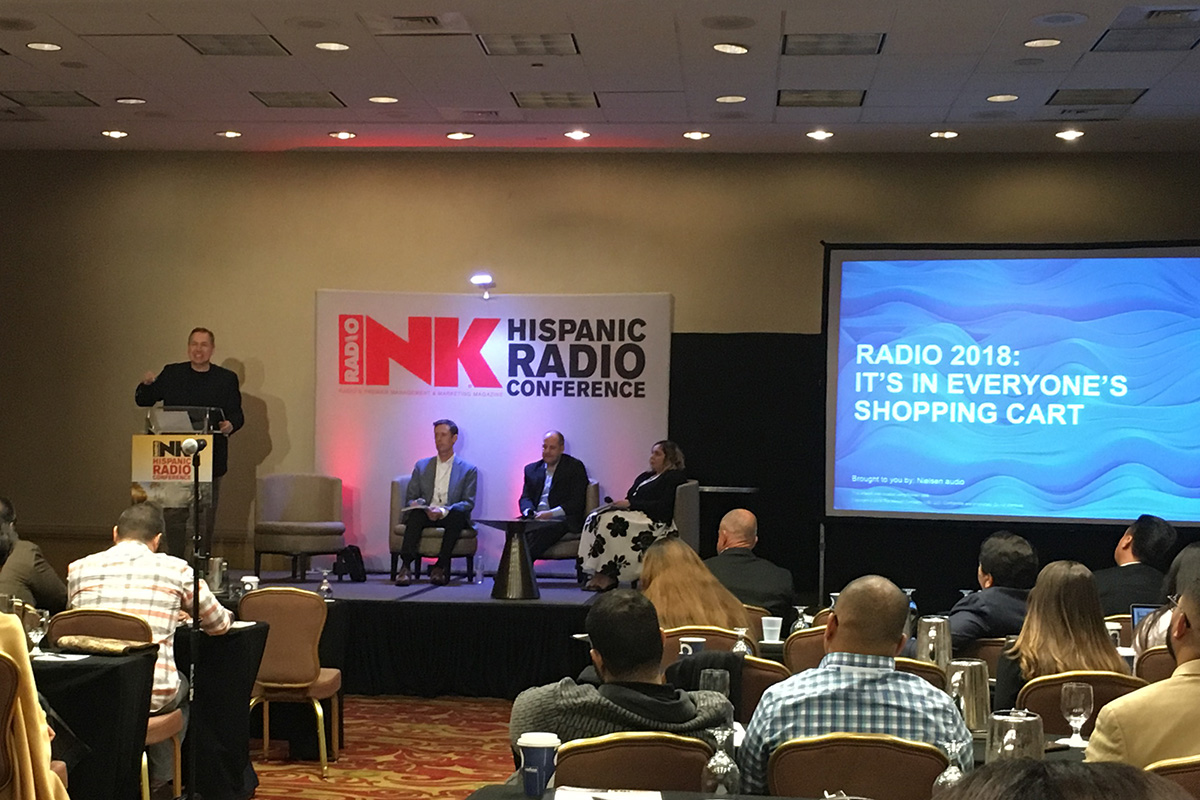 For most Americans, audio is a key part of our day-to-day lives. In fact, AM/FM radio is so ubiquitous, it reaches almost 270 million of us each week. What's more impressive is that when it comes to connecting with Hispanic consumers, no other medium has radio's unparalleled reach among this demographic with increasing buying power. According to Nielsen's 2017 State of Audio Ethnic Audiences Report, 98% of Hispanic adults tune in to radio weekly.
However, even with radio's unmatched reach, some of today's largest advertisers and fast-moving consumer goods (FMCG) companies have left the medium out of their media planning mixes for many years. In an effort to change that dynamic, the Nielsen Audio team embarked on a year-long advertiser outreach campaign to educate FMCG companies and big brands on the power of radio and its broad consumer reach.
During this year's Radio Ink Hispanic Radio Conference, the Nielsen Audio team, including Brad Kelly, Managing Director, Rich Tunkel, SVP, and John Snyder, SVP, shared their insider perspective, reporting to conference attendees about just what the big brands really think. The response from these advertisers regarding radio's ability to reach consumers and augment their media plans has been overwhelmingly positive. And it's no coincidence that large brands who have been absent from radio for decades can once again be heard on the air.
Throughout the presentation, The Six Rs of Radio – Reach, Remind, Register, Reinforce, Relate, and Return, the audio team addressed how these six actions are what advertisers are seeking to help move the sales needle. For example, reach is critical for FMCG companies because it's a direct driver of sales for large brands. In a study of nearly 500 advertising campaigns for FMCG companies, reach contributed 61% of sales growth. When it comes to return on advertising spend, radio delivers $8 on average for every dollar spend on advertising.
For broadcasters seeking to engage more effectively with FMCG companies and demonstrate the strong connection that exists between radio and consumers, the five key takeaways from the presentation included:
Radio is a reach medium, and its mass reach has the potential for geographic, demographic and ethnic precision.

Radio delivers branding. With consumers on the go, retailers are able to use radio to tell them "where," while brands tell them "what."

A key part of radio's value is its ability to deliver recency and propinquity. Constant reminders mean a lot, and messaging consumers while in the car can be the

"

nudge"

that gets them to buy.

Radio is part of the media mix; it's not radio "instead of" but rather radio "in addition to."

And, of course, the universal advertising axiom still holds true: It's all about the creative.
With consumers' purchasing and consumption habits constantly changing, it's critical for FMCG companies and big brand advertisers to leverage a suite of media options to connect with their intended audiences. While some advertisers have rediscovered radio's unmatched reach along with all of its other attributes, other are still searching for ways to deliver their message. Broadcasters have the opportunity to ensure that radio is a part of advertisers' media mix by better understanding their needs in unlocking incremental sales opportunities.