Gamers have never had more choice in terms of how to play and spend. Mobile and tablet gaming is on the rise, according to Nielsen's annual U.S. Gaming: A 360° View survey, helping to fuel a seven percent increase in total gaming time over last year. Meanwhile, total game spend for core buyers is unchanged year-over-year but allocation is shifting, with digital content and subscriptions (+8 percentage points) picking up share, offsetting lower purchasing rates for new and used games, rentals and controllers. These trends point to continued dynamism for an industry in transition.
Today's Gaming Landscape:
Over half of households (56 percent) own at least one current generation gaming console as of January 2012, up from 50 percent last year
There is increasing overlap and competition in the mobile / handheld / tablet gaming space: 66 percent of households with kids age 6-12 that own a Nintendo DS or Sony PSP also have an Apple iOS device
Android OS gaming peaks among adults 25-34 while iPhone gaming is distributed more evenly across age segments
Gamers increasingly play across multiple screens: 24 percent play on two or more of a console, a PC or a mobile / tablet device, up from 17 percent in 2009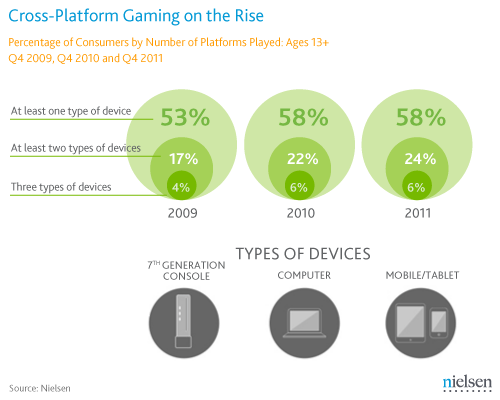 Purchase Funnel:
The Web is increasingly important in generating awareness for game launches: Gamers are spending more time on the Internet outside of gaming and ad spend is shifting from print to digital for top games and consoles
E-commerce shopping trips for games are up 3 percent over last year, while other channels experienced declines
Consoles as Entertainment Hubs & Next-Gen:
65 percent of consoles are located in the living room; Nintendo Wii leads (75 percent) but Kinect for Microsoft Xbox 360 is helping to shift that platform toward communal spaces
Roughly four out of five of those interested in any Next-Gen console are current console owners, though much remains unknown about future consoles
[Download the U.S. Gaming: A 360° View webinar here]
For applicable findings, survey conducted among a general population sample of n=3,000 in the United States, October 2011.