The Internet has transformed the way consumers transact for their daily needs – be it ordering food, booking movie tickets or even booking a cab. Online shopping is one category which has witnessed unprecedented growth in the last two years. This revolution is largely led by innovations which in many ways are unique to India as compared to rest of the world.
Lack of credit card penetration, poor infrastructure, etc. for many years hindered the growth of this category. Despite all these challenges, online retailers have been proactive enough to come up with solutions to overcome these hurdles.
Cash on delivery as a concept is unheard of in many markets and has been a big driver for trial. Also, instead of investing in building in house delivery team, brands have been working on tie-ups with grocery stores, India post etc. to increase their delivery reach. There are many more such examples of innovation and customer centricity which is driving success for online shopping sites and apps in India.
What is interesting to note is the emergence of category specific online shopping sites, namely, grocery, jewelry, spectacles and lens, etc. which is also fuelling the growth.
Understanding The E-Commerce Consumer 
Recent usage patterns clearly indicate that a significant chunk of Indian online shoppers access the Internet primarily on their mobile phones. According to the report Bricks to Clicks: Nielsen's Syndicated Brand Health Track on Ecommerce, Indian consumers now prefer using their smartphone to access the Internet over their laptops and desktops. Moreover, as the market matures, consumers seem to be becoming increasingly comfortable with carrying out even intensive online activities like mobile banking and shopping, directly from their smartphones.
What's Driving Online Shopping? 
Regardless of which device consumers choose, most online shopping decisions are being primarily driven by advertising, peer influence and recommendations.
Apart from expecting attractive discounts, Indian consumers who are frequent Internet users cite convenience as a reason to shop online. In fact, more than one-third say they find this mode of shopping convenient.
Another factor luring shoppers online is the unavailability of the desired stock keeping units (SKU) in physical stores. In fact, a third of fashion users buy items online because the exact products they're looking for are not available at brick-and-mortar stores.
HOW DO ONLINE SHOPPERS CHOOSE E-TAILERS?
The crucial question for marketers of e-tailing companies is how to ensure consumers will remain loyal to their marketplace or online store. According to our study, online shoppers are loyal to e-commerce brands, but are willing to experiment.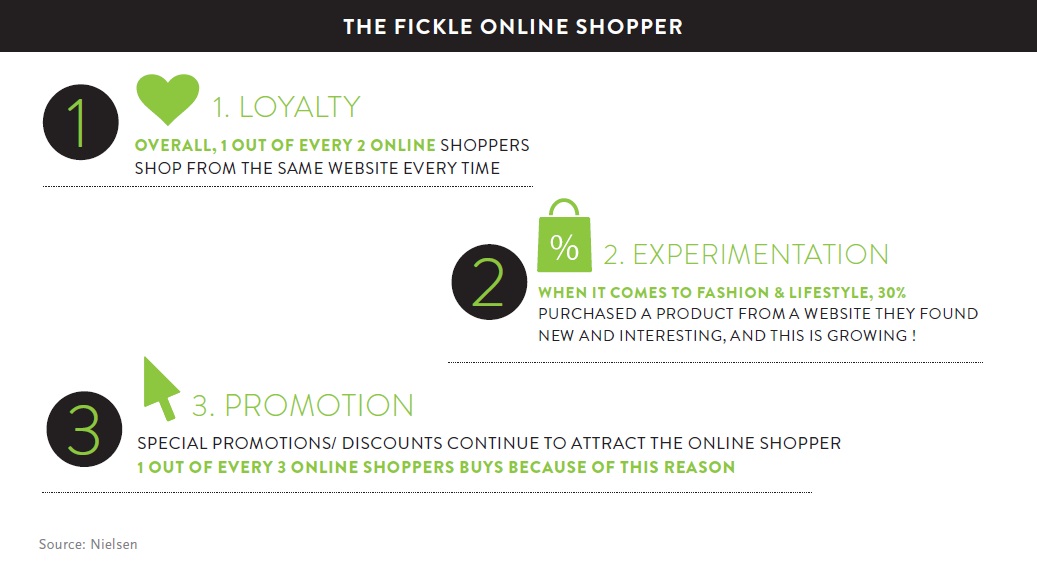 When asked for specific reasons behind choosing a particular e-tailer, more than half of the consumers we spoke to said they bought from the same website they frequent, displaying an increase in the number of loyal customers.
For more details, download the full report (top right).