Marketers want to know who their digital advertising reaches, no matter what screen the ads appear on or who sees it. That's the clear message from recent Nielsen research about Canadian on-target rate data—an increasingly relevant metric as marketers increase their digital ad spend.
The on-target rate, which shows what percentage of a digital advertising campaign was served to an intended demographic group, gives a more accurate read on the actual audience that was reached than impressions or click-through rate. In fact as of 2016, Nielsen Digital Ad Ratings has measured over 3,800 cumulative ad campaigns in Canada. In the past 12 months alone, we've measured 2.5x times as many campaigns than in the prior 24 months combined, sending a clear message about the desire for audience-based metrics in Canada.
This increased measurement has helped marketers, agencies and media providers develop best practices to more reliably reach specific audiences. In looking at data for the past year, more than half of the impressions from digital campaigns focused on all persons 18-49, 18-34 and 25-54, on average were served to the intended audience.
Despite the progress, there is still a long road ahead. That's because fewer impressions are being served to the intended audience when campaigns have more narrowly defined targets. For example, on average, less than half of the impressions from campaigns whose intended audiences were men aged 18-34 or women aged 25-54 were served to those audiences. In some cases, only a third or a quarter of impressions were served to the intended audience. This trend is most starkly illustrated in average on-target rates by industry. Notably, industries that appeal to more narrowly defined audiences have lower on-target rates than industries with more broadly defined audiences. For example, the average on-target rate among consumer packaged goods campaigns is 42%, well below the average rate of 92% in the entertainment industry.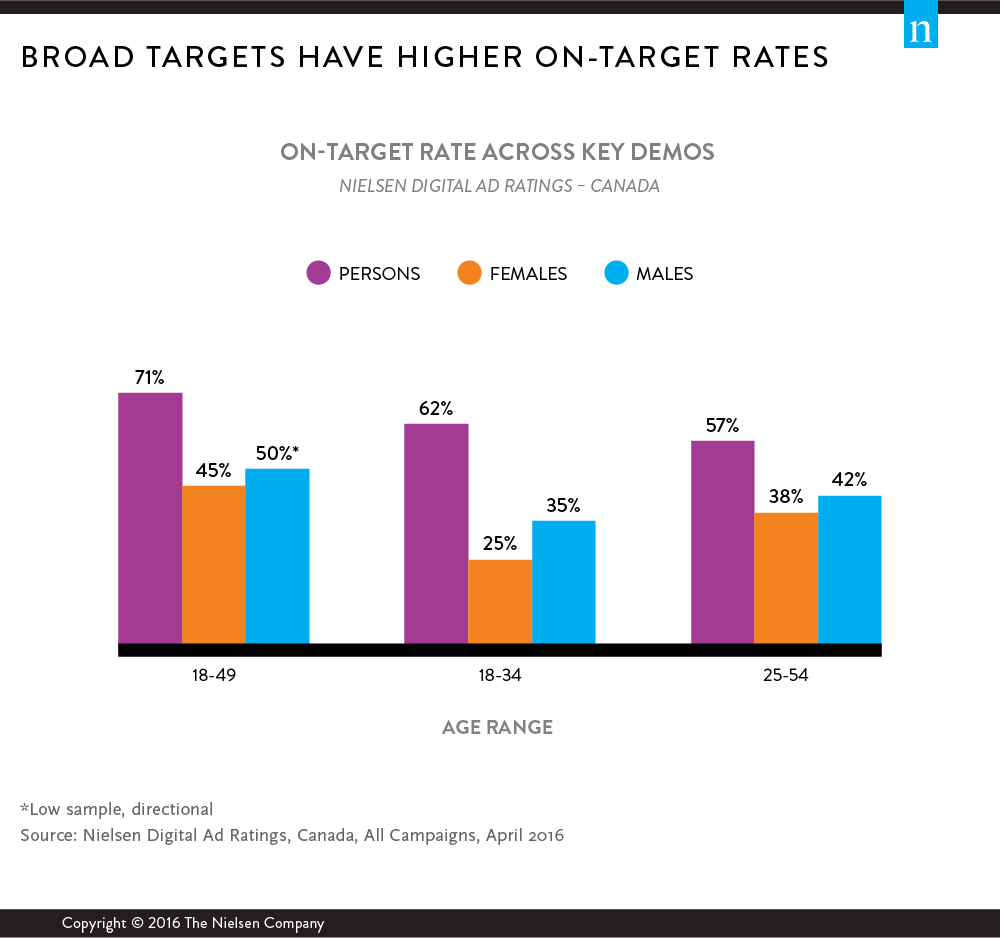 To combat this, campaign owners need to move beyond passive campaign measurement. That means doing their homework about publishers before they launch their campaigns, and actively monitoring and optimizing their campaigns while they are in market. When it comes to executing their campaigns, marketers should look to publishers that show high average on-target rates against specific demographic groups or can guarantee that a certain number of impressions will be served to a specific audience. Conversely, media owners can proactively provide this information to win business, particularly if they know they achieve above-average on-target rates among a hard-to-reach target. Once the campaign is in flight, media owners should actively monitor impression delivery and on-target rates for optimization opportunities.  
But a campaign's on-target rate isn't just influenced by who you're trying to reach. It's also influenced by how you're trying to reach them.
Nielsen Digital Ad Ratings has been measuring mobile campaigns in Canada for over a year now. Across most of the audience groups that we've looked at, mobile campaigns have outperformed their desktop counterparts in reaching the intended audience. This may be due to the fact that mobile campaigns generate more data points for marketers to work with.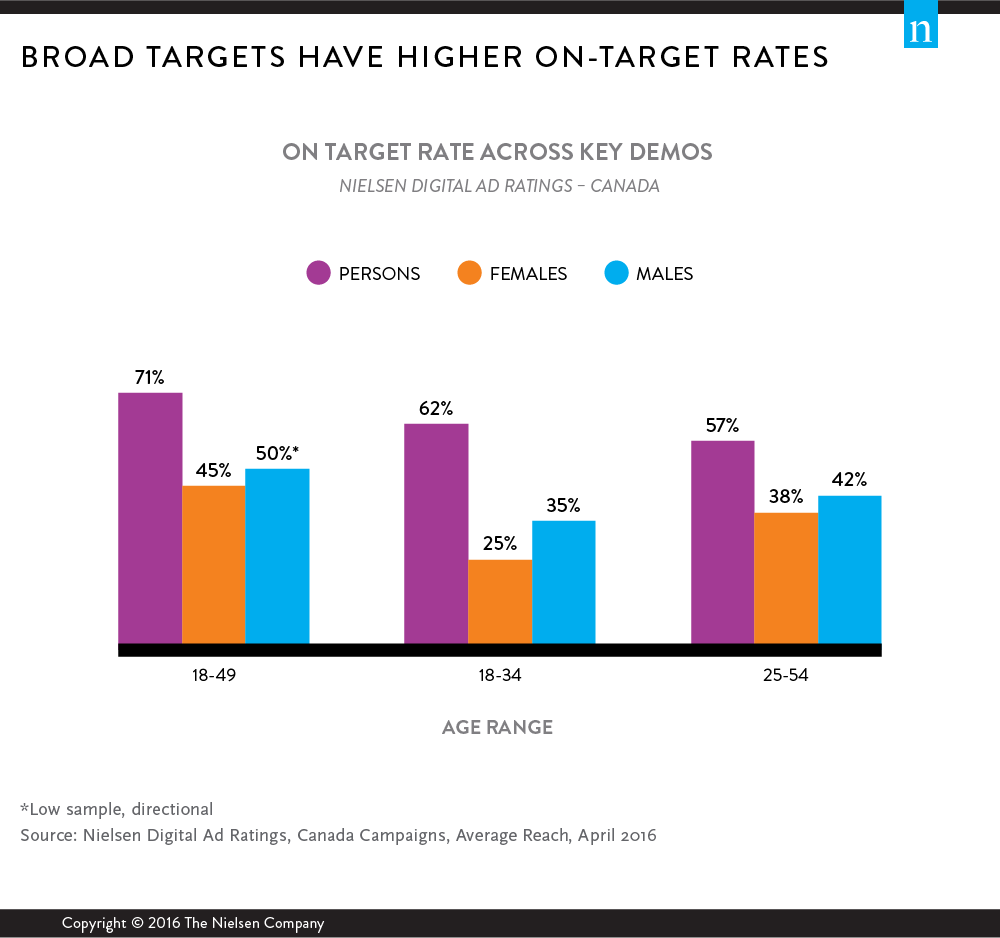 On-target rates also vary by ad format. Display ads have a great track record reaching broad audiences—for example, campaigns focused on everyone within a 16-30 year age range or a 30+ year age range. As audience targets narrow, however, video tends to outperform display. As noted earlier though, on-target rates among narrowly defined audiences are still relatively low regardless of whether marketers are using video or display ads, highlighting opportunities to improve.
Methodology
On-target rate information was derived from a custom analysis of more than 3,800 Nielsen Digital Ad Ratings campaigns run in Canada between June 2013 and April 2016.