Smartphones are a necessity in modern daily life and an indispensable item when on the go. They're also an increasingly viable way for marketers to make their pitches to connected consumers. Nielsen recently looked at the demographics of U.S. smartphone owners, including gender, race and age, as well as share of operating systems.
In third-quarter 2016, 12% of smartphone owners said they had recently acquired their handset (within the last three months). Among recent phone acquirers in general, 93% chose to purchase a smartphone, compared with 90% in the third quarter of 2015. Overall smartphone penetration continues to rise rapidly, growing about eight percentage points year-over-year from 80% in third-quarter 2015 to 88% in third-quarter 2016.
When looking at smartphone owners by age, penetration is highest among Millennials aged 18-24, 98% of whom own smartphones. Millennials aged 25-34 are right on their heels, with a 97% ownership rate, followed by Gen Xers aged 35-44 at 96%, making smartphones nearly ubiquitous among these generational segments.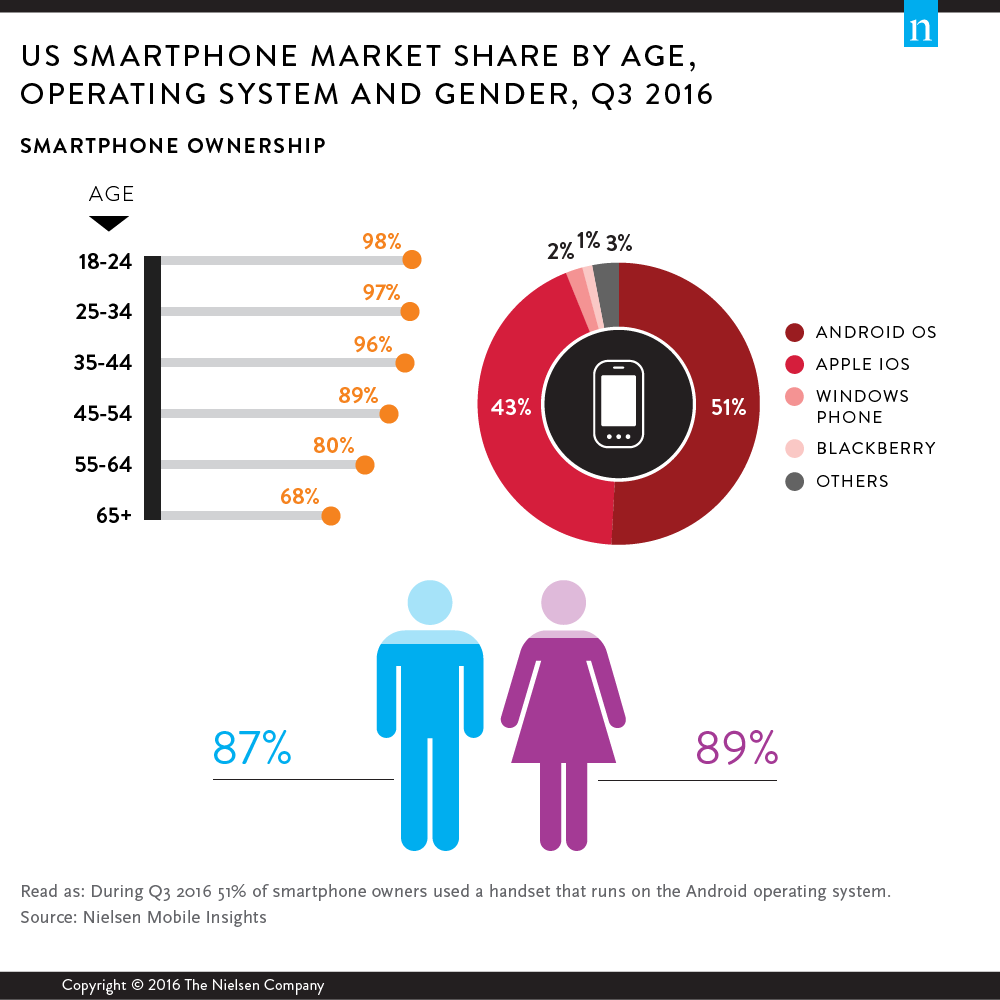 But when looking at ownership by race and ethnicity, the penetration gaps are a little wider.
While multicultural consumers have the highest smartphone ownership, Asian-Americans take the lead (95%). African-Americans had the second-highest smartphone penetration at 93%, followed by Hispanics with a 90% penetration rate.
When it comes to apps, the top three smartphone apps by average active reach percent among adults 18+ in third-quarter 2016 were Facebook, Facebook Messenger and YouTube.
For all Americans, Android was the top operating system in third-quarter 2016, with 51% of U.S. smartphones running on that system. Apple, meanwhile, remained the top smartphone manufacturer, with 45% of mobile subscribers in the U.S. owning an iPhone, followed by Samsung at 32%.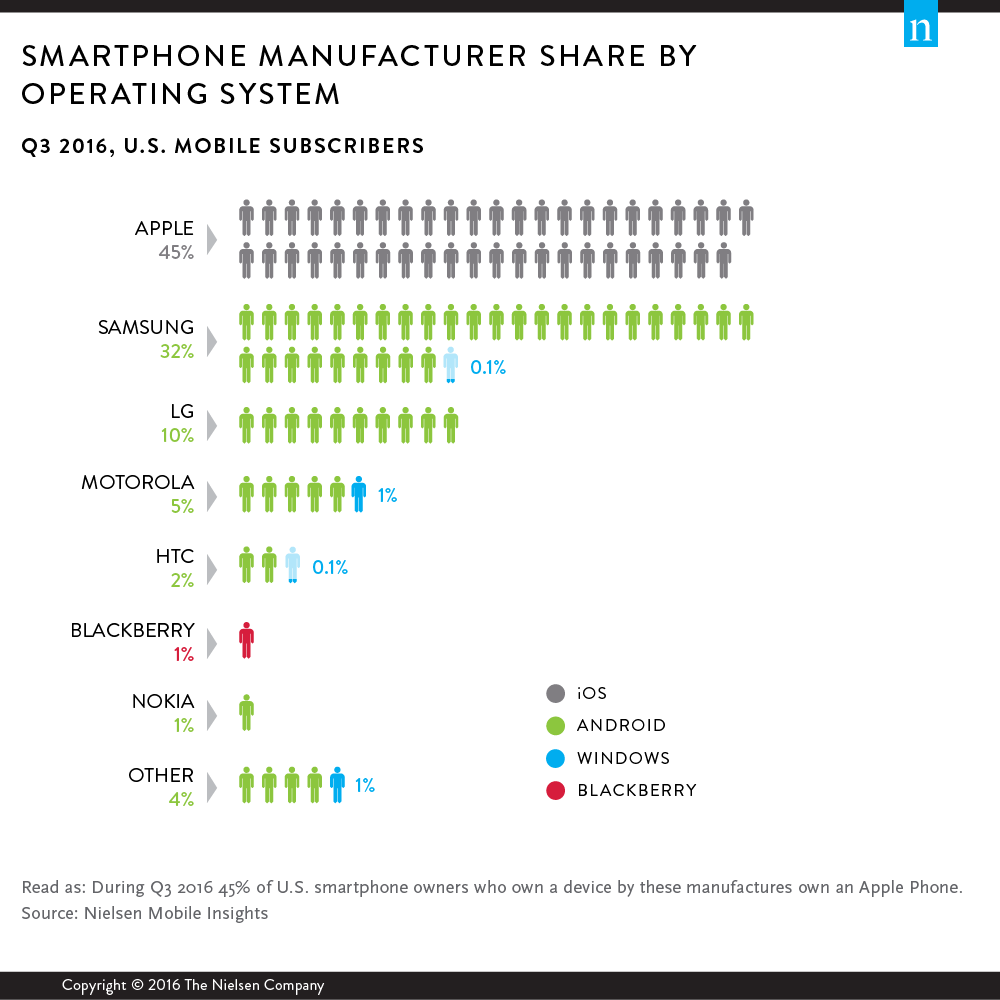 Methodology
Nielsen's Mobile Insights is a monthly survey of 30,000+ mobile subscribers aged 13+ in the U.S. Data is collected primarily online and also via in-app mobile and a supplemental Spanish language landline phone survey fielded among Hispanics aged 18+. Mobile subscribers are asked to identify their primary handset by manufacturer and model; smartphones are defined as any handset with a high-level operating system. All data is weighted to be nationally representative of the U.S. wireless subscriber population.
Nielsen's Electronic Mobile Measurement is installed with permission on panelist smartphones (approximately 9,000 panelists ages 18+ with Android and iOS handsets). The panelists are recruited online in English and include Hispanic, African-American, Asian-American, Native American and Alaskan Native and other mixed racial background consumer representation.
This method provides a holistic view of all activity on a smartphone as the behavior is being tracked without interruption.