Age is everything. When it comes to viewing habits, the age of the viewer has a lot to do with linear and digital platform usage. As the industry continues to evolve, consumers have endless media options from which to choose across the fragmenting viewing landscape.
According to Nielsen's first-quarter 2016 comparable metrics report, TV is still the preferred choice for overall viewing, and is the most heavily consumed platform among adults of all ages. TV continues to play a role in shaping our experiences of live historical events, as consumers continue to watch television as they watch history unfold. In fact, Live+DVR/time-shifted TV  viewing accounts for 47% of the total average audience among adults 18+. Millennials ages 18-34 use TV connected devices over six hours per week, while adults 18-49 spent over 14 hours each week on their smartphones.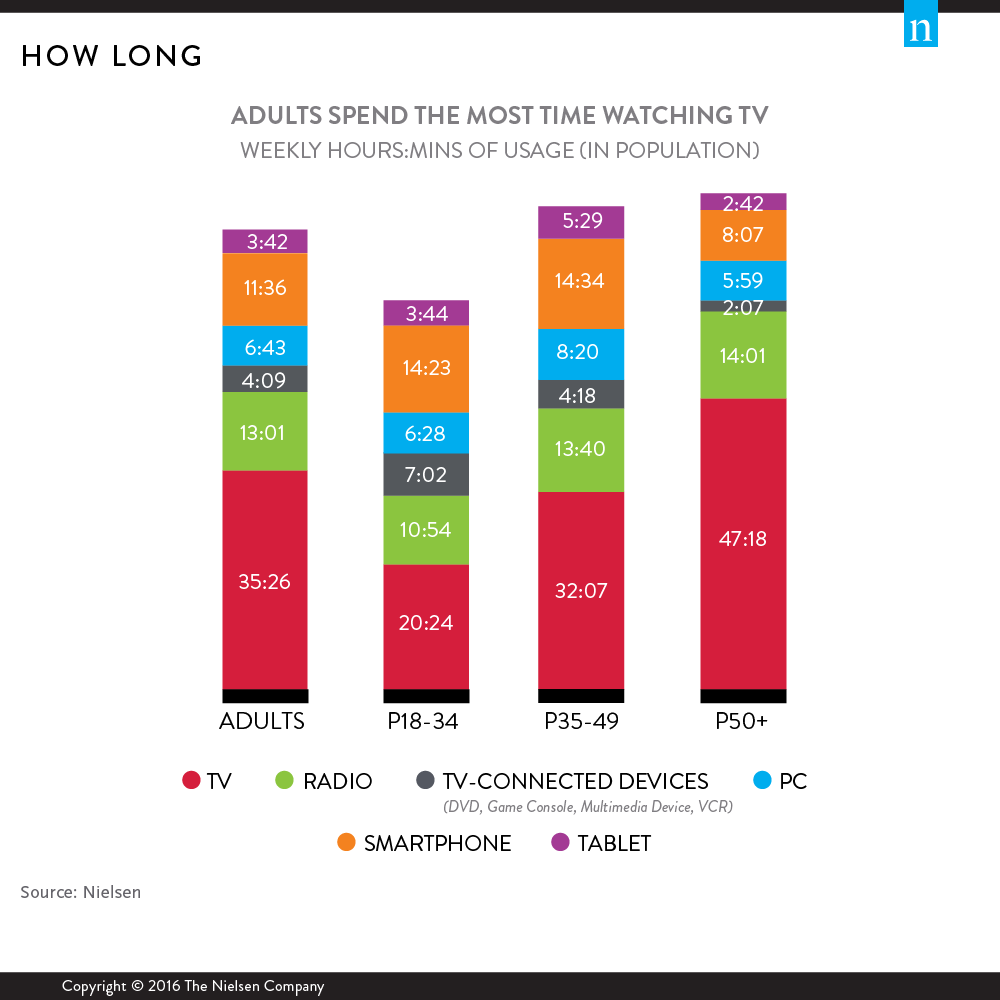 Diverse audiences also play a role in usage! Hispanics are the most avid radio listeners and spend the most time on their smartphones, (14 hours and 25 minutes a week), while Asian-Americans have the highest amount of TV connected device usage (4 hours and 16 minutes a week). Black audiences watch TV more than any other group, spending 50 hours and 54 minutes a week.
"Persons 18-34 spend as much time with PCs, mobile devices and TV-connected devices as they do with TV and radio," said Glenn Enoch, SVP of Audience Insights at Nielsen. "This age group is the most likely to consume different types of content across a variety of devices."
In this dynamic media viewing universe, an apples to apples comparison of media behavior is essential. Looking at how many, how often, and how long the consumer is engaging with content is imperative for content providers and advertisers to assess the opportunities and challenges within this viewing paradigm.