The smartphone—already a Swiss-army knife of information, content and entertainment—is rapidly becoming a convenient medium for making payments. Mobile payments* have largely been considered a product for developed markets, but based on current trends in India, they hold just as much appeal in developing markets.
According to U.K-based Juniper Research, more than one in three mobile wallets and over 50% in developed markets, will feature contactless payment by 2018. With the proliferation of mobile payment apps, the Indian smartphone user has increasingly begun to go cashless. The popularity of such apps has risen from over one-in-five active users last year to over one in every two users this year.
An analysis of real time metered smartphone usage data with Nielsen Informate Mobile Insights reveals how Indian consumers are using mobile payment apps. Overall time spent on mobile payment apps has increased by nearly 1.5x, with users spending an hour and a half on mobile payment apps every month.
Males Drive Mobile Payment Category On Smartphones
Mobile wallets have made transactions effortless, and more men seem to have embraced this concept than women. Mobile payment apps are 1.2x more popular among men than women, and men are 2x more engaged with these apps than women.
Small Town Buzz
Our findings indicate that even though the penetration of mobile payment apps among users is similar across towns of all sizes (60% of those in large towns and 58% of small town use them), usage is higher among small town users, with these consumers spending 109 minutes a month on these apps.
Less Is More
Industry experts say the key to rapid acceleration of mobile payment app adoption is to make the payment process simple for the consumer. The less information the consumer has to manually enter, the better the adoption rate. The other key factors that limit consumers' willingness to use mobile payments include trust, convenience and unstable data connectivity.
But such limitations aside, the ease of use coupled with the evolution of smartphone users have led to massive growth in popularity of these apps over a short span of time with users spending as high as one hour per month on them.
TOP MOBILE PAYMENT APPS
According to data with Nielsen Informate Mobile Insights, the most popular mobile payment apps in terms of time spent, are those that provide services over and above pure payment like mobile recharging, ability to book movie tickets, shopping and so on. This ability to multitask creates a 'sticky' factor with users.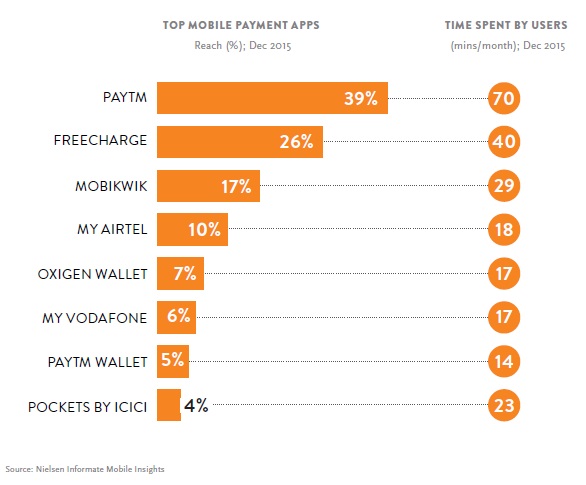 *This study focuses on mobile payment apps and does not cover PC payment gateways.
For more details, download the full report (top right).