Commercial radio reaches three-quarters of Australians who intend on buying a car in the next year, making it the perfect vehicle to communicate with these consumers over the course of their decision-making journey.
Almost one-in-five or 2.4 million Australians aged over 14 intend on purchasing a new car in the next 12 months. Around 1.8 million (75%) of these potential car buyers listen to commercial radio every single week.
These are the findings from the latest report from Nielsen and Commercial Radio Australia (CRA), which paints a picture of the automotive consumer in Australia including their preferences, perceptions and buying intentions.
Of the commercial radio listeners who intend on buying a car next year, 57% plan on purchasing a new car, while 43% will buy used. More than one-quarter of these consumers plan to spend $40,000 or more on their car purchase.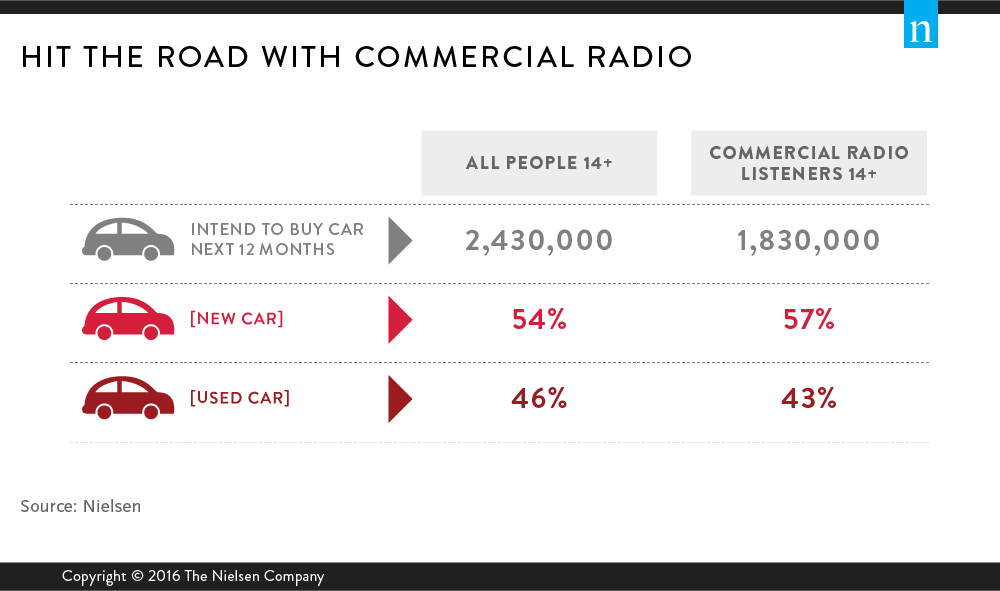 TUNING INTO YOUR AUTO AUDIENCE
The report reveals four distinct consumer segments that car manufacturers and retailers should keep in mind when developing their marketing efforts.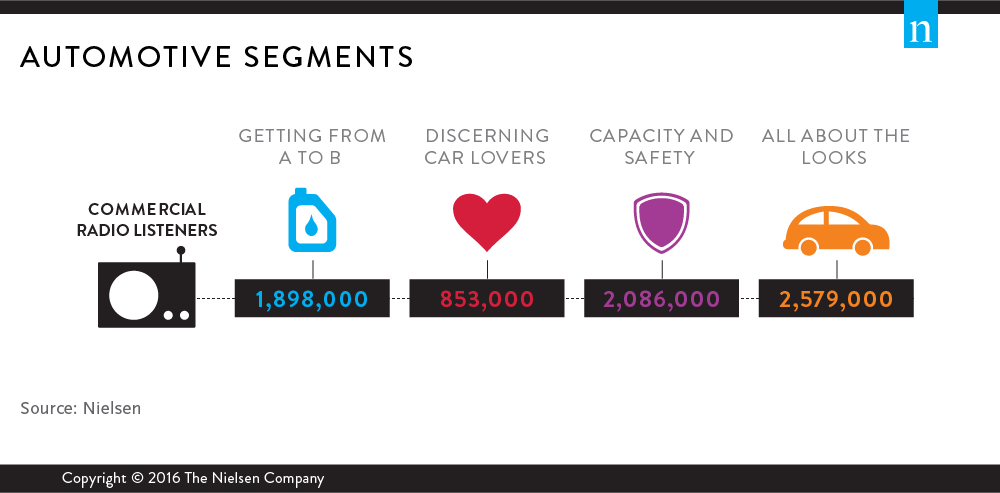 1. Getting from A to B
This segment is all about reliability and fuel-efficient travel, not so much how the car looks. This group includes the oldest consumers of the four segments, with one-in-two people aged 55+. It also has the highest female skew, with seven-in-10 being female. When it comes to purchasing a car, they are the most likely of any group to seek advice from family or friends. These consumers are not early adopters, preferring to 'wait and see' before trying new things.
2. Discerning car lovers
This group is the most likely to buy on gut feel and identify as 'car enthusiasts.' Factors including sex appeal, prestige, fun, performance, aggressiveness and good handling are all important factors influencing decision to purchase. This group has the highest proportion of males (60%), and also has the heaviest representation from the 25-39 age band (47%). They are definitely early adopters, preferring to dive right in and be the first to try things as soon as they're available.
3. Capacity and safety
This segment is primarily concerned with comfort and practicality. Consumers in this group will buy a car based on the capacity to comfortably fit passengers and cargo and how easy it is to get in and out of. Protection for themselves and their family is a key purchase influencer. They spend lots of time researching before buying and ensure their car is serviced regularly and under warranty. The lion's share of this segment fall into the 'young families' life stage (37%), meaning they have children in the home aged 0-12.
4. All about the looks
As the name suggests, looks are important to this group. They like to drive and own cars that show off their status. The sex appeal of the car is significant, with performance, prestige and handling also rating highly. Overall, looks and style are more important than reliability. While this segment is similar in many ways to 'Discerning Car Lovers,' they aren't quite as extreme – they love fast cars, just not quite as much. This group is slightly older, moving into the band of 40-54 years.
So how can we use commercial radio to tune into this large and lucrative audience who are intent on a car purchase in the near future?
Joan Warner, Chief Executive Officer of Commercial Radio Australia, says: "Radio has always been the number one entertainment choice in the car, so it makes sense for the auto industry to leverage that close bond with listeners and talk to potential customers when their attention is focused on the driving experience."
For most of us, buying a motor vehicle, whether new or old, is one of life's 'big decisions'. Consumers can spend a long time researching, test-driving and budgeting before making a final decision. Commercial radio provides myriad touch points at opportune times for auto retailers and manufacturers to connect and engage with their consumers along their entire path to purchase.