What if you could easily reach a dynamic audience that is influential, educated, entrepreneurial and committed to the continued growth of society? Increasingly, that driving force is women, a rumbling economic powerhouse. In the U.S. alone, women make up just over half of the population, and they're accountable for over $39 trillion dollars[1]. That puts them in charge of 30% of the world's wealth, and the number is growing[2].
Nielsen's research into consumer behavior allows us to connect with women, to hear their voices and learn more about their daily media and purchasing patterns. Understanding their behavior is imperative to publishers and brands who seek to create content and craft messages that tap into women's power to move markets.
Females of every age and ethnicity bring distinctive values and priorities to the world of consumption. Multicultural women, in particular, are conscious consumers, supporting brands and companies that give back to and do no harm to their environment, community, family, and health. In fact, 58% of African-American women agree that they are willing to pay more for a product that is environmentally safe, and 62% of Hispanic women agree that they buy based on quality, not price. Eighty-six percent of Asian-American women agree that they are always looking for new ways to live a healthier life[3].
Brands and organizations looking to reach these conscious consumers have more options than ever before. Women are prodigious consumers of video, internet and radio, and they're increasingly engaged with media and technology. According to Nielsen's Q2 2017 Total Audience Report, generally, American adults consume almost 76 hours of content per week across all screens and devices. The majority of time is still devoted to traditional live TV, but current trends project consumers are spending more and more time with digital devices, especially women. Radio also has high consumption among women, as they spend almost two hours a day listening. In the second quarter of 2017, women over the age of 18 in the U.S. were spending over 11 hours a day consuming media across devices—from their TV to their smartphone.
Among women over 18, traditional live TV remains the largest component of their media consumption, with an average of 4 hours a day spent watching this medium. From 2015 to present, this demographic has consistently spent an average of around 30-plus minutes per day with time-shifted TV.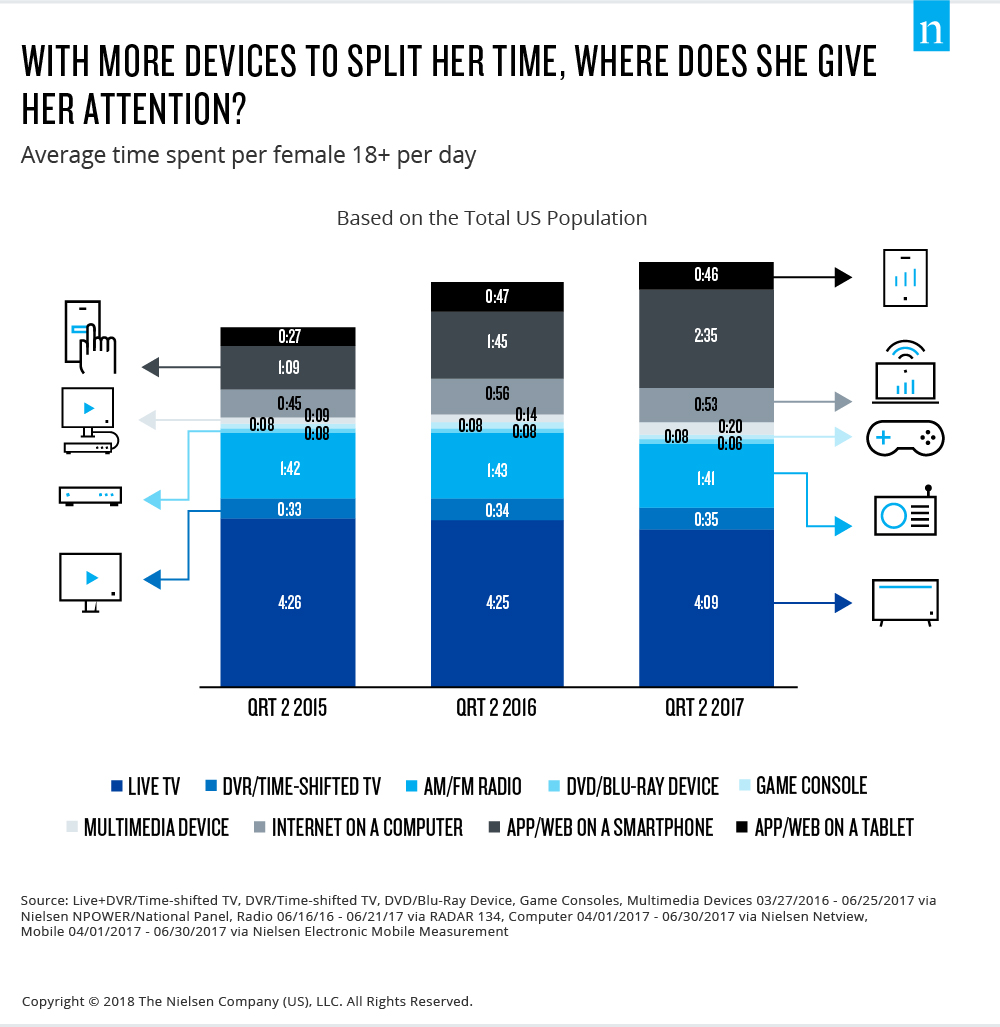 Local News Is Key to Reach Mothers
The drivers behind how women invest in their time and attention have more to do with their life stage and experience. The best example is mothers in the U.S. and their news consumption on a daily basis. Marketers have long recognized moms as a powerful segment, and new products and campaigns are constantly being developed with moms in mind.
So, what's the best time to reach moms via local news?
Well, it all depends on whether they're working or stay-at-home moms. Since they have different schedules and lifestyles, their local news consumption differs based on where they are during the day.
According to Nielsen's Local Watch Report, working mothers make up the majority of morning news (58%) and late night news (52%) viewing, as they're mostly working during the daytime. Meanwhile, stay-at-home moms over index on catching up with the news at midday (61%) and early evening (57%) and spend much less time tuning into local news in the morning. These moms don't interact with media in the same way, giving marketers and advertisers a great opportunity to reach them within the diversity of their schedules and lifestyles.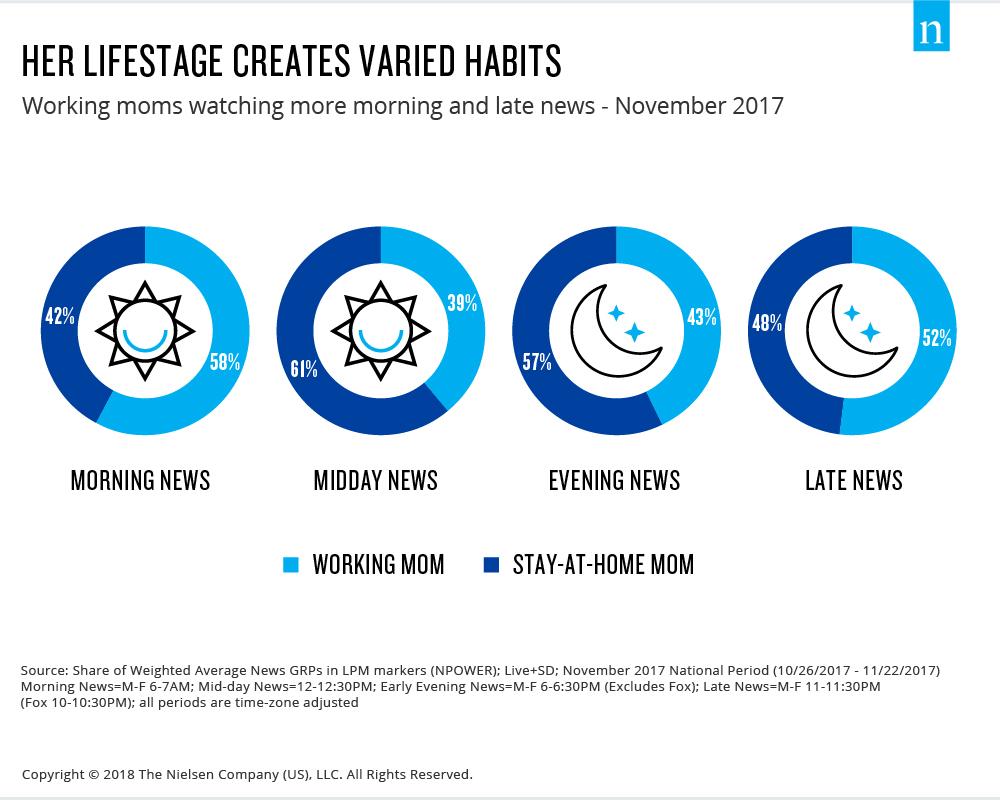 Women play an active role within the digital and traditional media space. As the media landscape changes, they're also adapting to the new media landscape by using new forms of technologies for everyday purchasing. These habits highlight the need for marketers to know how and where to reach them.
Methodology
Insights in this article were derived from Boston Consulting Group, 2016, and Nielsen data sets: 
Live+DVR/Time-shifted TV, DVR/Time-shifted TV, DVD/Blu-Ray Device, Game Consoles, Multimedia Devices 12/26/2016 – 03/26/2017 via Nielsen NPOWER/National Panel, Radio 03/24/16 – 03/29/17 via RADAR 133, PC 01/01/2017 – 03/31/2017 via Nielsen Netview, Mobile 01/01/2017 – 03/31/2017 via Nielsen Electronic Mobile Measurement
Share of Weighted Average News GRPs in LPM markers (NPOWER); Live+SD; November 2017  National Period (10/26/2017 – 11/22/2017) Morning News=M-F 6-7AM; Mid-day News=12-12:30PM; Early Evening News=M-F 6-6:30PM (Excludes Fox); Late News=M-F 11-11:30PM (Fox 10-10:30PM); all periods are time-zone adjusted.
Live+DVR/Time-shifted TV, DVR/Time-shifted TV, DVD/Blu-Ray Device, Game Consoles, Multimedia Devices 03/27/2016 – 06/25/2017 via Nielsen NPOWER/National Panel, Radio 06/16/16 – 06/21/17 via RADAR 134, Computer 04/01/2017 – 06/30/2017 via Nielsen Netview, Mobile 04/01/2017 – 06/30/2017 via Nielsen Electronic Mobile Measurement
Total Audience report: The Source is  Q2 2017 Total Audience Report.
Nielsen Scarborough USA+ 2017 R2, GfK/MRI Attitudinal Insights
[1] Boston Consulting Group, 2016[2] Boston Consulting Group, 2016[3] Nielsen Scarborough USA+ 2017 R2, GfK/MRI Attitudinal Insights