Following China's continued focus on the Belt and Road Initiative (B&R), key high-growth markets are showing significant opportunity for Chinese brands looking to expand their operations overseas. More specifically, Indonesia, The Philippines, Egypt and Turkey, are showing favorable conditions for investment. With Indonesia's fast-moving consumer goods (FMCG) consumption growing 11% between 2016 and 2017, and Turkey's GDP surging 7.4% in 2017, these markets have enormous potential.
The B&R Initiative is a development and investment initiative put forward by the Chinese government, and which aims at building connections and infrastructure throughout Eurasian markets. The initiative is a turning point for cooperation and investment between key markets. The initiative has already led to 75 economic and trade cooperation zones, attracting more than US$270 billion of investment. Following this increased collaboration and investment, import and export trade volumes grew 17.8% in 2017.
TURKEY – A DIVERSE AND DYNAMIC MARKET OF GROWTH
Bridging the continents of Asia and Europe, Turkey is a dynamic and diverse country in the midst of an economic boom. Consumers are optimistic and willing to spend. Turkey scored 89 on the Q1 2018 Conference Board Consumer Confidence Index (CCI), produced in collaboration with Nielsen.
Turkey is home to young, urban and digitally savvy consumers. Tech-enabled consumers now spend longer online than Chinese netizens, clocking more than 7 hours on the internet each day and almost three hours on social media.
Consumers are shifting spending from larger basket trips to more high-frequency purchases at small format stores. 36% of Turkish shoppers made monthly grocery shopping trips in 2017, down from 49% in 2011. Meanwhile, the rate of weekly shopping rose to 42%, up from 23% in 2011.
To succeed in this market, Chinese companies must appeal to young consumers' desire for innovation, develop distinctive offers that reflect local trends, tastes and traditions, and invest in social media to connect with Turkey's digitally savvy population.
Indonesia – A rising market of nearly 300 million people
Indonesia is home to a huge population of over 255 million, set to rise to over 282 million by 2025. These consumers are also rising in confidence. In Q1 2018, the market reached a CCI of 127.
This buoyant mood means shoppers are increasing their spending. Across all socioeconomic groups, Nielsen's consumer panel Data shows that FMCG consumption grew 11% in 2017.
At the same time, Indonesians have been quick to adopt new technologies, with 78% of Indonesians now accessing the internet through their smartphones. Digital connectivity has started to transform shopping behavior, however, traditional channels continue to dominate, with 57% of all sales coming from traditional trade.
To thrive in this market, Chinese businesses must appeal to middle class consumers, focus on traditional channels and embed localized strategies with tailored messages and products.
The Philippines – Connect with Asia's most optimistic shoppers
The Philippines is in the midst of a transformation as years of stable growth contribute to a thriving economic outlook. The market is home to Asia's most optimistic consumers. In Q1 2018, the Philippines scored 128 on the CCI.
The Philippines is also home to some of the world's most connected consumers, but this is yet to translate into online sales. While internet penetration is now 59% and Filipinos now spend 37 hours online each week, Nielsen's 2018 Philippines Shopper Trends report shows just 3% of consumers bought groceries online in the past six months.
To win in this fast-changing market, Chinese companies must align their offerings and strategy with a consumer base that is confident and growing in affluence, yet remains price conscious and focused on brick and mortar retail.
Egypt – A new generation of young, rising consumers
Egypt is experiencing an economic renaissance, which is fuelling a positive spending outlook. Throughout 2017, Egypt's CCI continued to climb, reaching 85 in Q1 2018.
Household consumption is expected to grow by 3.3% in 2018 and FMCG purchase volumes increased 4.6% in Q1 2018, with groceries, confectionery and beverages experiencing the highest value growth over this period.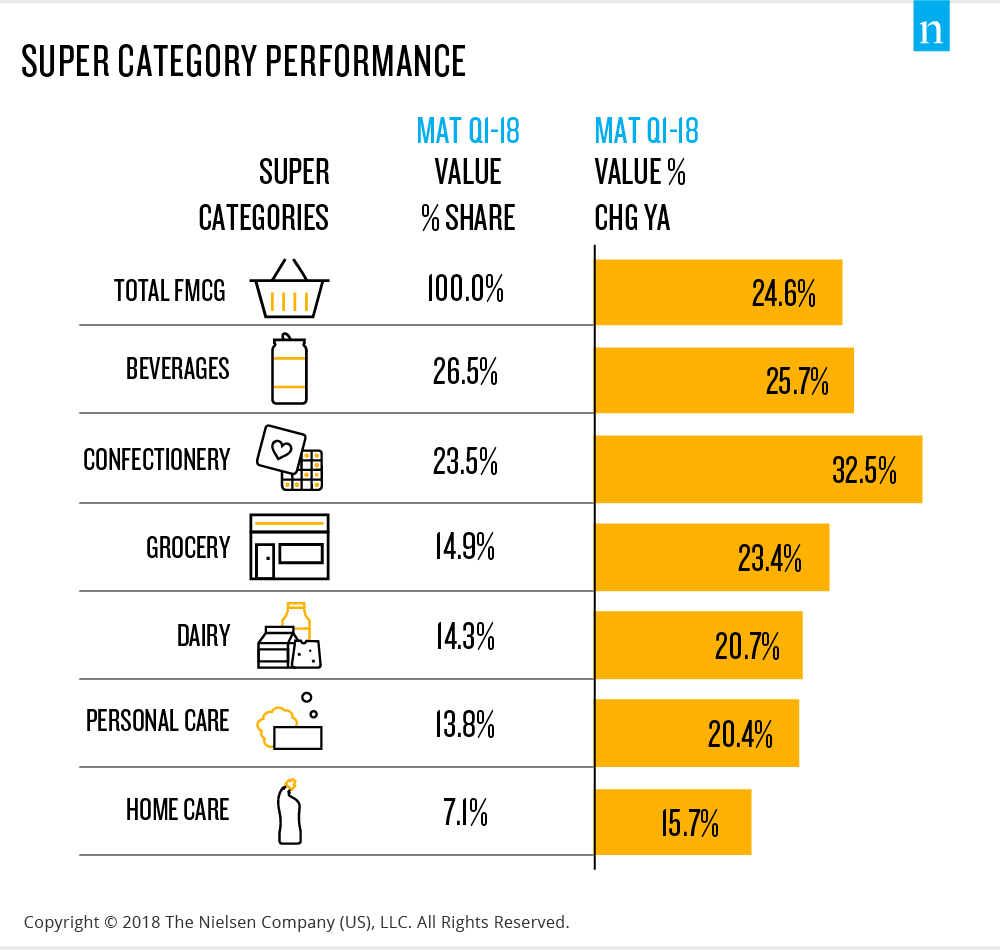 Digital technology continues to spread across the country. Overall, 69% of urban consumers have access to the internet. However, just 8% of internet users currently shop online. Looking ahead, there is significant growth potential to be realized.
At the same time, Egyptian consumers are very price conscious, leading to the rise of discount stores. Nielsen data shows that between 2016 and 2018, the number of shoppers that visited discounters to buy their groceries increased from 23% to 43%.
What's Next for The Belt and Road
The B&R initiative means there has never been a better time for Chinese businesses to bring their brands, products and services to global markets. But Chinese companies must create robust strategies if they are to win in this new landscape. With so many opportunities, businesses must take a targeted approach. Deep-dive analytics will be key to understanding local preferences and trends, and which marketing plan will lead to the best return on investment.
For additional insights, download our full report.