The presidential debates are over, and the U.S. is now in the final days leading up to the election. Political pundits are discussing polls and sentiment from critical demographics in swing states, as well as the important role these voter segments will play in ultimately determining the outcome of the 2020 presidential election.
But a one-size-fits-all approach to engaging these critical voter segments—even at the state level—can be a mistake for political campaigns. Targeting independent moms in Florida with your advertising? Well, moms in Jacksonville, Florida, think very differently from moms in Tampa and Orlando. With less than a week until the presidential election, it is paramount for advertisers to understand how they can best reach their audience as the countdown to the election begins its final stretch.
Voters who are moms are a particularly coveted demographic this election season. And both presidential candidates are hoping the "mom vote" will help them carry the election come Nov. 3. As politicians, marketers, advertisers, and political strategists alike think about how to best reach this important segment, it is imperative to keep in mind the specific nuances and variations within this demographic. In order to be effective, advertising in swing states needs to be tailored to distinctions within each market.
A recent analysis from Nielsen looked at suburban women in Florida, a swing state that has historically had close races over past presidential campaigns. This research highlights the nuances and differences based on geography and the value of understanding the variations of local markets in planning ad campaigns.
Within each market represented in the study, moms have different careers, lifestyles, and leisure activities, and each uses media in distinct and disparate ways. A well-executed campaign will tailor messaging—and media placements—to each city.
In Jacksonville, suburban women are 12% more likely than the average U.S. adult to be employed full time and 61% more likely to be taking adult continuing education, and over one-in-three women in Jacksonville engage in volunteer work. Top media consumption for this demographic includes watching food shows and science fiction TV. When it comes to audio listening, adult contemporary and country radio is also popular.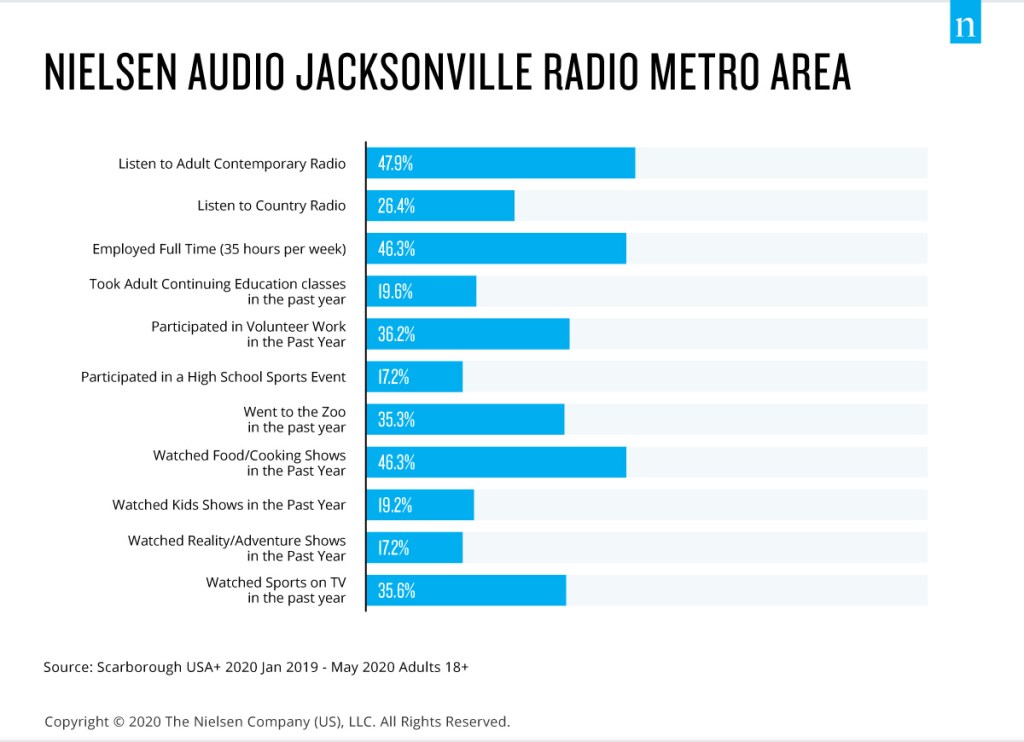 Contrast these media engagement habits with women in Tampa, who are 23% more likely to not be employed because they are retired. They are also more likely to go fishing, and three out of four spend less than two hours a week on social media, which is far less time than any of the suburban women in other parts of Florida. Tampa's suburban women also enjoy listening to classic rock radio and unwind by watching comedies on TV.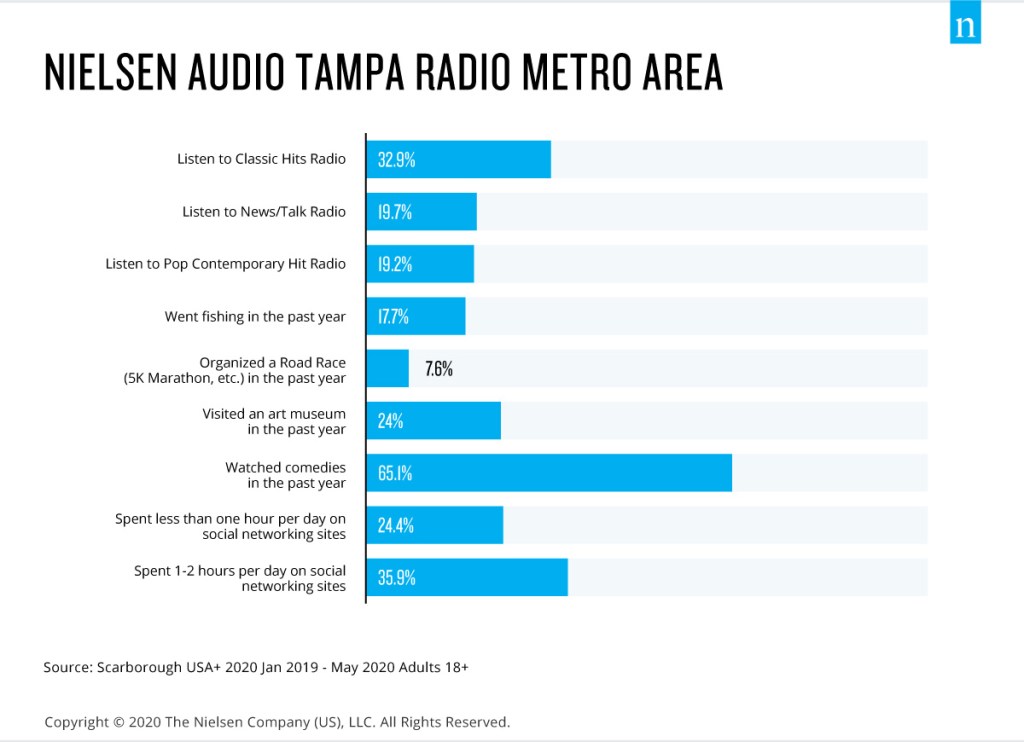 Meanwhile, women in Orlando also engage in distinctive leisure activities—55% have a 'green thumb' and enjoy gardening. This group is also more likely to go to the zoo (11%). While females in Tampa like to unwind with a good laugh by watching comedies, women in Orlando prefer to watch dramas (55%) for an entertaining escape.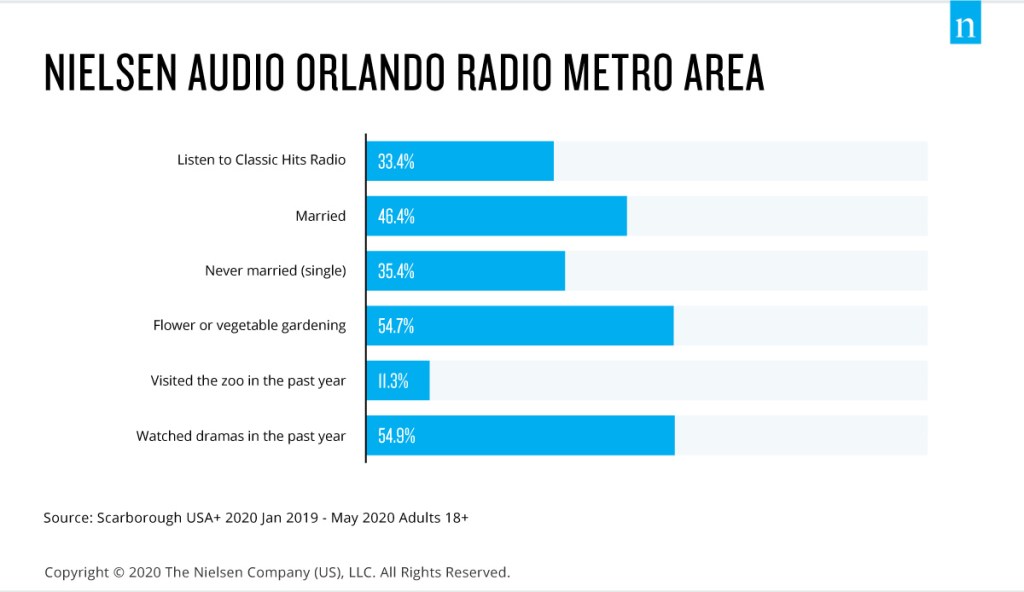 While Floridians are residents of the same state, suburban women in each corner of the Sunshine State could not be more different. Retired suburban women in Tampa have a very different lifestyle from full-time working women in Jacksonville, with a wide variety of distinctness in habits, lifestyles, and leisure activities. Because of these wide variances, each of these groups' decision-making processes are as unique as the priorities and importance placed on specific issues. Therefore, strategies for political messaging will be most effective if they are specifically tailored to the consumer preferences, lifestyles, and media consumption patterns of this demographic.
They also require more than an omnichannel marketing strategy. A marketing plan using a single media platform tops out quickly and can't reach women voters in all the places where they spend their time.
A simple graphic shows how an effective campaign to reach women in Jacksonville is improved by diversifying with additional platforms, even with the exact same budget. In this example, a single platform reaches 65% of voters in a one-week campaign. Adding a second platform grows reach to 87%, and spreading the budget across three platforms increases reach to an impressive 94%.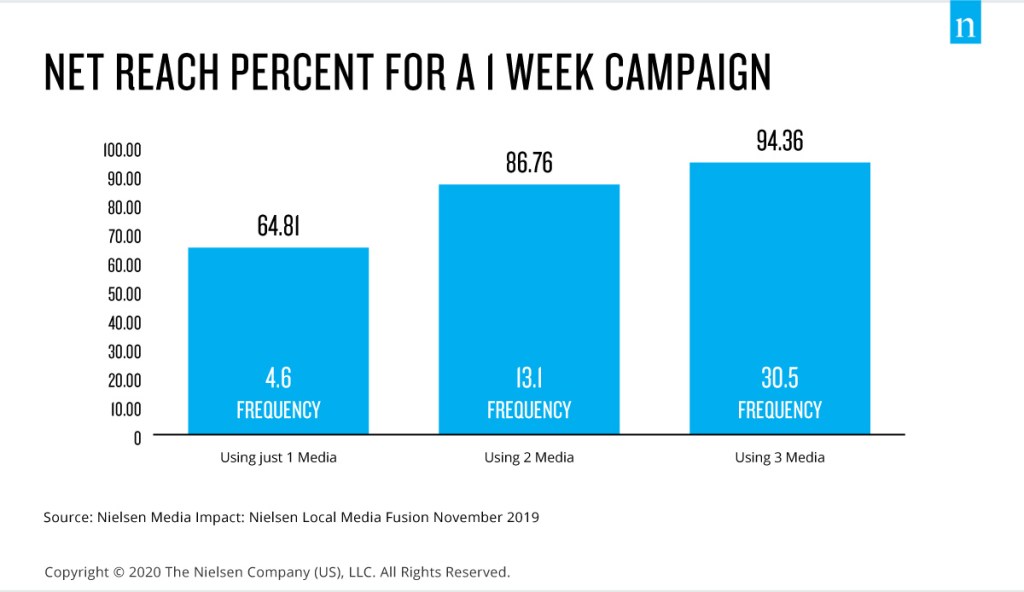 Conversely, a plan with a heavy amount of concentrated media is not going to achieve as much reach with voters than a plan that spreads out with multiple forms of media. In order to spread campaign messages most effectively and get the coverage needed for a campaign, it is essential to wisely diversify messaging across media, especially within the time constraints that are left in the final stretch of this election. In this watershed moment, a carefully planned campaign that reaches distinctive voter segments at a local level can still make all the difference.
Methodology:
The insights in this article were derived from Nielsen Scarborough surveyed suburban women respondents from 31,968 adults 18+ from January 2019-May 2020. It also includes data from Nielsen Media Impact based on Local Media Fusion, November 2019, of females registered to vote in their district of residence.