{"order":2,"name":"pubdate","attributes":{"sling:resourceType":"nielsenglobal/components/content/publishdate"},"children":null}
SYDNEY, 2 DECEMBER, 2015: Australian advertisers are buying 45% of digital advertising inventory through programmatic services, according to new data from Pathmatics and Nielsen.  
Pathmatics and Nielsen launched a new alliance last week, delivering device-level insights into Australia's digital ad market.
Fresh data yielded from the two companies found that in quarter 3 2015, digital advertisements across desktop, mobile and tablet all recorded a higher share of programmatic activity than the equivalent devices in the U.S.
Almost half (46%) of all ads on Australian desktops are bought via programmatic services, compared to 35% in the U.S. Australian advertisers leveraging  mobile devices to invest in ad campaigns are also heavily reliant on using automated transactions. More than two thirds (40%) of mobile and close to half (48%) of tablet impressions are now traded programmatically – significantly higher than the U.S. market – see table below.  
Conversely, video advertising remains the biggest supporter of direct publisher transactions. Over half (51%) of Australia's video inventory is traded directly. Whilst high, this is significantly lower than the 74% traded directly in the U.S.
Pathmatics' unique methodology captures data within an individual ad, which can show if the ad was bought directly through the publisher or through programmatic services. Nielsen provides Pathmatics with IAB-endorsed page view data which helps Pathmatics establish estimated ad impressions for a single ad on a website.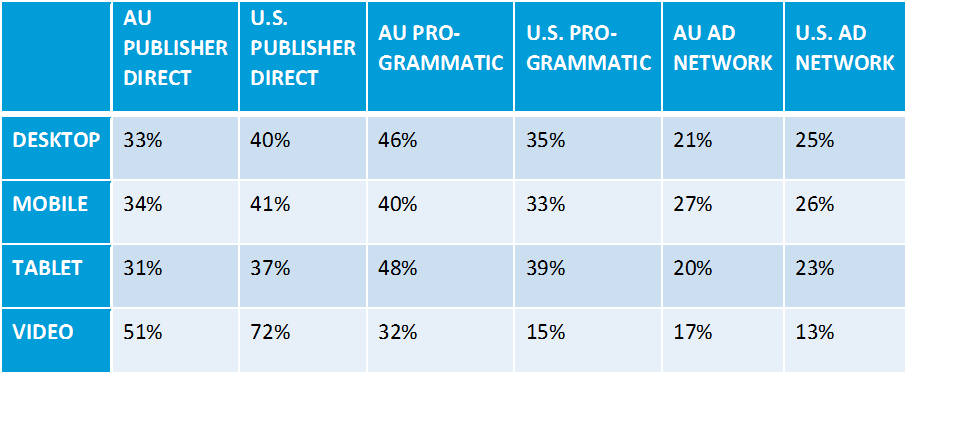 Source: Nielsen/Pathmatics AdRoutes, July 1, 2015 – September 30, 2015
ABOUT NIELSENNielsen Holdings plc (NYSE: NLSN) is a global performance management company that provides a comprehensive understanding of what consumers Watch and Buy. Nielsen's Watch segment provides media and advertising clients with Total Audience measurement services across all devices where content — video, audio and text — is consumed. The Buy segment offers consumer packaged goods manufacturers and retailers the industry's only global view of retail performance measurement. By integrating information from its Watch and Buy segments and other data sources, Nielsen provides its clients with both world-class measurement as well as analytics that help improve performance.  Nielsen, an S&P 500 company, has operations in over 100 countries that cover more than 90 percent of the world's population. For more information, visit www.nielsen.com. 
ABOUT PATHMATICSPathmatics provides breakthrough transparency in digital advertising. The company's patent-pending technology analyzes digital advertising activity and delivers real-time, actionable intelligence to many of the world's largest advertisers, agencies, publishers and ad tech providers. Pathmatics is headquartered in Santa Monica, CA and is backed by Upfront Ventures, BDMI and other leading venture funds. For more information, please visit www.pathmatics.com.
For more information about the Nielsen and Pathmatics relationship or details in the press release, contact:
Jackie Helliker, +61 403 074 864, Jackie.Helliker@nielsen.com