Joshua Hammond, Nielsen Online
Social media can be a great equalizer. Periodically we see a new consumer generated media (CGM) item that breaks barriers and demands a deeper dive. This month, we saw a true "David vs. Goliath" moment play out online for one of the most widely recognized brands in America.
In the spring of 2008, Dave Carroll and his band, the Sons of Maxwell, were traveling to Nebraska from Chicago on United Airlines. What should have been a routine journey turned into yet another cautionary tale for customer service and the Internet.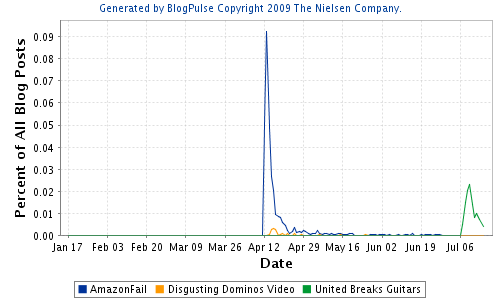 United's baggage handlers damaged Dave's high-end Taylor guitar. After 9 months of attempts to navigate customer service with little result, Carroll promised the individual who denied his claim that he would produce three songs and videos about his experience. Last Monday, he made good on his word by posting the first song to YouTube. The next two are already in production.
Within a week, Carroll's video received a staggering 3 million (and counting) views on YouTube and has received coverage in major publications like USA Today, Newsweek, The Wall Street Journal and on well-trafficked Web sites including The Consumerist and Boing Boing.
To make matters more interesting, the owner of Taylor Guitars also jumped on this non-stop flight to free publicity, posting a video of his own.
What exactly made the video and issue take off? To understand, let's deconstruct why this video is so compelling and how consumers are increasingly raising the stakes in how they shape brand reputation online:
Torches and pitchforks
This video effectively tapped into the simmering indignation many people feel towards the airline industry. The lesson for brand managers is if your brand is already struggling with negative consumer sentiment you are particularly vulnerable to vigilante consumer attacks. You need lightning-fast procedures to protect your brand.
Laugh and the world laughs with you
Never underestimate the power of great parody and entertainment. Brand managers should note that a good sense of humor provides significant lift in the world of social media.
I reject your reality and I submit my professionally produced version
The United example goes above and beyond the typical "candid camera" approach usually found on YouTube. It's memorable and well produced, with staging, editing, costumes and credits. Low barriers-of-entry to technology and growing audiences enable and inspire consumers to up the production quality of the content they create.
Dead in the cross hairs
Intentional or not, the video effortlessly targets several demographic segments eager to embrace social media. Nielsen Research shows that travelers, musicians, hipsters, and marketers are often the best "carriers," helping to spread CGM. Brands should make an effort to learn which of their customers use social media.
Flawless distribution
There is more to success than top-notch production values or posting to YouTube. The creators of this video tagged it well, enabled sharing and effectively seeded the conversation on Twitter. Within a few hours, the video was picked up by popular high-traffic Web sites and then shot thought the stratosphere by traditional media – all this on a news day that was monopolized by the memorial service for Michael Jackson.
How can United Airlines clean up the mess?
Go to the source
Despite the public rebuff by Dave Carroll in the response video below, United should continue to reach out to address his concerns directly. In an effort to make amends and at Carroll's request, United announced via Twitter that it had made a $3,000 to the Thelonious Monk Institute of Jazz. When defusing cause-driven outrage, it's important for the public to believe that United is sincere in any related efforts.
Search means forever
This video is now the third Google search result for the query "United Airlines." and iIt will likely haunt the company for a long time to come. United will need to produce a tremendous amount of positive company content, both written and video, to eventually push Carroll's off the first page of Google search results. They might also consider utilizing paid search to drive travelers customers to an apology video like the ones posted by some of their competitors others for in their past problems.
Jet Blue Apology
Past United Apology
Listen and learn
This exchange will serve as a case study and United needs to continue to work to give it a happier ending.
Since there is currently a tremendous volume of conversation occurring about the United brand, tThe company should take this opportunity to carefully listen to the tremendous amount of online chatter toand learn about its brand detractors and supporters. Where do these customers post? How do they talk about United? How do they discuss airlines in general? What specifically do they want in an airline? Are there new and unexpected brand engagement opportunities?
Straighten up and fly right
Many companies revisit how they handle consumer complaints after an experience like this. Social media will only continue to grow in reach and power, especially and when connected-customers make threats. Companies need to take them seriously and revisit how they handle consumer service..