When it comes to launching a new product, understanding what inspires consumers to try something new is key. The methods to reach and engage consumers vary, but a recent Nielsen global survey of respondents with Internet access indicates that a mix of media and word of mouth advertising garner the most success in raising consumer awareness.
According to new research from Nielsen, in-store discovery (72%) tends to be the largest driver of new product awareness. TV (59%) and print (54%) advertising are leading influencers as well. Of the 21 methods reviewed in the study, however, the advice of family and friends (77%) is the most persuasive when looking for information about new products. Other top methods around the world include receiving a free sample (70%), searching the Internet (67%), and professional/expert word-of-mouth advice (66%).
Globally, the most persuasive awareness drivers, as ranked by the likeliness to purchase a new product when learned via these methods, include a mix of all activities. The survey highlights that word-of-mouth communication spurred by social media and Internet usage is growing in importance. Consumers increasingly find the Internet and mobile are compelling vehicles to get information about new products. However, potential reach and ease of execution varies substantially.
The findings are from the Nielsen Global Survey of New Product Purchase Sentiment, which surveyed more than 29,000 respondents with Internet access from 58 countries about new product awareness. The survey uncovers current consumer sentiment when it comes to purchasing new products, which product categories are enjoying the most interaction and what information sources are influencing new product purchase activity.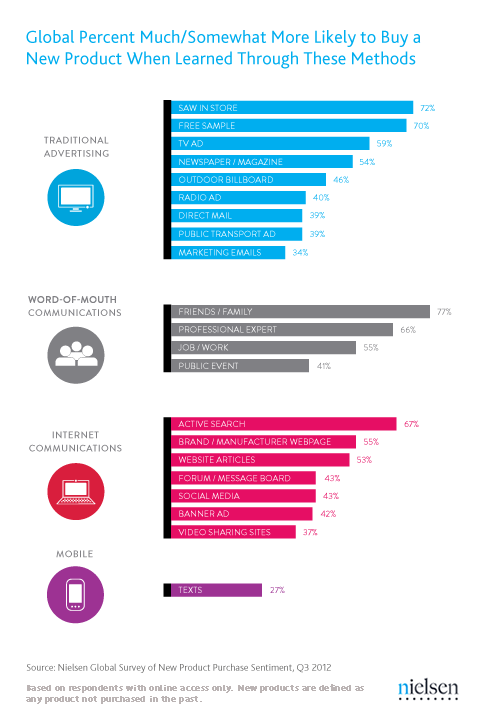 For more detail and insight, download Nielsen's Global New Product Report.