Football season and wings go hand-in-hand, and for Buffalo Wild Wings—a major North American restaurant chain—it's one of the busiest times of the year.
More than one-fourth of the world's advertising dollars spent are on fast-moving consumer goods like quick-service and casual dining restaurants, and new ad formats are constantly coming to market. Seeking new ways to capture audience mindshare, marketers are always expanding their ad efforts, ranging from online to social to mobile [1]. For the 2012 season, Buffalo Wild Wings saw football season as the perfect opportunity to implement a cross-device advertising campaign to capture more consumer time and drive in-store traffic.
Moving beyond traditional advertising, Buffalo Wild Wings worked with space150, a digital innovation agency, to create "Protect the Football," a game in which football fans avoid game day distractions to get to the nearest Buffalo Wild Wings restaurant. The advertising was directed toward males ages 18-35, and Buffalo Wild Wings and space150 made the game available across online and mobile platforms. Buffalo Wild Wings and space150 wanted to understand how their online tactics were performing in a mobile space, and needed relevant brand lift metrics to evaluate how effective the campaign was at driving intent brand lift across both platforms.
Nielsen Brand Effect gave the agency and advertiser the opportunity to review online and mobile overall, by site and by lifetime performance while the campaign was still in progress. Both sides were able to determine that performance across both platforms was exceeding expectations, and they were able to optimize campaign performance in-flight. This drove a 26 percent brand lift in intent to visit the restaurant among users who saw the online campaign, and a 45 percent brand lift in intent to visit the restaurant among users who saw the mobile campaign.
U.S. consumers spent more than 129 billion minutes on mobile apps in 2012, twice the amount in 2011 [2], making mobile an opportune space for advertisers to reach an always-connected audience and get their message across on a mobile screen. Though mobile is an emerging platform, Buffalo Wild Wings and space150 were able to use familiar metrics to optimize the effectiveness of their campaign and capture more audience mindshare, which ultimately led to a greater return on investment.
This campaign showcased how digital can drive brand lift. Metrics from online and mobile can be measured using traditional advertising effectiveness principles, allowing exposure on new screens to be measured consistently and in line with previously used tactics.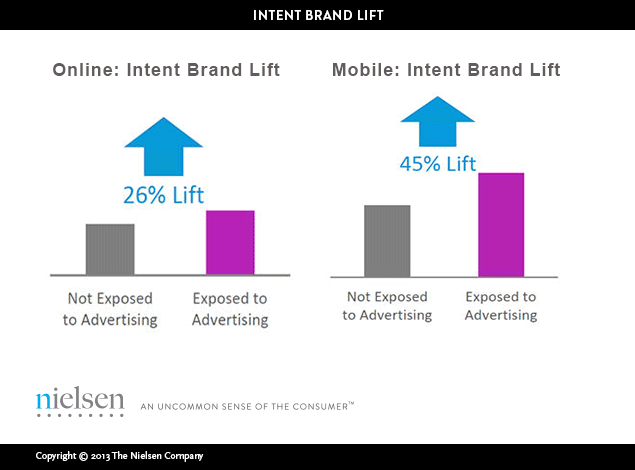 For additional insights, download the full case study or listen to a replay of a recent Nielsen webinar about the case study.
Notes
[1] Source: Eat It Up: Top U.S. Restaurant Ads – Q1 2013, Nielsen.[2] Source: Nielsen's State of the Media, The Social Media Report, December 2012
Methodology
The Nielsen Brand Effect suite measures ad resonance across TV, online and mobile. Nielsen Online Brand Effect and Nielsen Mobile Brand Effect are the first real-time enterprise technology platforms that allow advertisers to collaborate with their digital media ecosystem around optimizing brand lift metrics.
Once a campaign is in market, consumer sentiment is captured through a survey that asks each consumer sampled a question to measure how the campaign performed against its primary objective. Nielsen Online Brand Effect and Nielsen Mobile Brand Effect provide a simple, intuitive interface for managing all aspects of brand campaign measurement and optimization initiatives in real-time.