{"order":3,"name":"subheader","attributes":{"backgroundcolor":"000000″,"imageAligment":"left","linkTarget":"_self","pagePath":"/content/corporate/au/en/insights","title":"Insights","titlecolor":"A8AABA","sling:resourceType":"nielsenglobal/components/content/subpageheader"},"children":null}
The time Australian kids and teens spend online has increased exponentially over the past seven years. Connected youths aged 2-15 years are spending an average of 11.5 hours with the Internet each week, increasing three-fold since 2007. And the older they become, the more time they spend online. Teens 13 to 15 years spend 18.7 hours in an average week online – equivalent to more than three days at school. By the time kids reach their teens they are dedicating more time online than their parents.
Australian kids and teens are also being introduced to online media at an increasingly younger age. Today's connected teens started using the internet at age nine; however, in a decade's time, tomorrow's teens would have started as early as two years old.
The adoption of smartphones and tablets in youth households has played an important role in children dedicating more time to online media and encouraging use earlier in life. The mobility, convenience, ease of use of these devices and the availability of content for younger audiences – particularly via the use of apps – has contributed to this growing behaviour.
Device usage differs by age. Tablets are the favoured device for youths to start their relationship with digital media; however, as kids get older they add more devices to their repertoire (laptops, desktops), with mobile phones becoming increasingly important in the teenage years. Understanding which platform to engage different youth segments will help reach the right audience.
So how do today's youth get to the content they're looking for online? Converse to their elders, kids and teens are more likely to link directly to the content they want via an app. Tweens aged 10 to 12, however, are a slight exception to this rule; they are more likely to type in a URL or use search to get to their destination – highlighting the importance for smart search optimisation tactics and clear communication of URL's when targeting this age group.
Teens, in particular, already have serious purchase potential too. Almost a third (32%) researched a product online in the past month and 17% purchased an item during the same period.
Kids and teens are important for many organisations and brands in the future, and, a key part of the opportunities that exist for businesses today. Digital media is a great way to start a conversation with today's youth, how marketers connect, educate and engage this consumer now, is vital for their future.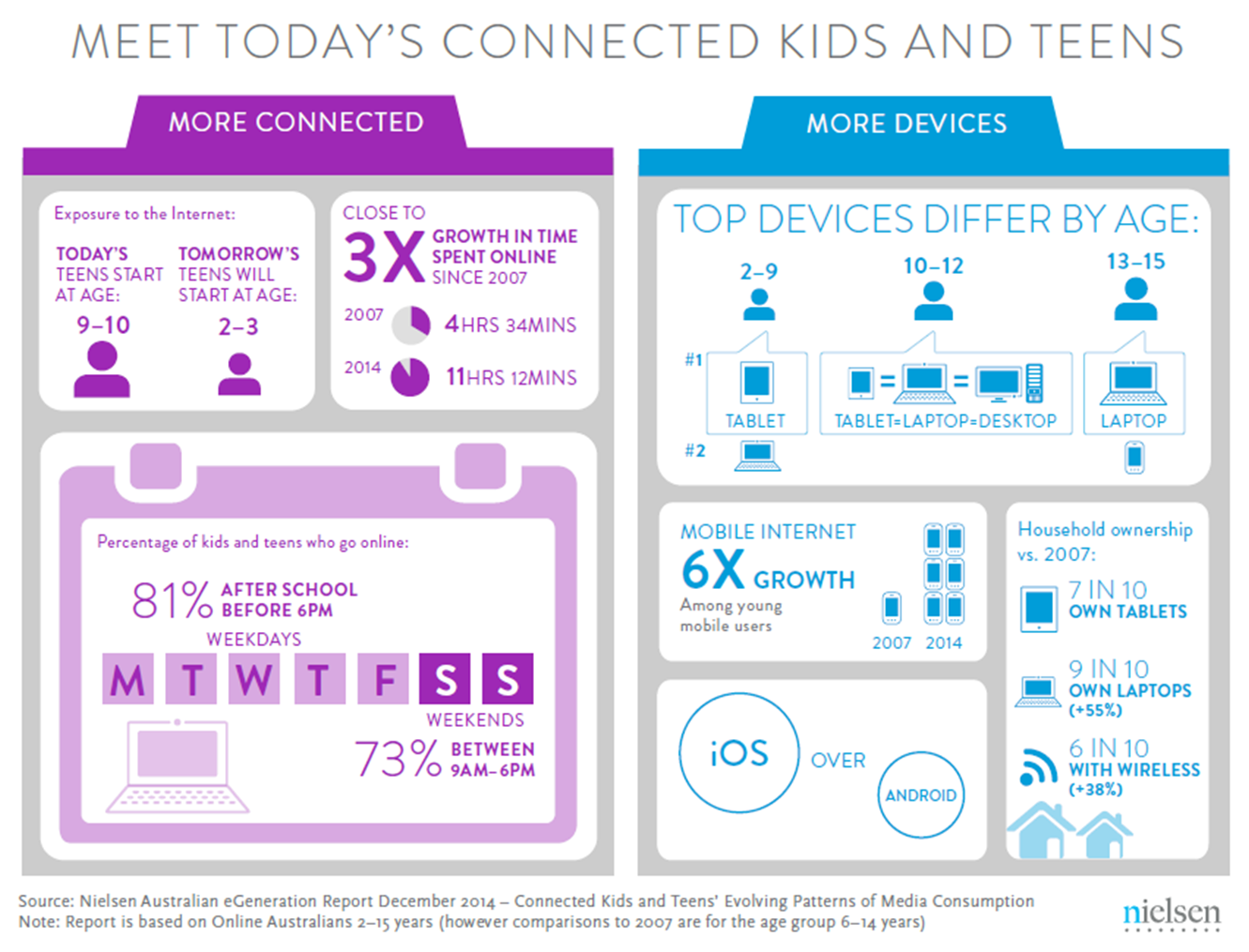 About The Nielsen Australian E-Generation Report
The Nielsen Australian E-Generation Report 2014 provides a comprehensive view of the way young Australians consume online media, in the context of their overall media consumption habits.
Drawing from a sample of 1,620 online Australians aged 2-15 years of age (and their parents), with trending data as far back as 1997, and comparisons to the adult population, this report connects you with 'the connected generation' and identifies opportunities and provides the information you need to understand and reach your young audiences and their parents.