In the U.S., multicultural consumers are influencing our food choices from fine dining to chip flavors (such as sriracha, chipotle and tikka masala). And flavors and cuisines will continue to blend and evolve as the population shifts. Therefore, it's increasingly imperative for retailers and manufacturers to understand the full force and buying behavior of multicultural Americans who inspire and drive trends at retail. In a recent survey, 32% of all Americans said they would pay more for a brand that understands multicultural needs, and nearly half of American adults say they would shop more at a retailer that offers a wider selection of multicultural products.
The biggest and most obvious hurdle to reaching multicultural consumers is that the "multicultural" umbrella covers a vast range of people, cultures and backgrounds. But a closer look at shopping behaviors across multicultural shoppers reveals one important commonality—they are particularly influential in fresh groceries (the meat, produce, deli, bakery and seafood departments). Multicultural shoppers spend $40 billion on fresh products annually and devote 21% of their annual food spend to fresh. These consumers also spend 4% more on fresh than white non-Hispanics, which amounts to $60 million in sales annually.
Still, a high-level snapshot of shopping behaviors for three key ethnic groups—Hispanic, Asian and African-Americans—highlights unique needs and preferences across the fresh departments. These insights can serve as a jumping-off point for better understanding of multicultural consumers, but digging deeper into shopping behaviors along geographical, generational and life stage within these groups is a critical next step for success.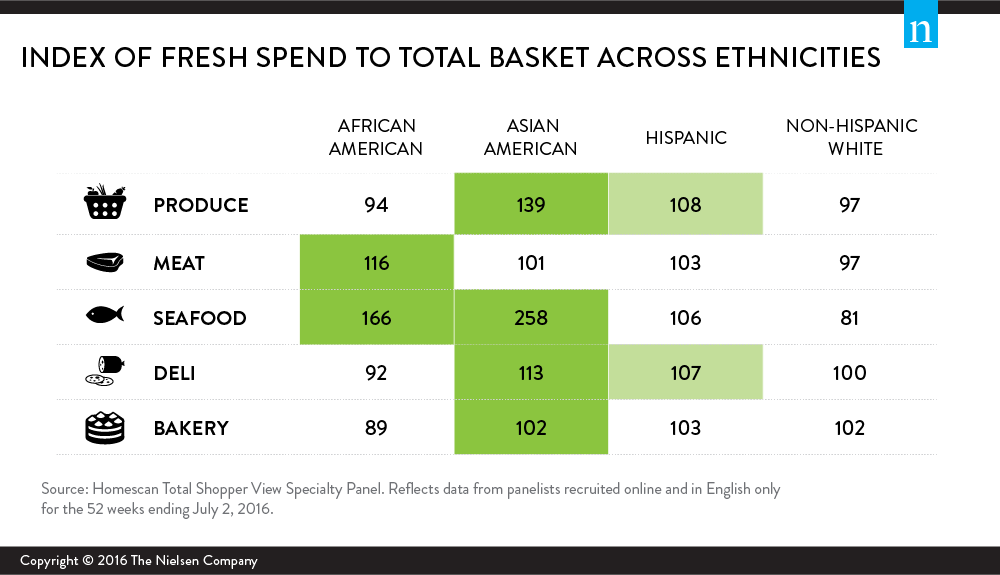 African-American, Asian and Hispanic consumers all over-index in meat and seafood department spend, with African-American households spending 44% of their perishables dollars in meat and seafood, and Asian consumers spending more than twice as much on seafood as white non-Hispanic households.
Of course, cut and protein-type preferences vary across groups and demographics, but Nielsen research shows that Asian consumers have a stronger preference for unbranded meat and seafood products than other groups. For example, Asian shoppers spend roughly 35% of their fresh seafood dollars on branded products while white non-Hispanics and African-American shoppers spend closer to 55%.
In the produce department, Asian consumers index strongest, spending heavily on fresh produce ingredients like cooking vegetables, fresh green beans and sprouts. Hispanic shoppers spend more on fruit items, while African-American consumers over-index in produce beverages, including juices.
One area where each of these three groups spend less is one of the department's largest growth areas—value-added produce, which offers pre-cut, pre-packaged product. Many multicultural consumers are savvy in the kitchen and may not find value in these products. Still, stocking value-added items that fit these shoppers' lifestyles and creating messaging around them that resonate is a large, open opportunity for manufacturers and retailers.
Although these groups don't index heavily in bakery overall, they overspend on specific items—for example, African-American and Hispanic consumers spend heavily on decorated cakes while Asian consumers spend more on specialty desserts. Also, multicultural consumers spent more of their fresh dollars on bakery this year compared to the previous year because of increased spend from Asian consumers. One way to help maintain this upward trend with both Asian and Hispanic consumers is to offer more relevant, prepared-in-store bakery items, as these groups tend to spend more on non-branded items than African-American and white non-Hispanics shoppers.
Most shoppers go to the deli seeking convenience, and Hispanic, African-American and white non-Hispanic households are all increasing their deli spend. But they're purchasing very different things. White non-Hispanics often seek out and sometimes drive sales of products outside their own culture (like sushi or guacamole), while Hispanics spend heavily on Hispanic specialty cheeses and convenient meal solutions. African-American shoppers spend less than their counterparts in deli overall, but their spending sways heavily toward convenient meal solutions like prepared chicken, sides and platters. However, Asian consumers tend to use the deli less for prepared options and more for specialty meat and cheese purchases.
However, just as pizza, southern food, sushi and tacos have become ubiquitous parts of American food culture, the traditions, attitudes and shopping behaviors of multicultural consumers are influencing mainstream consumers and expanding the multicultural market opportunity. The multicultural selling proposition for marketers and advertisers extends beyond the size of the multicultural population—it benefits a range of consumers seeking unique flavors and products.
Methodology
The insights in this article were derived from the Harris Poll® of 2,034 U.S. adults aged 18-plus surveyed online in English within the U.S. between June 7 and 9, 2016, and Homescan Total Shopper View Specialty Panel. The Homescan data is from panelists recruited online and in English only for the 52 weeks ending July 2, 2016.