"What's next?" That question drives our industry every day. Answering it isn't easy. You don't get there using conjecture or assumptions—you get there using passion, precision, experience and rigorous science. And when it comes to measuring the breakneck evolution of social media—answering the question can be as difficult as it is vital. But when you take a closer look at up-to-the-minute social media data, the direction forward snaps into focus.
Social media is one of the biggest opportunities that companies across industries have to connect directly to consumers. And it turns out that social media users can be pretty receptive—especially heavy users, who spend over 3 hours per day on social media.
Meet the brand and media advocates.
So, who are they? Surprisingly, the heavy social media user group isn't Millennials. In fact, Generation X (ages 35-49) spends the most time on social media: almost 7 hours per week versus Millennials, who come in second, spending just over 6 hours per week. They're female, 25% of their time online is spent on social media (vs.19% of males), and they reach across cultures. They're likely to be on Facebook on Sundays via smartphone, while watching primetime.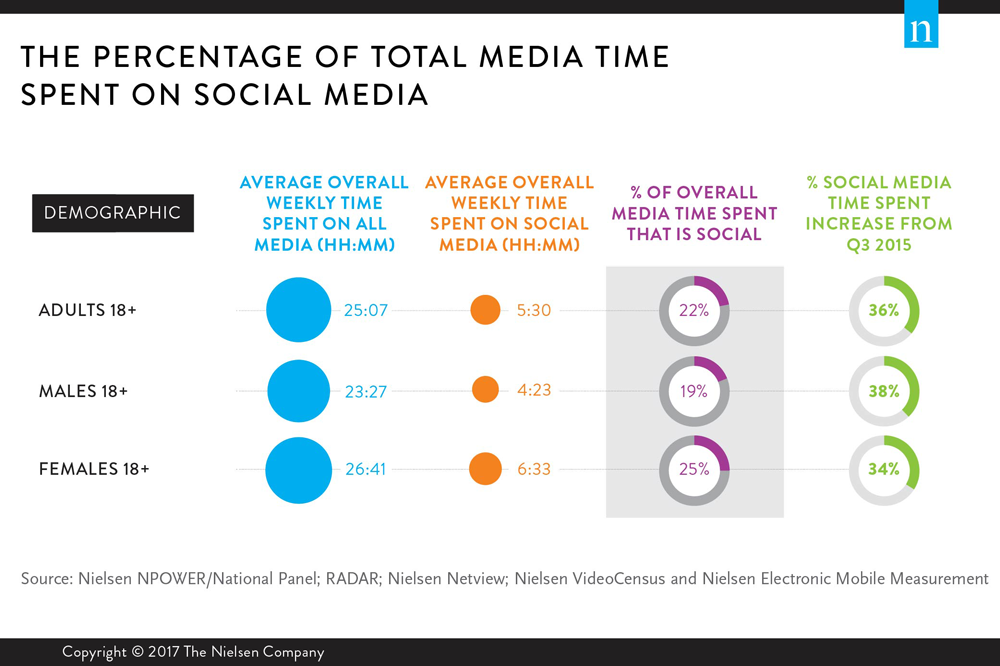 Knowing who these potential brand/media activists are is only the half of it—the most important part of winning them over is understanding where and how to connect with them successfully.
Thirty-nine percent of heavy social users believe that finding out about products and services is an important reason for using a social network. Companies would do well to make it easy for potential brand advocates to find information about their products and services—preferably in the form of unbiased customer reviews; 35% of heavy users cite special discounts as important, such as access to exclusive offers and coupons. And above all else, brands need to make it easy for potential advocates to show their support. Twenty-nine percent of heavy users actually find supporting their favorite companies or brands somewhat to very important—so they need content that's easy to find and easy to share on Facebook and Twitter.
When it comes to television, the industry should be courting this same group—female Gen-Xers—to be potential advocates (a whopping 61% of unique Facebook users who are interacting about something TV-related on Facebook are female). And when it comes to connecting with social TV audiences, bear in mind that using multiple devices at once is the new normal, and reaching out while this group is watching TV is vital to capturing their attention. So is putting a lot of thought into keywords and phrases, which should include program names as well as characters', actors' or athletes' names. Keeping an eye on what female Gen-Xers are watching when is going to be key to finding them.
This report provides insights, rich data and much more—find the download at the top of the page to learn more about how companies can recruit devoted activists.