Over 120 million strong in the U.S., multicultural Americans are a large, young and growing segment. In fact, multicultural consumers are the fastest growing segment of the U.S. population and were responsible for 92% of population growth between 2000 and 2014, according to the U.S. Census Bureau. With this rise in population, African-American, Asian-American and Hispanic consumers collectively are influencing a variety of product categories and industries, including grocery. At the same time, palates that favor multicultural flavors are influencing the taste preferences of non-Hispanic whites and society at-large.
Nielsen data has already shown that multicultural consumers are driving trends across alcoholic beverages, but a recent study found they are also influencing fresh categories in the grocery store. Asian-Americans, for example, spend 158% more on seafood than the average U.S. consumer, while African-Americans spend 66% more and Hispanics 6% more. Non-Hispanics white consumers on the other hand, spend 19% less.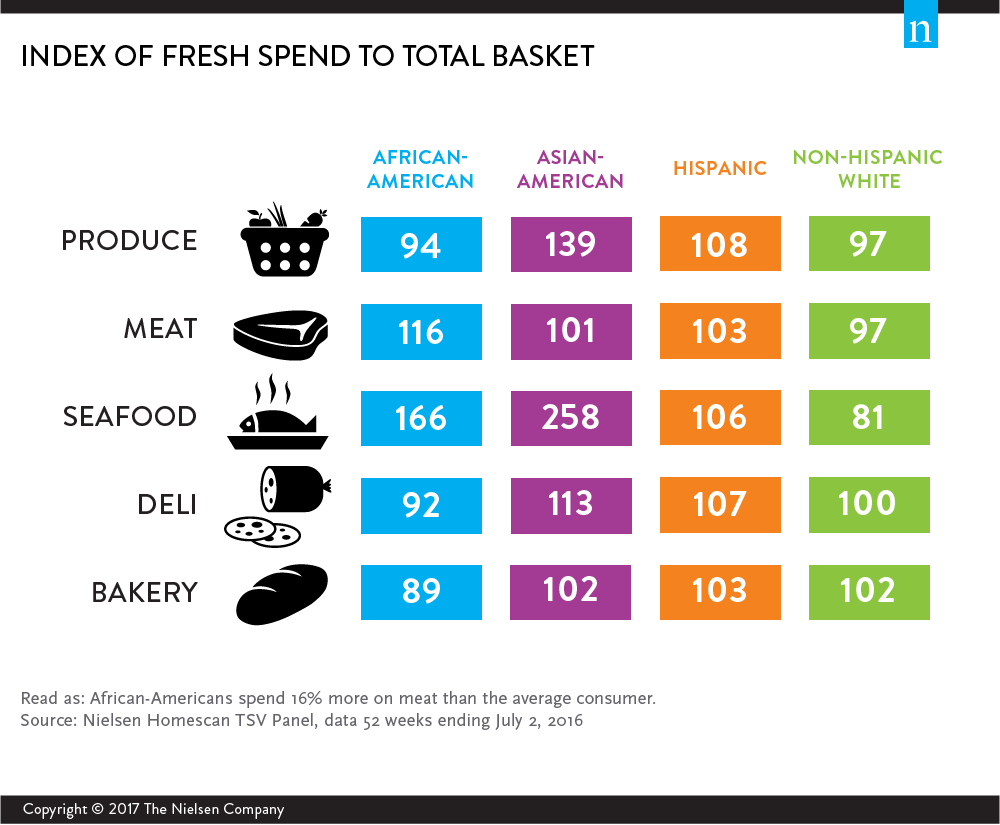 Knowing what consumers are buying is only part of the equation; knowing where they are shopping is the other. Multicultural consumers are shopping across all channels including grocery, drug and warehouse club stores. While the majority of shopping trips across all consumers are in grocery stores, it is worth noting African-American consumers make more trips across almost all retail channels than their Hispanic, Asian-American and non-Hispanic White counterparts.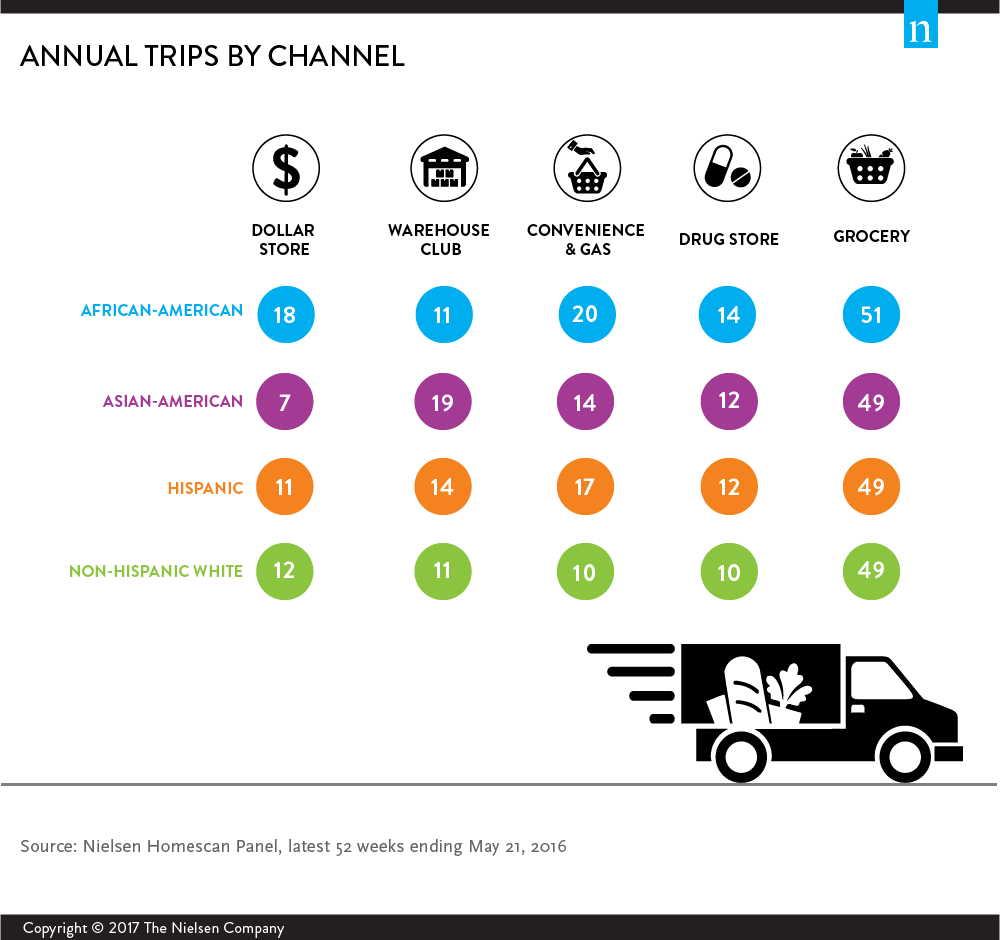 With a penchant for fresh items to add to their culturally vibrant cuisines, multicultural consumers are purchasing these products across all channels to complete their shopping lists. Grocery stores see the largest benefit of fresh purchases, with 99% of multicultural consumers shopping in grocery stores for fresh items, followed by 81% at mass and supercenters and 57% at warehouse club rounding out the top three.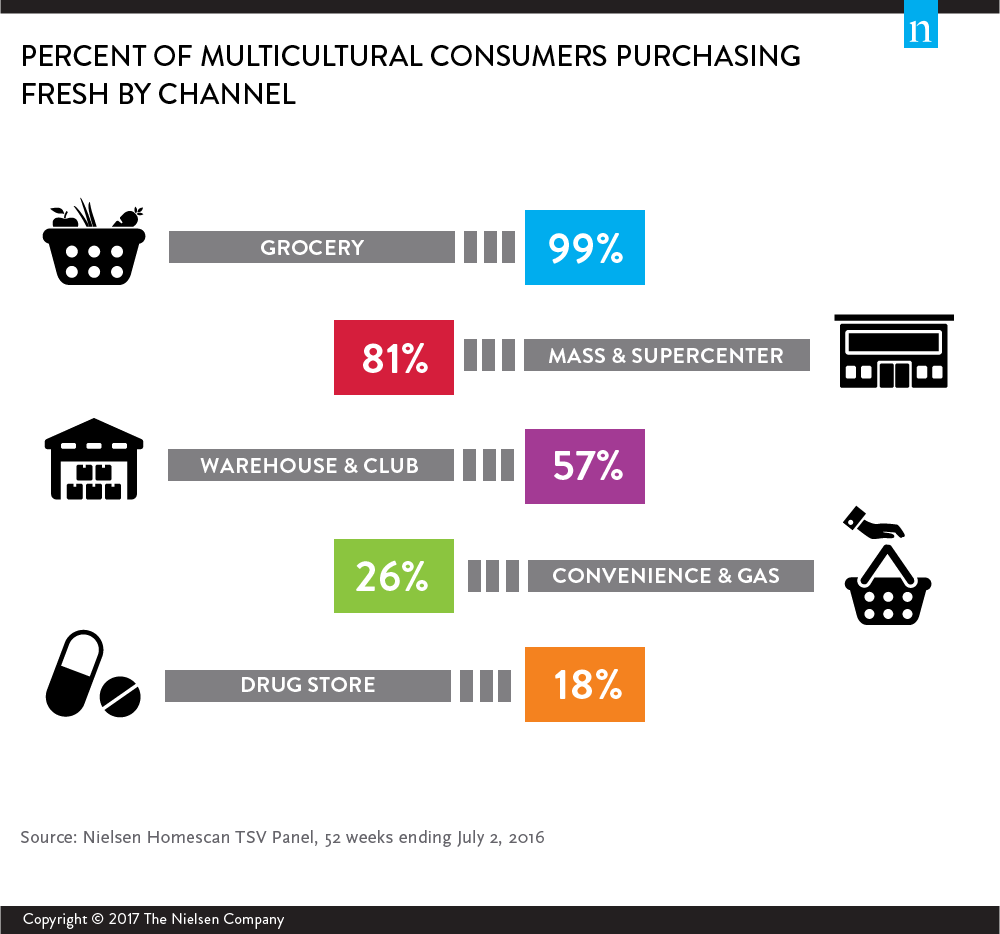 The expanding fresh category has clear appeal to the growing number of ethnicities, including non-Hispanic whites willing to try new, more adventurous flavors. A "halo effect" is noticeable here, where other shoppers follow the multicultural consumers' lead, frequently purchasing food that is reflective of a variety of influential cultures. This effect has caused multicultural flavors to become alluring for everyone and enter the new mainstream. Nothing illustrates it better than the phenomenon of Sriracha, which finds its way into the homes of five million non-Hispanic white households each year.
With the rapid growth of multicultural households in America and their unparalleled influence on the marketplace, retailers must consider new strategies that include a wider range of the fresh food products and flavor profiles that appeal to these critical consumers. The convergence of diverse multicultural taste profiles has encouraged many Americans to try new cuisines and created growing appetites for more adventurous meals, resulting in tremendous opportunities in food retailing.
Methodology
The insights in this article were derived from: