Over the past 15+ years, the number of consumer devices and services consumers have access to and ultimately use has grown exponentially, with some becoming a must have while others falling out of favor, replaced by nascent technology.
But just how fast can the hot tech of the moment become obsolete and fodder for the virtual scrap heap?
A Nielsen analysis shows that in December 2001, nine out of 10 U.S. households had access to a VCR. Fast forward 16 years and the penetration has fallen to 0.2%. In contrast, video game consoles and DVD players have either grown or maintained their household penetration levels since Nielsen began reporting them in the early 2000s. Meanwhile, other consumer devices and services introduced within the last decade have quickly gained wide acceptance by consumers: smartphones (89%), personal computers (79%), tablets (63%) and subscription video on-demand (SVOD) 62%. What's more is others, such as internet-connected devices (36%) and smart TVs (35%) are growing at a significantly fast clip.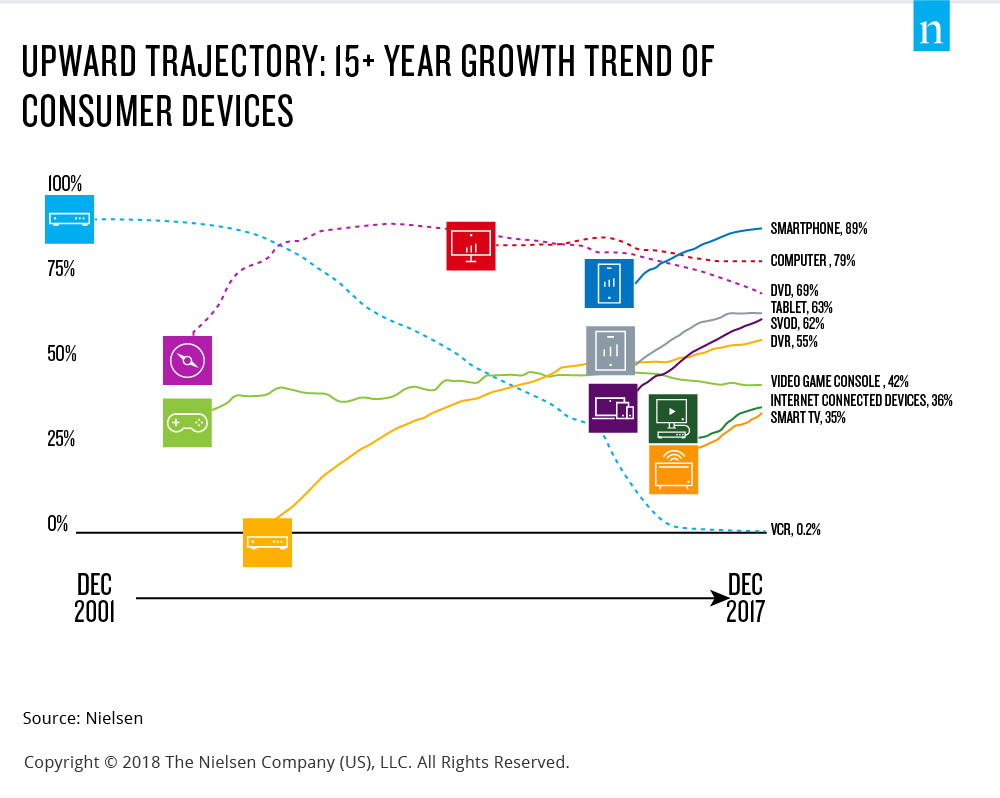 In the past four years, the percentage of broadband-only homes in the U.S. has more than tripled.
In this increasingly fragmented ecosystem, marketers have new and unique ways to reach consumers, as well as an opportunity to drive brand discovery and, ultimately, return on investment (ROI). The analysis found that the impact of this fragmentation is generational and younger, more diverse consumers are driving the growth of broadband-only (BBO), over-the-air (OTA) and virtual multichannel video programming distributors (vMVPDs).
To put things into perspective, in March 2014, 10.3% of homes in the U.S. received their TV content OTA by using a digital antenna, and only 1.7% of homes had a BBO (internet) subscription. In just four years, the percent of OTA homes increased by more than a third (13.8%), while the percentage of BBO homes more than tripled. In fact, while 22% of all people in the U.S. access their content through BBO, OTA or vMVPDs, the penetration was higher among the younger generations: 26% for Generation Z (Gen Z) (2-21 year olds) and 32% for Millennials (22-38 year olds).

Streaming for Every Generation
The demographic landscape of the U.S. is rapidly changing, with Gen Z and Millennials now accounting for half of the U.S. population. Looking deeper at the ethnic composition of these consumer groups, these two generations are more diverse and more tech friendly than their parents and grandparents. In January 2018, among these two age groups, Hispanic, Black and Asian consumers accounted for more than 40% of the total population.
When looking at how each generation is affecting the growth of video streaming devices (smart TVs, game consoles and internet-connected devices) and SVOD, there were continued year-over-year increases. From December 2016 to December 2017, use of streaming devices and SVOD services grew between 6% to 8% regardless of generation—with younger generations leading the way.
Since December 2016, at least one-quarter of Gen Z and Millennial consumers have had access to either one or two video streaming devices, while access to all three device types increased to 12% for both groups (from 8% for Gen Z and 7% for Millennials) during the same period. Access to these devices is also high among Gen X, with 35% having access to one device, 31% for two devices and 11% for all three device types.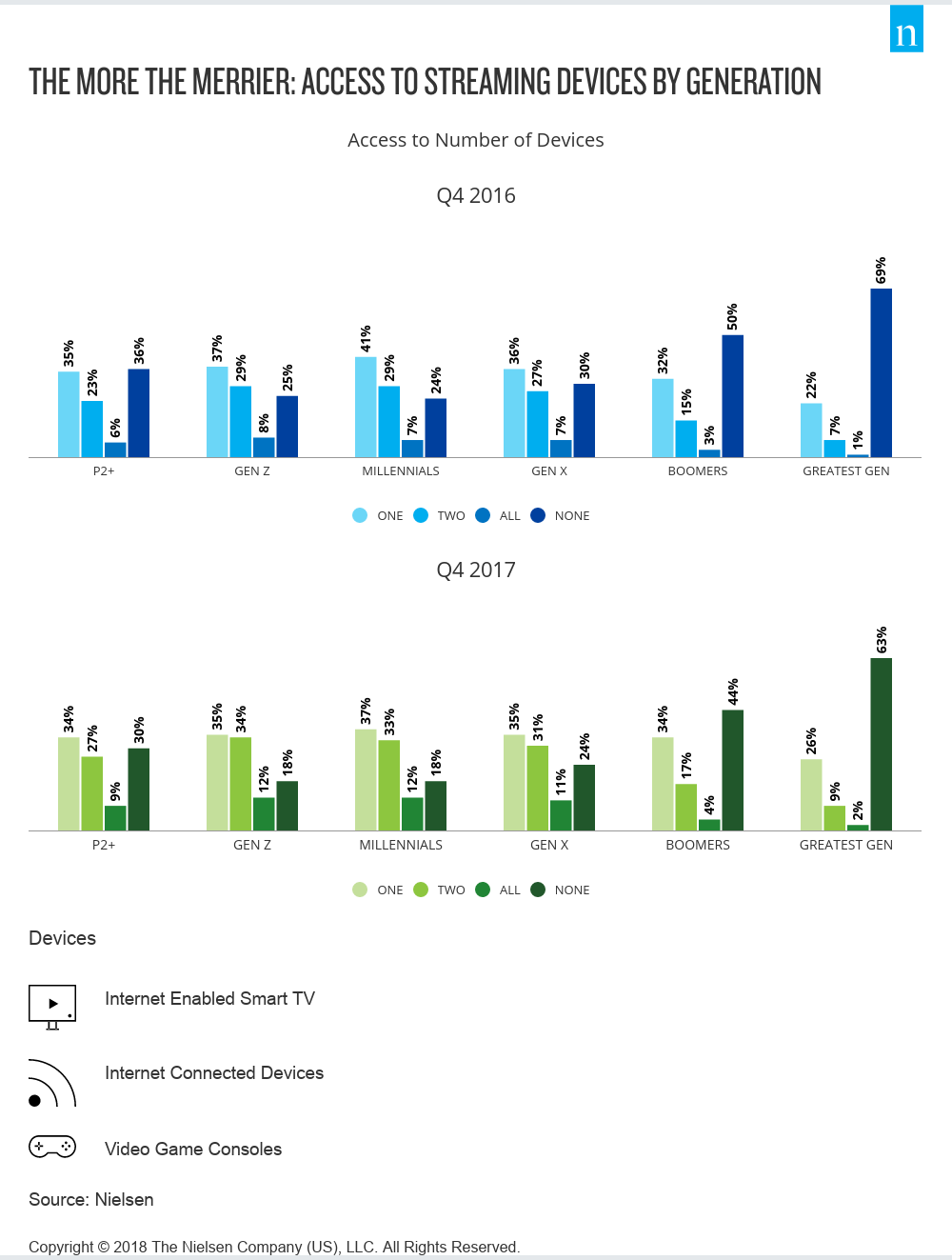 The advances in technology have changed how different generations access video content and the devices they use to view. While younger viewers love streaming and own multiple devices, older generations are beginning to embrace these technology changes as well. Whether through an internet connection, a virtual satellite or a cable provider, consumers are evolving how they watch content, but one thing is clear: consumers continue to be open to a multitude of options to view and will take full advantage of the amazing amount of quality content and multiple ways to access it in order to keep leaning back.