Like many industries, the novel coronavirus (COVID-19) continues to create uncertainty for the U.S. auto industry, which faced growth challenges even before the pandemic began. As auto marketers navigate the new normal, investing in multicultural customers offers a unique opportunity to get a head start when broad economic activity picks up again. It's undeniable that multicultural consumers will lead purchasing trends into the future. They're not just a preview of tomorrow's consumers, they are today and tomorrow's consumers. Currently, 40% of the U.S. population is multicultural. Within 25 years, it will be 50%.
So, reaching these consumers in an authentic, long-lasting way is more important than ever, and it starts with your advertising plan. Consumers from key multicultural groups—Hispanic, Black and Asian American—looking to buy a car are aware of fewer automotive brands than the general population. Based on Nielsen's Auto Path-to-Purchase study, these consumers have 10-20% lower total brand awareness than the general population, but they end up considering more brands throughout their path-to-purchase.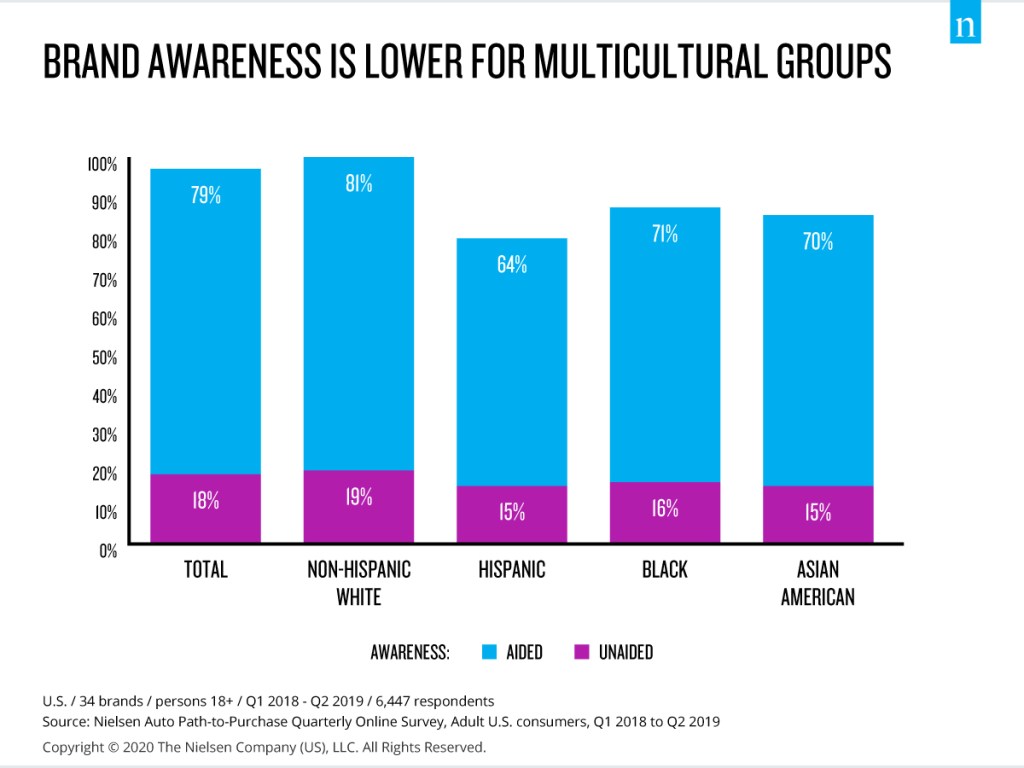 In other words, auto brands have more opportunities to make an impact along the way with Hispanic, Black and Asian American consumers. But doing so successfully requires customized and sensitive messaging tailored to each audience. Marketers should keep two key strategies in mind when reaching multicultural consumers.
Close the gap
Hispanic, Black and Asian American consumers aren't aware of as many car brands as the rest of the population. In the race to win their hearts and minds, realize that many of them won't know that your brand exists in the first place.
Our research found that consumers in general only have a couple of auto brands in mind when they start off on their path-to-purchase. You should aim to become one of those two brands. For those campaigns, the priority is not to sell, but rather to connect with your target customers. In these difficult times, they may not all go out and buy a new car right away, but you'll be at the top of the list when they do.
Remember that minority consumers have been disproportionately affected by the COVID-19 pandemic. As you build up your brand awareness among those consumers, continue to be sensitive to the realities they're facing. Nothing can hurt your chances more than appearing tone-deaf in the current climate. Recognize that your customers are living through difficult times, and adjust your communication to show your support. 
Raise your profile along the path-to-purchase 
You need to be part of the conversation when it matters the most for your prospective customers. Even if your brand isn't at the top of the list at first, it has a real shot along the path-to-purchase and an even better chance as the purchase decision gets closer. Interestingly, the number of brands considered rises across all groups as consumers get closer to a purchase, but Hispanic and Black consumers actually tend to consider more brands throughout the process.
In fact, Hispanic and Black shoppers end up with two more brands in their consideration set (6-7 vs. 4-5 for Asian Americans and non-Hispanic Whites) by the time they're ready to buy.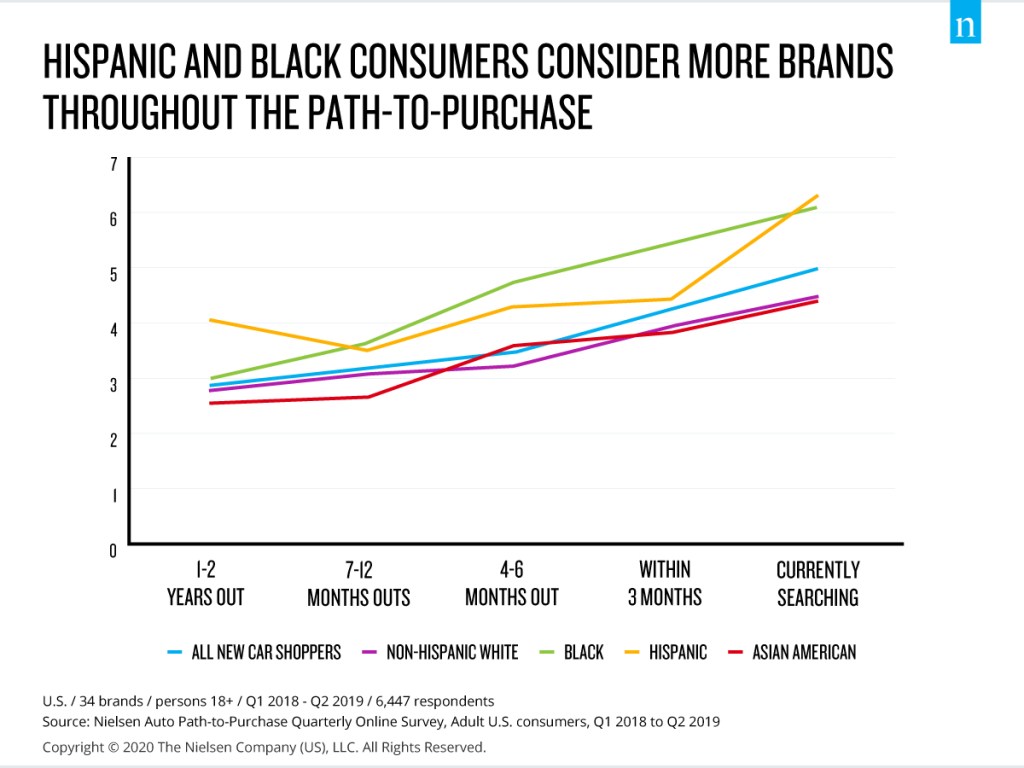 If your prospects are Black or Hispanic, they're likely to be even more receptive to later advertising efforts during their path to purchase. With fewer brands embedded in their long-term memories, Hispanic and Black car shoppers seem to have more room for other brands to make a meaningful impression along the way. For Black and Hispanic consumers, four of the six brands they end up considering at the time of purchase are brands that they didn't consider at the outset but that managed to make their mark along the way.
Despite the current crisis, multicultural consumers are at the peak of their purchasing power. They're less entrenched in their car preferences than anyone else, and they will consider your brand even late in the game. Learn from the data to make sure you don't miss out on opportunities to make authentic connections.
Download Nielsen's Nielsen Annual Auto Marketing Report: Drive Connections with Multicultural Consumers for more insights on how your brand can develop an effective media plan to reach these consumers in the moments that matter.
Methodology
The Nielsen Auto Path-to-Purchase series consists of quarterly online surveys with adult U.S. consumers. The data collection started in 2012, and more than 250,000 respondents have taken part in this research so far. The data used throughout this report covers the period from first-quarter 2018 to second-quarter 2019.