As more Americans opt to stay home amid growing concerns about the spread of the novel coronavirus (COVID-19), media consumption is, unsurprisingly, peaking. Yet amid the various media options consumers have to choose from, including streaming platforms and connected TVs, a recent Nielsen survey found that 83% of consumers say they're listening to as much or more radio as they were before the pandemic.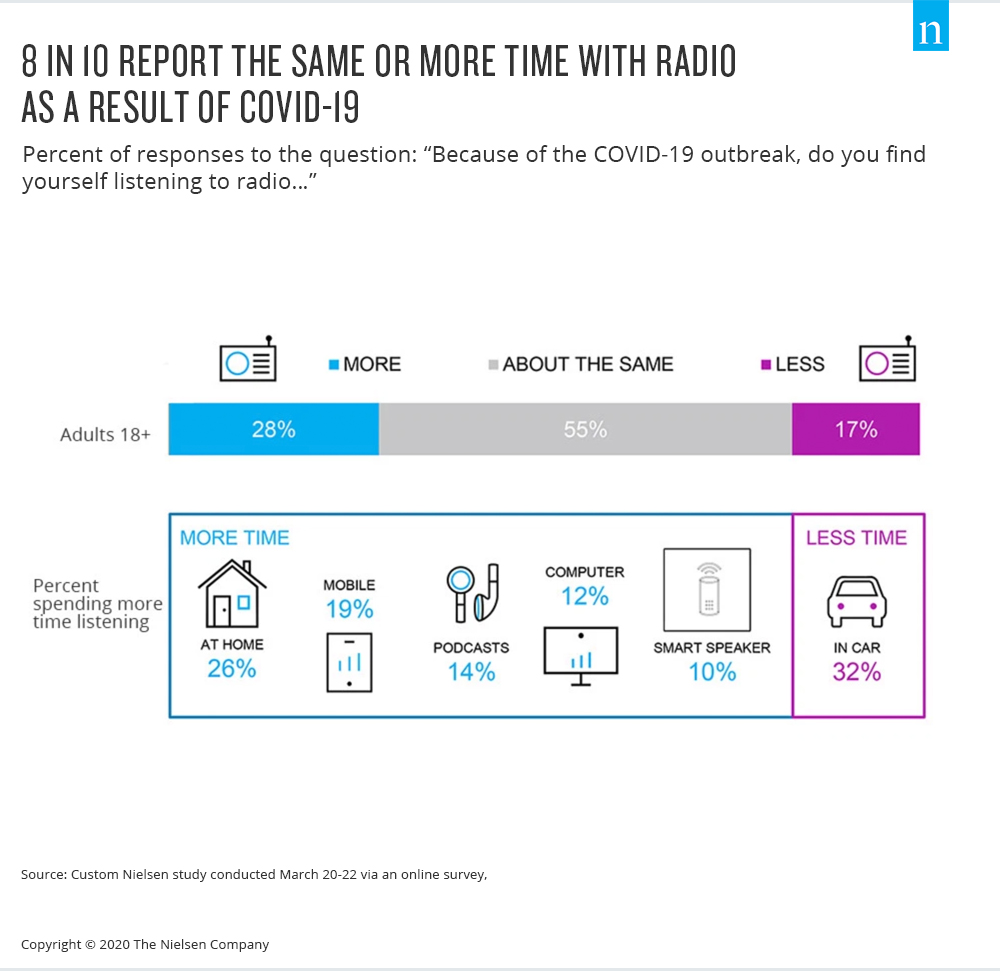 As is the case with local TV viewership in times of crisis, radio and on-air personalities present a connection to the real world that listeners gravitate toward and trust. Importantly, 60% of Americans of adults 18 and older hold radio in high regard and trust it to deliver timely information about the current COVID-19 outbreak." In a time of heightened uncertainty and disrupted routines, consumers are turning to radio as a trusted source of information and community connection, mirroring patterns observed during past regional and national disasters and weather events," said Brad Kelly, Managing Director, Nielsen Audio.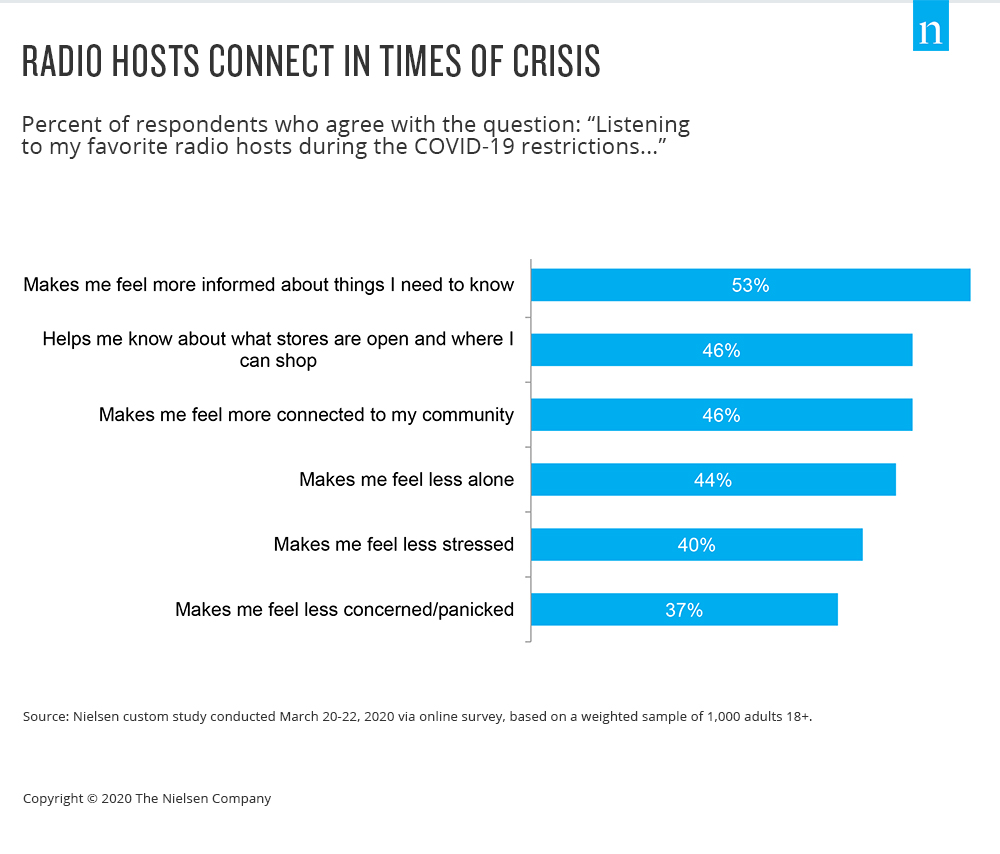 Assessing the time consumers spend with media is critical for both radio stations and advertisers, regardless of whether the country is in a crisis. Americans are already spending almost 12 hours each day with media, and that time could grow by 60% among those who stay indoors. The current situation amplifies our reliance on media, and radio stations and advertisers have an opportunity to create lasting relationships with an extremely captive audience—an audience that almost universally (92%) says it's moderately or extremely concerned about COVID-19. Importantly, 42% of consumers say that radio has helped them deal with the outbreak.
And while radio stations and their on-air personalities can provide listeners with information that is accurate and relevant to their markets, advertisers have the opportunity to help Americans cope with an unprecedented time in U.S. history—one where our out-of-home activities are extremely limited. They can also help listeners get what they need as they adjust and manage, as 46% say that radio helps them know what stores are open and where to shop locally. So in this time of self-quarantining and isolation, what are consumers planning to do when they step outside?
With marketers and advertisers taking stock of COVID's impact on the economy, insight into consumer sentiment is more critical than ever.
"Radio is a local lifeblood for millions of consumers and specializes in keeping audiences up-to-date and plugged into what matters most to them in their community," said Kelly. "In this environment, it's no surprise that people say they use radio as a major source of information and connection. Whether it's for local news, a place to listen to what is happening, to connect with community members or simply as a way to find out which essential retailers are open for business, radio is continuing to fill those needs for consumers everywhere."

Methodology
The insights in this article were derived from an online survey to gauge the impact that the novel coronavirus (COVID-19) outbreak is having on radio listening behavior in the U.S. The survey was administered online among a weighted sample of 1,000 adults 18+ in the U.S. between March 20-22, 2020.