The next big thing in gaming is here, and it's gaining serious momentum. eSports, the common term for professional, competitive video gaming, has quickly caught fire, and everyone from investors to advertisers to content creators are clamoring to find a way into the action.
With this year's League of Legends World Championship underway, news of new leagues, announced primetime event broadcasting, and big titles like Halo 5 and Call of Duty: Black Ops III releasing this fall, there's no shortage of hype around eSports and its fans. And that hype is expanding to the U.S. in a big way, which is raising many questions about its audience, appeal and growth potential.
So who are eSports fans, and how are they valuable?
A common assumption about eSports fans is that they're PC gamers. New data from the upcoming inaugural Nielsen eSports Report, however, firmly debunks this myth. In fact, the majority of eSports fans in the U.S. do not game on a PC: only 35% of the U.S. eSports audience does so. Console gamers represent a much larger share of the U.S. eSports market, with three in four eSports fans playing games on a console – and nearly half of all eSports fans playing on an 8th generation Sony PlayStation 4, Microsoft Xbox One and/or Nintendo Wii U.
While eSports is best known for its PC-based games/competitions, fans' gaming preferences in the U.S. are more aligned with overall gaming system usage. It's also interesting that 10% of eSports fans do not play games at all, perhaps highlighting the inherent allure of the competitive aspects of eSports that draw many comparisons to traditional sports leagues.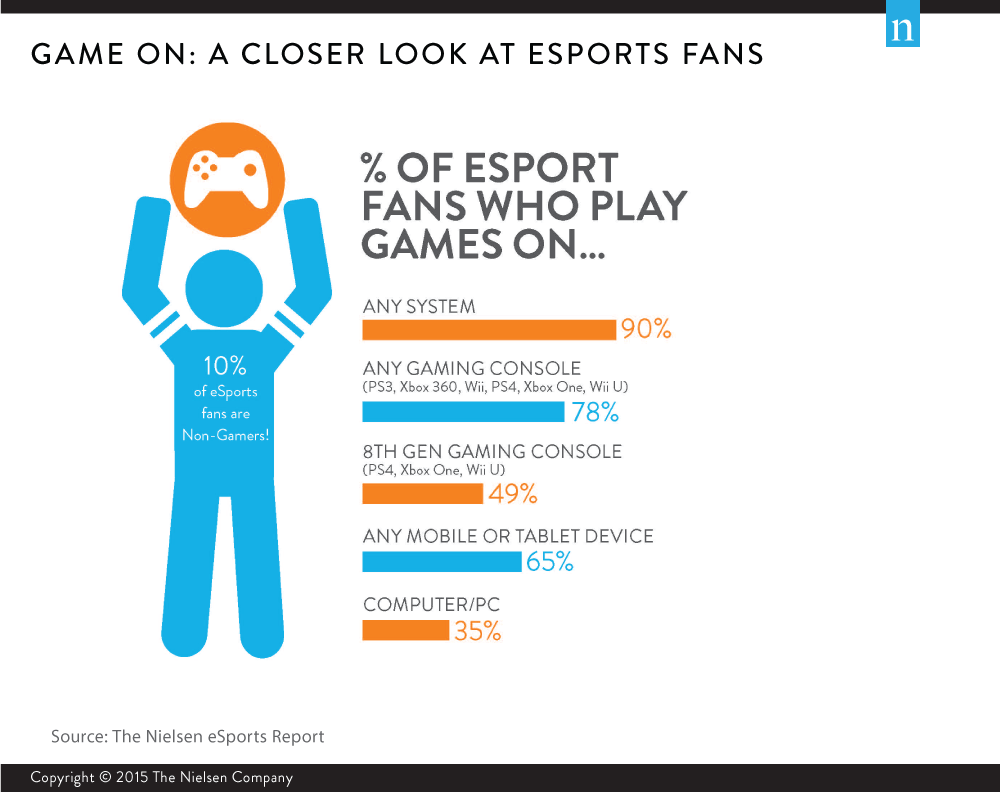 While the non-PC gamer finding may be surprising, the demographics of eSports fans are more aligned with the stereotypical hardcore gamer: This audience skews male and young. In fact, 57% of U.S. eSports fans fall in the coveted Millennial (18-34) age bracket. Comparatively, 34% of U.S. gamers are Millennials. eSports fans live in households with strong spending power, as the household income for this group is 10% higher than that of U.S. gamers overall. eSports fans are also more likely to be Asian, likely a connection to the strong popularity and origin of eSports teams and leagues in that region of the world.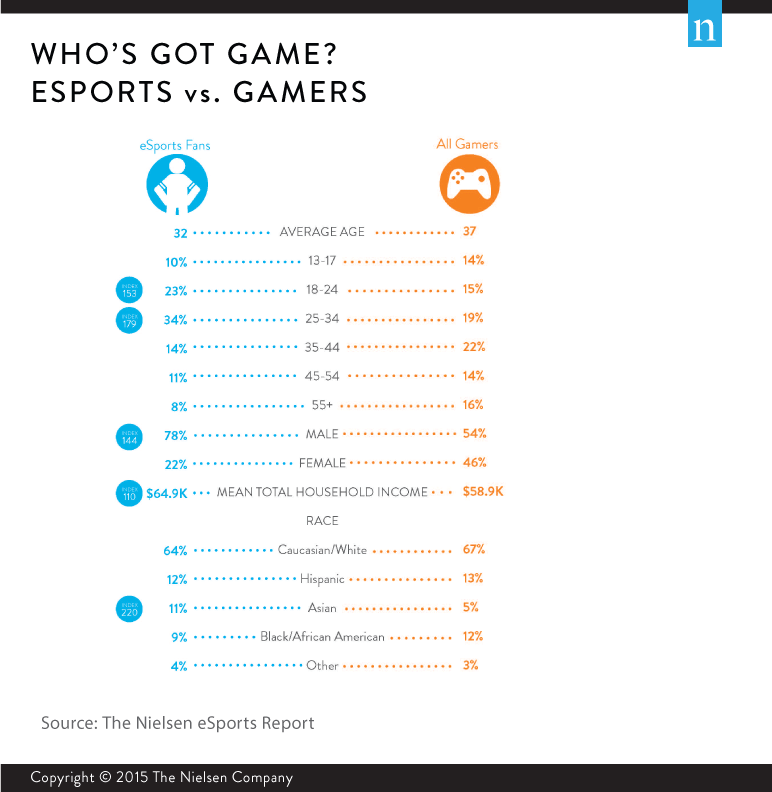 In the U.S., most fans get their eSports content fixes online. Over the past year, U.S. fans were most likely to engage with eSports via live online streaming of an eSports event, followed by watching pre-recorded online events and following eSports via news and programming. For these consumers, online media is key – not only in terms of where they get their eSports content from, but also gaming content in general. More than 80% of eSports fans engage in online activities like watching game trailers, instructional videos and streamed game play (live or pre-recorded).
All eyes will be on eSports fans in the coming months, with big tournaments on the calendar and a wave of new games hitting the shelves. But these elements may represent just the tip of the eSports iceberg in the rapidly-growing U.S. market.
Methodology
The Nielsen eSports Report is a comprehensive look at consumer interaction with eSports in the U.S. Data was collected online in September 2015 among 1,000 eSports fans aged 13+ as well as 200 eSports-aware non-fans aged 13+. Gaming specific questions were replicated from the annual Nielsen 360° Gaming Report to allow for profiling vs. broader U.S. gaming behavior.