The ascension of digital media platforms has given consumers a wide array of options for not just how they can view content, but when. Nielsen's live+7 ratings have been the standard by which the media universe looks at total audience, but live television and seven-day time-shifted viewing are only pieces of the proverbial media pie. Clients have not had a syndicated service to look at delivery on all platforms beyond the first week of viewing and see that whole pie… until now.
Nielsen's Total Content Ratings brings the ability to track viewing past the window of a week and shows the size and nature of the larger audience available via the television and beyond. Not only will networks, marketers and advertisers see what their content's true audience looks like, they'll be able to garner a better understanding of the behaviors of the digital world behind them.
Onstage at Nielsen's Consumer 360 2016, Glenn Enoch, SVP, Audience Insights, Nielsen, detailed how extended time-shifted ratings could prove to be a vital asset for understanding how viewers watch certain programs, especially those in genres that benefit greatly from viewing outside of seven days.
"Not all programs get the same lift after seven days, and for programs that get greater lift, it's due to VOD contribution," said Enoch. "VOD contribution goes on forever, while DVR viewing tends to drop over time."
In a recent study on how audiences build over time, Nielsen found that while virtually all programs' ratings benefited from extended viewing, genre had a direct effect on the amount of audience increase. Programs that did not have time-sensitive content, meaning those that could be enjoyed long after the original telecast date, got the greatest amount of lift. This included animated comedy, sitcoms and the episodic drama variety. One particular animated comedy in the study saw a 58% lift in viewership among persons 18-49 from days 8 to 118.
On the other hand, reality programming, which typically incorporates a real-time aspect into the show, creates a sense of urgency among viewers that want to watch as events unfold. Consequently, more than half of total viewing occurs as these types of shows air live. Most viewing overall for this genre occurs live or within seven days, with only 4%-5% lift occurring after a week.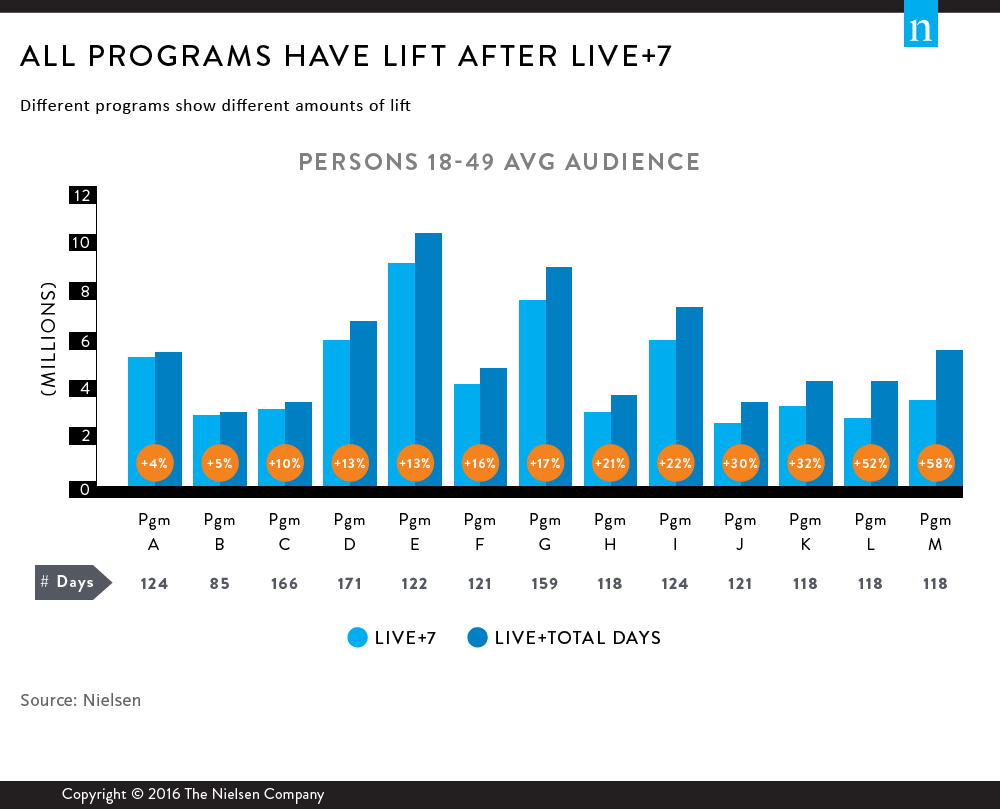 The release of Total Content Ratings doesn't simply make viewing windows wider—it creates more windows on additional platforms. In a fragmented media landscape, the addition of digital viewing to ratings creates a more complete picture of the total audience.
When looking at viewing over a six-week period, digital audiences grew the most and had as much as a 135% increase in viewership from week one to week six among viewers 18-49.
Measurement of digital viewing also insight into viewers "playing catch up," exhibiting that an episode still holds clout despite how old it may be.
This insight reveals that audiences for a program change as the weeks go by. In one instance, a premiere episode of a show was still receiving viewership after five weeks, with 60% of viewing coming from DVR and 40% coming from total digital viewing. (During the first week, 70% of viewing was from DVR, while 3% was from total digital viewing.)
"Total Content Ratings provides more insight than just the volume of viewing over time, or on additional platforms," said Enoch. "We know that on-demand viewers spend more time with the content, and we know that on-demand viewers are younger than those who view live."