These days, a kid with a smartphone in their hand is as common as seeing a kid playing with a yo-yo in the years before the digital age.
But today's kids aren't just carrying smartphones—they're mastering them. In fact, many are just as skilled as their parents—or even more so in some cases. So whether today's youth are texting, playing a game, or engaging in the plethora of other activities that smartphones offer, there's no doubt that this digital demo is one that marketers are keen to reach.
As the saying goes, with kid comes a parent. So what are parents' motivations and concerns when it comes to subscribing to a wireless service? To find out, Nielsen's fourth-quarter 2016 Mobile Kids Report delved into the subject and shares the insights from respondents of parents of kids' ages 6-12 who answered on behalf of their children.
To start, the report looked at the age that kids get a smartphone. Slightly less than half (45%) of mobile kids got a service plan at 10-12 years old. The most predominant age when kids got a service plan was age 10 (22%), followed by 8 years old (16%) and ages 9 and 11 were tied at 15%. The mobile child also skews more male (56%) than female (44%), with at least one in five being Hispanic. Among 10-12-year-olds, the highest percentage of age represented was age 10 at 34%. The vast majority (93%) are on the same plan as their parents, and 72% have all mobile wireless services including voice, messaging and data.
Among parents likely to get their kids wireless service before they turn 13, being able to get hold of their child easily and that their child can reach out to them easily (90%) were their top primary reasons for getting their child wireless service. Eighty-percent said so they could track their child's location, and 66% said that their child has been asking for wireless service for a while.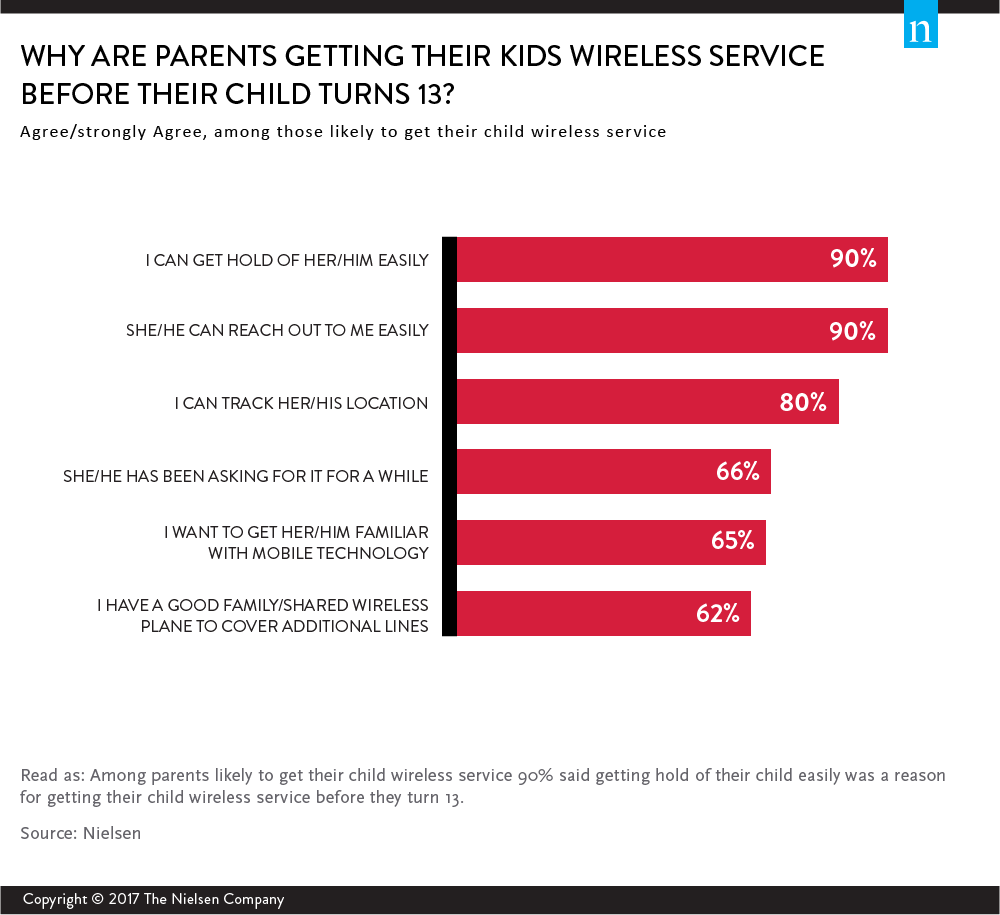 And with parenting comes concern for the welfare of their child, as well as questions about their children's level of responsibility. Seventy-seven percent said that they are concerned that the phone could be lost easily. Seventy-two percent of parents were concerned that smartphones pose too much distraction, and 71% worried that their children would spend too much time with their devices. The lack of control of what content their kids would see online was also a concern (68%), and 67% expressed concern that their children might not know how to use their phones responsibly.
According to parents, the antidote to these concerns include better safety controls and features to block inappropriate content (55%), better usage controls to limit access (48%) and better service plan options for children (34%).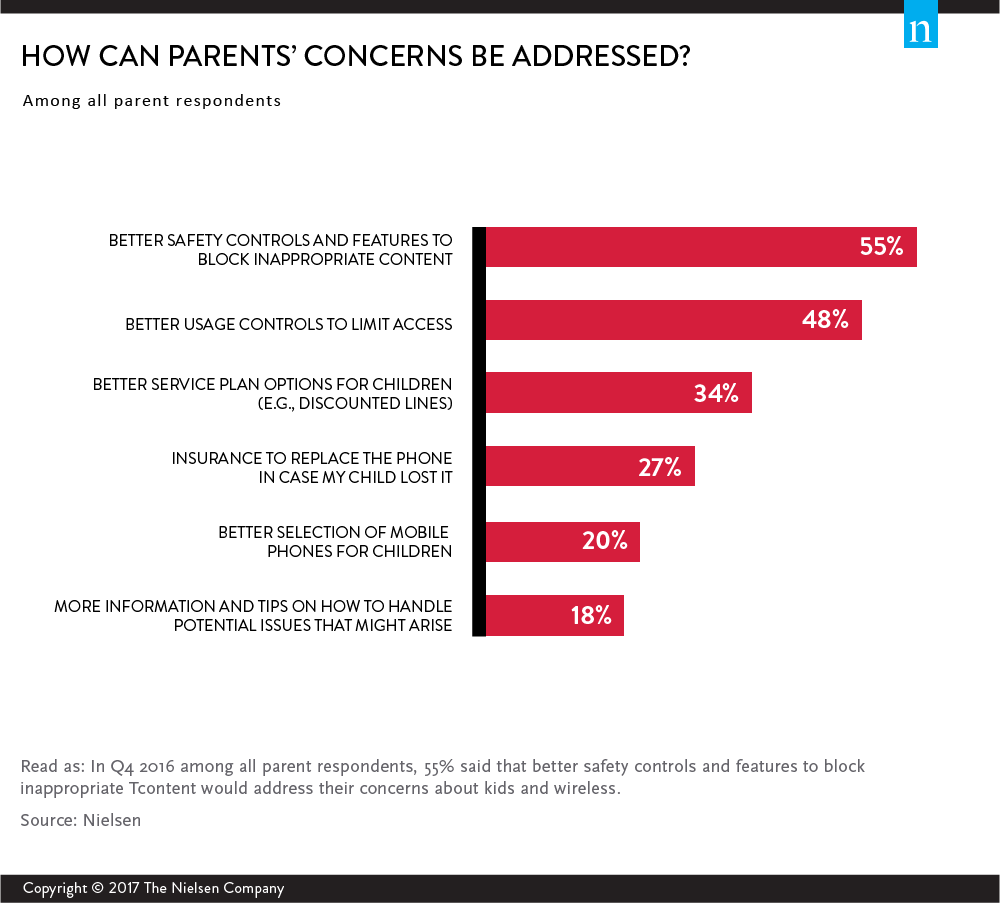 So once a child has a phone, how are they spending their device? The top mobile activities include text messaging (81%), downloading apps (59%) and playing preinstalled games and mobile internet/accessing websites (tied at 53%).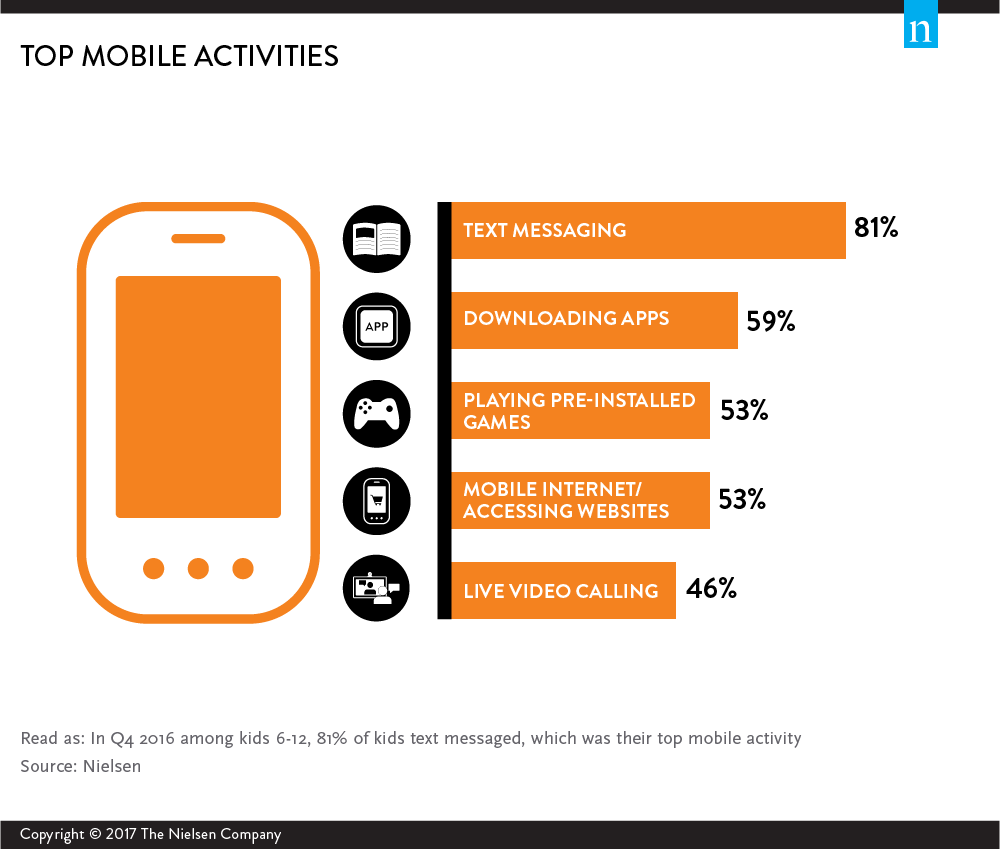 Methodology
Nielsen's Fourth-Quarter 2016 Mobile Kids Report gathered a sample of 4,646 parents aged 18+ years with kids between the ages of 6-12 years old. Parents of children aged 6-12 were identified through Nielsen's Mobile Insights Survey. Parent respondents answered on behalf of their 6-12 year olds.