Brand owners are no stranger to the rapidly growing U.S. Hispanic market. With a population of 57 million people and over $1.3 trillion in spending power, it's hard to ignore the opportunity. Nielsen estimates that about 83% of U.S. adults in Hispanic TV households (persons 18+) speak some level of Spanish in the home, with 27% speaking only Spanish and 57% speaking both languages in the home. So it goes without saying that today's go-to-market strategies would be well-served by including Spanish language advertising if they aim to reach and engage a considerable portion of the U.S. Hispanic population.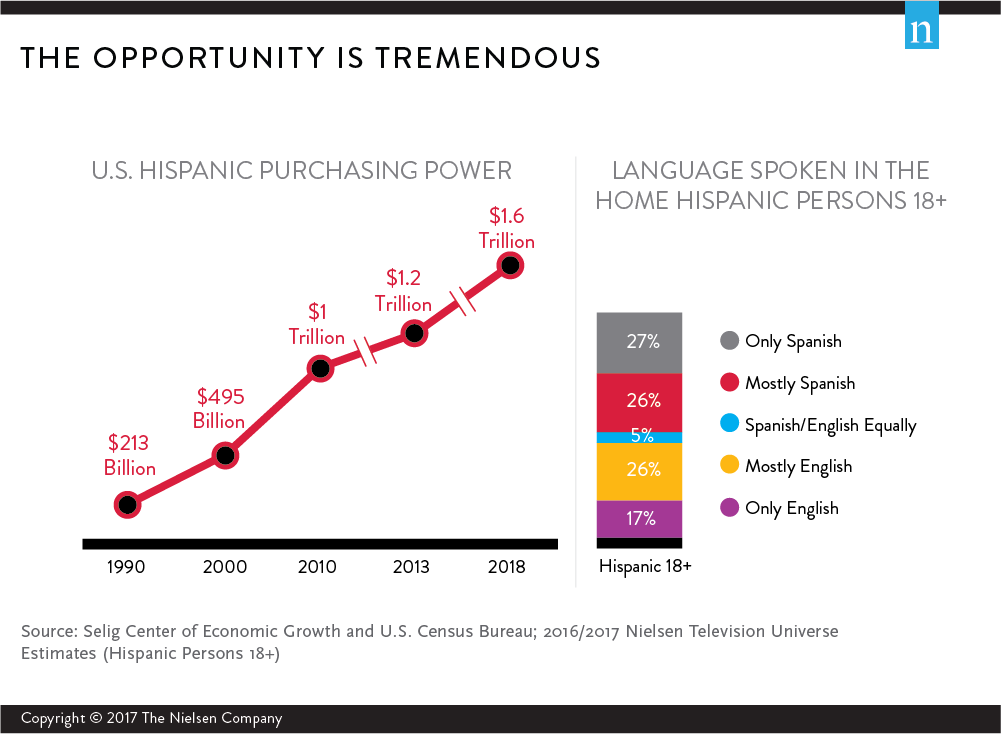 Despite the spending power and growth of this group, many brand owners remain cautious in their spending to engage this group because of the challenges associated with realizing returns and the cultural intelligence required to succeed.
At Nielsen, we analyze the return on investment (ROI) across thousands of brands every year through our marketing mix models, and we've seen a wide variety of ROI results among Spanish TV advertising efforts. And the good news is that driving strong ROI from Spanish-language advertising is obtainable, and our research points to some key tips that can help advertisers achieve strong outcomes more consistently.
While brands might think Spanish language and general market campaigns perform vastly differently, our marketing mix studies show that 54% of Spanish language TV campaigns perform in line with or ahead of English language campaigns. But while many Spanish-language ads perform in line with market averages, there's plenty of room for improvement.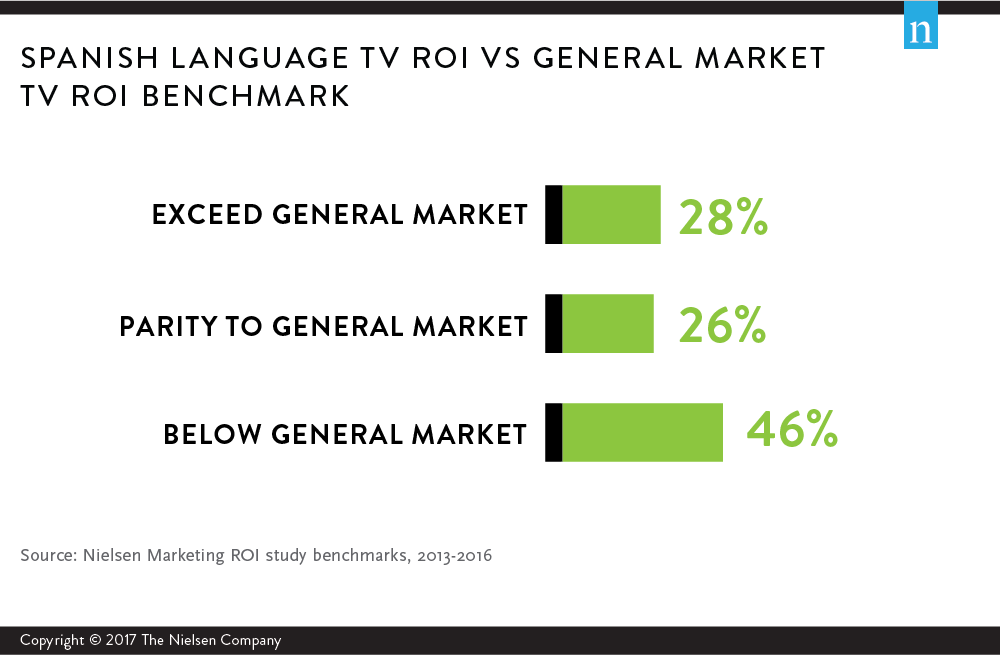 In an effort to understand what differentiates the Spanish language TV campaigns that deliver higher ROI from the ones that deliver lower ROI, Nielsen recently conducted an analysis across marketing mix studies where Spanish language TV marketing efforts were used. The study categorized the results into "high ROI" (greater than $1 per $1 spent) and "low ROI" (less than $0.50 per $1 spent) groups and evaluated the differences between them to identify the drivers of higher ROI. The study included results across the marketing efforts of more than 50 projects with clients in a wide variety of categories. Nielsen assessed the campaigns on several dimensions, including creative quality, execution pattern, spend, category and brand indices among Spanish-speaking consumers, existence of cross-channel media efforts, and return on investment. This analysis identified five key levers to driving higher ROI on Spanish language TV.
FISH WHERE THE FISH ARE HUNGRY
The study found that brands that Hispanics purchase more frequently were able to generate a higher ROI across Spanish language TV. The average brand consumption index (rate of purchase compared with the overall average) among Hispanic consumers was 20% higher for the high-performing brands, relative to the low-performing brands.
Additionally, after analyzing annual sales data, the study found that the brands that generated stronger ROI had higher annual revenue among Hispanic consumers than the brands that delivered lower ROI. On average, most of the higher ROI efforts were for brands that generate $60 million or more in annual revenue among Hispanic consumers were able to generate higher ROI than the general market benchmarks.
But a brand doesn't need to have millions in revenue to be impactful. But rather than focus on short-term ROI, brands and categories that aren't well known should set up the foundation for long-term potential. And as consumption and sales improve, so should your ROI.
STRONG(ER) CREATIVE IS IMPORTANT TO RESONATE AND ENGAGE
We have tracked the general relationship between creative and ROI for years and the correlation has been unwavering: campaigns need strong creative to deliver strong ROI. But it's more than a correlation. Data from Nielsen TV Brand Effect, which account a campaign's memorability and likeability, and our marketing mix modeling ROI results, confirms that stronger creative leads to higher ROI. Spanish language campaigns that delivered higher ROIs had much higher Brand Effect scores versus campaigns that delivered low ROI across every metric tracked: ad memorability, brand memorability, message memorability and likeability. We found the same results when we evaluated the Spanish language ad Brand Effect score and their English language counterparts. The brands that delivered ROI of more than $1 had a higher index than their English language ads across every metric.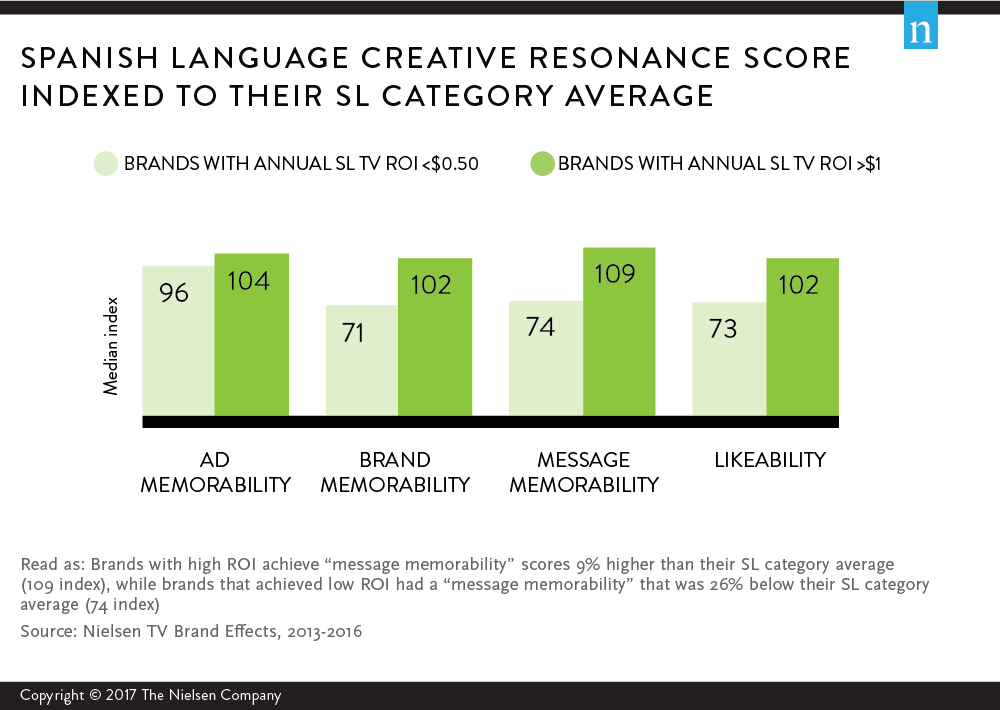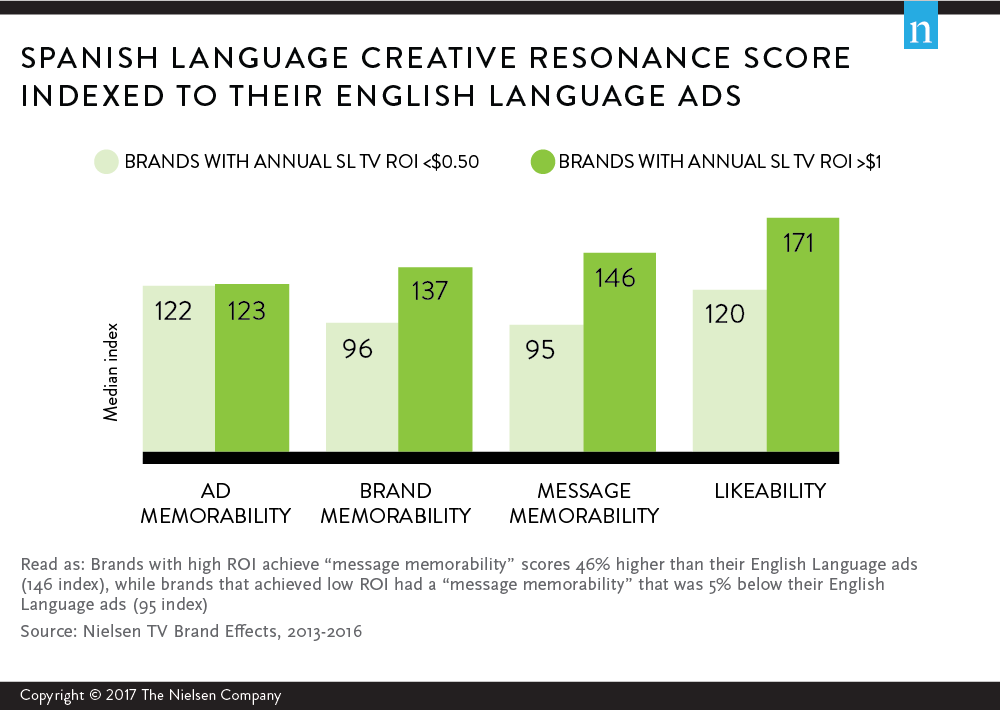 So how can you achieve higher memorability and likeability? Our recent study identified five key factors that drive high creative resonance scores (as measured by Nielsen Brand Effect) among Spanish-language campaigns:
Use Original Spanish Content: Ads developed in Spanish that are culturally tailored to the U.S. Hispanic market outperform ads that are simply translated into Spanish.
Spanish Dialogue Matters: Ads with on-screen dialogue in Spanish help enhance cultural relevance.
Incorporate a narrative storyline: Engage with a story, particularly one that highlights family bonds.
Use humor: Leverage the universal human desire for a good laugh, but make sure the humor is culturally relevant.
Make it relatable: Feature relatable characters in familiar, real-world settings.
BREAK THROUGH WITH THE RIGHT RECENCY AND FREQUENCY
In order to break through, messages need to be communicated at the right recency and effective frequency. When we look at the the weekly execution levels of the high- and low-performing Spanish language brands, their level of execution, frequency and variation look quite different. According to Nielsen Ad Indel data, brands that generated strong annual ROI performed strongly across the board: they had an average of 30% more total rating points (TRPs) per week on Spanish language TV among Hispanic households; they were advertised seven more weeks of the year (23 vs. 16); and had greater variability across weeks in their level of TV advertising support.
A WELL-CHOREOGRAPHED ORCHESTRA IS LOUDER THAN A SINGLE VIOLIN
Companies need to take into account the holistic view of their advertising, both within a brand that they plan to advertise in Spanish Language media and across all of the brands within their portfolio.
Within a brand, TV needs to be a part of a broader strategy to reach Spanish-speaking consumers. Spanish language digital advertising tends to have a higher ROI on average than TV advertising.
Our research shows that the synergistic impact of advertising across channels can drive a stronger result than each type independently. We found that Spanish language TV advertising that drove a higher ROI also had higher spend on their digital activities targeted at Spanish-speaking consumers. Brands that targeted more than $1.5 million in annual digital advertising at Spanish-speaking consumer delivered 80% more TV ROI than brands that spent less than $1.5 million on Spanish language digital advertising. Similarly, we found that brands that dedicated spending of at least 25% of their TV spend on digital ads achieved a 20% higher ROI than those that spent less than 25% of their TV spend on digital ads.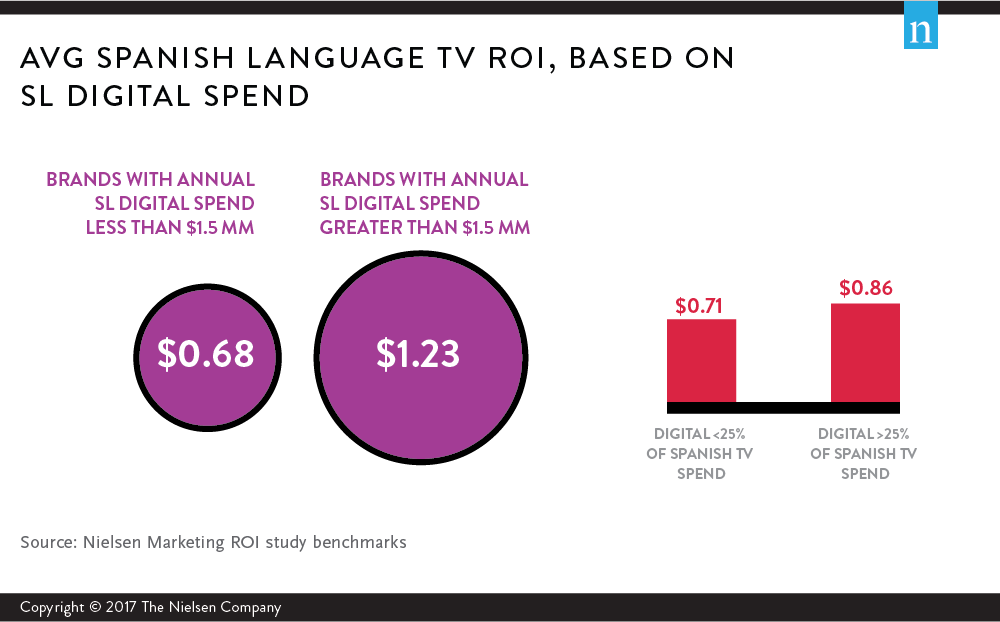 Across categories, companies need to evaluate which brands have the highest potential to deliver strong ROI in Spanish language advertising and focus their spending accordingly.
WHEN YOU COMPARE, MAKE THE RIGHT COMPARISON
When assessing your Spanish language campaign, the natural inclination is to compare the results to general market English-language advertising campaigns. While these types of comparisons are good for general findings, they may not tell the full story.
With the unique nature of the audience you are targeting, it's important to make relevant comparisons and derive metrics that truly assess the impact of the Spanish language campaign. It is also important to reinforce that not all brand owners start with the same level of advertising ROI awareness and familiarity. In these cases, metrics like awareness and consideration are better gauges of the effectiveness of the campaign than just absolute short-term ROI.
For additional insights, download our Secrets to Spanish Language TV ROI report or watch our recent webinar recording.