Asian American influence is readily apparent across the U.S. mainstream, from grocery aisles to television programming to digital content channels like YouTube. The adoption of Asian-inspired staples like Sriracha, sushi, yoga and Korean beauty techniques and products (K-beauty) can be attributed to the rapid growth and increasing power of Asian-American consumers. Meanwhile, Asian-American influencers, including social media personalities, star athletes and bloggers are also appealing to general market consumers—helping to give Asian cultural cornerstones mainstream crossover appeal.
The Marketability of Asian-American Social Influencers
In our recent 2018 Asian-American consumer report, we document the outsized and trendsetting usage of digital platforms by Asian-American consumers. We also highlight some real-life examples of influencers who have used this affinity for digital platforms to create burgeoning careers. YouTube giants like Michelle Phan, Ryan Higa, Lilly Singh, Freddie Wong and Markplier have millions of followers and subscribers from all backgrounds.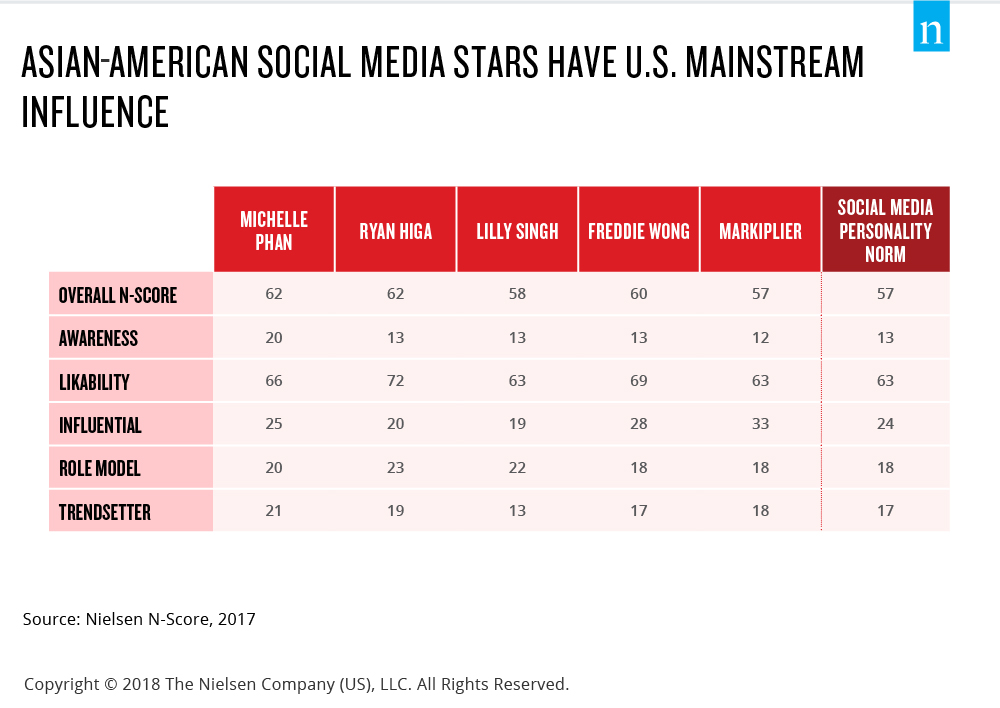 If brands and advertisers can successfully form relationships with these influencers, they have the opportunity to get their brands in front of millions of devoted followers. According to our N-Score metric, which measures the overall marketability of celebrities, Asian-American social media stars are rated higher than their peers in terms of overall marketability, likability, influence and trendsetting ability. A particular standout is beauty blogger Michelle Phan. She has a higher overall N-Score and higher awareness, likability, influential, role model and trendsetter scores than the average social media personality.
Asian Americans Stand Out in Pyeongchang
Asian Americans made up just under 6% of Team USA's athletes for this year's Winter Olympic Games in Pyeongchang, South Korea. Asian-American athletes were successful in several high-profile events, including figure skating (Maia and Alex Shibutani earned a bronze medal) and snowboarding (Chloe Kim won a gold medal). Kim, in particular, exemplifies the cultural duality of many in today's Asian American population. She identifies as both Korean and American, also known as being ambicultural.
With Asian Americans appearing on screen as star athletes, marketers have a tremendous opportunity to reach Asian-American consumers who are also sports fans. Asian Americans have diverse taste in sports. In fact, during the fourth quarter of 2017, the top five network sports shows and the top 16 cable sports shows with more than five telecasts among Asian-American adults (18+) included NFL, MLB, NBA and WWE programs.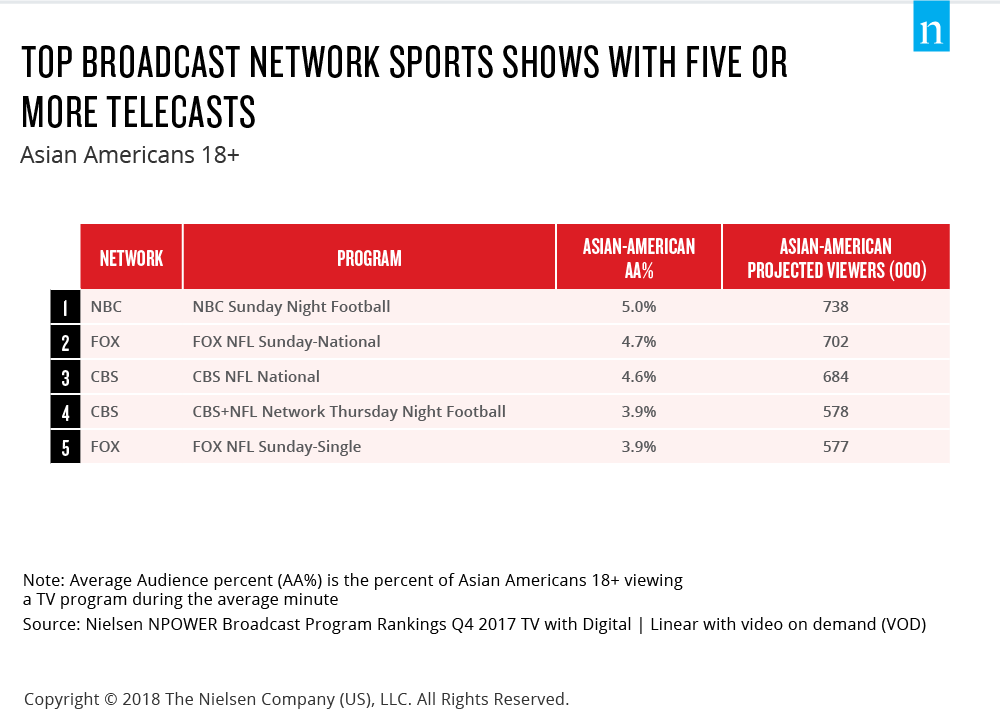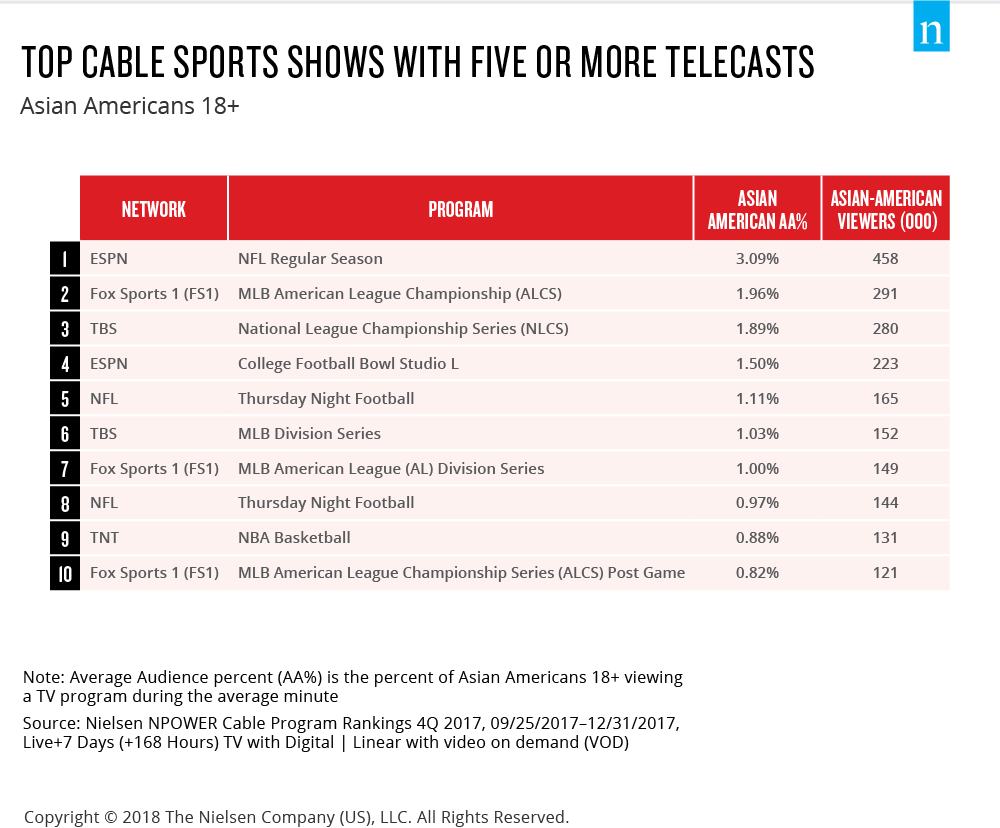 Certain professional sports leagues have taken note and have important initiatives to engage the Asian-American fanbase by tapping into Asian culture. For instance, Chinese characters are included on NBA jerseys during Lunar New Year. This promotion celebrates the heritage and culture of Asian-American fans while also bringing awareness of diverse cultures to other fans—an important aspect in the recognition of diverse players and staff in the NBA.
Influential Foodies
Asian Americans have also exerted their influence on the U.S. mainstream through food. Asian-American food bloggers, such as NomNom Paleo, Girl Eat World, My Name is Yeh, My Korean Kitchen, Damn Delicious, Kawaling Pinoy and Angel Wong's Kitchen, create shareable, buzz-worthy content. Additionally, Asian Americans are 124% more likely to use Yelp, 92% more likely to read or contribute to blogs and 51% more likely than non-Hispanic White consumers to read restaurant reviews.
Asian Americans' proclivity for and familiarity with digital platforms has influenced the general market appetite for Asian cultural touchstones.
For more insights, download Asian Americans: Digital Lives and Growing Influence.