Australians aren't quite ready just yet to transition from traditional banking behaviours to a neobank's new mobile-only experience. While one-in-two Australians claim they are open to switching their current main financial institution to a neobank, there is more to be done to change Australian financial culture and literacy. Digital offerings from traditional banks and digital banks are at the heart of driving positive shifts in this space. We predict neobank awareness to grow as a result of this, but right now, they are still establishing their market position. Neobanks need to keep building their brand equity to be a consideration in Aussie consumers' financial portfolio.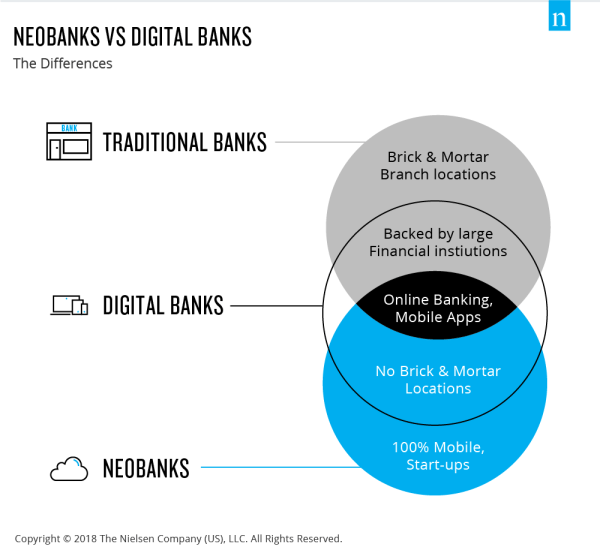 One of the biggest challenges facing traditional banks is dissatisfaction. With over 3.1 million Australians expressing dissatisfaction with their major financial institution over the past 12 months, it is critical for financial institutions to address their disengaged and unhappy customers. When you overlay the marketing and brand attributes of traditional banking compared to the actual experiences, it becomes apparent there is a huge promise gap between what the customer expects and what is being delivered. If this is not addressed quickly enough, it creates opportunities for digital banks to target these potential customers.
Consumer dissatisfaction with banks is up 3% since last year – higher among those who bank with 'the big four' (+6%). With mixed media coverage of the Banking Royal Commission as well as open banking and new market competition, it is now easier for consumers to find another institution that can better cater to how they want to bank. Right now, the number of Australians looking to change their main financial institution in the next six months sits at 12% (2.5 million Australians), which is 9% higher than a year ago (2.19 million).
2.5 million Australians looking to switch their main financial institution in the next six months
CURRENT AWARENESS OF NEOBANKS
While neobanks are small in Australia, their awareness is growing. Of the Australian consumers who have heard of neobanks, 46% could recall a brand name, with Xinja being the most well-known brand with 19% awareness compared with other brands when consumers were prompted.
However, when we look at unprompted brand awareness of neobanks, it's a close call for the top spot, with Volt Bank (27%), Xinja (26%) and Q Pay (24%) being the top three brands recalled by this group.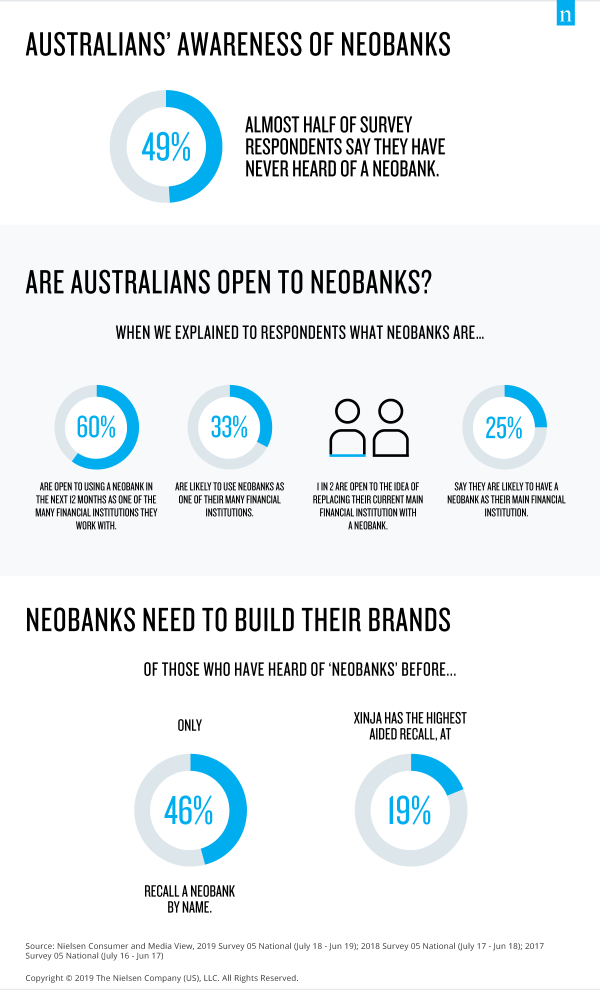 Neobanks are still relatively new to Australia. Given the fluctuating conditions in the financial services sector over the past two years, the Australian market is ripe for neobanks' success. While this all sounds like a dark cloud cast over traditional banking, we have yet to see how many people will actually put their money where their mouth is and switch their main financial institution to a neobank.