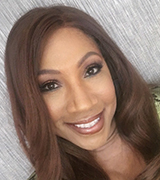 Believe it or not, consumers are streaming even more content. The "Rona"—as the novel coronavirus (COVID-19) has been deemed by Black Twitter—has forced many of us indoors for extended periods of time. And that means more time with our TVs and connected devices, particularly with streaming services.
Even before many stay at home measures were put in place across the U.S. earlier this month to slow the spread of COVID-19, Americans were spending nearly 19% of their TV time at home on streaming, whether with ad-supported models or paid subscription services. And those numbers could continue to increase as we are living a new normal given continued COVID-19 containment measures in the U.S.
In the last six weeks or so, many of us have really stepped up our "binge game" due to social distancing. I know I have. At Nielsen, we know that staying put in our homes can lead to an almost 60% increase in the amount of streaming content we watch. A big question for brands and communications pros is: What type of content are Americans watching?
Many U.S. consumers have gravitated to feature films, news and general-format programming. As the New York Times put it: more Netflix, less ESPN. Sports viewing has certainly been curtailed due to many live sporting events being cancelled or postponed, though some organizations may find opportunities to connect with fans through virtual viewing and esports. In my house, my son had me watch a documentary on pandemics. The documentary? Not a great idea for calming anxiety. Spending time with my son? Awesome!
As we explore and analyze the impacts of current events on media consumption, we certainly can't ignore the influence of multicultural consumers. According to our most recent Total Audience Report, Black adults continue to spend the most time overall with media—21% more time than the average adult. They spend more time than any other group with live TV at 5 hours and 4 minutes and with smartphones at 4 hours and 46 minutes per day.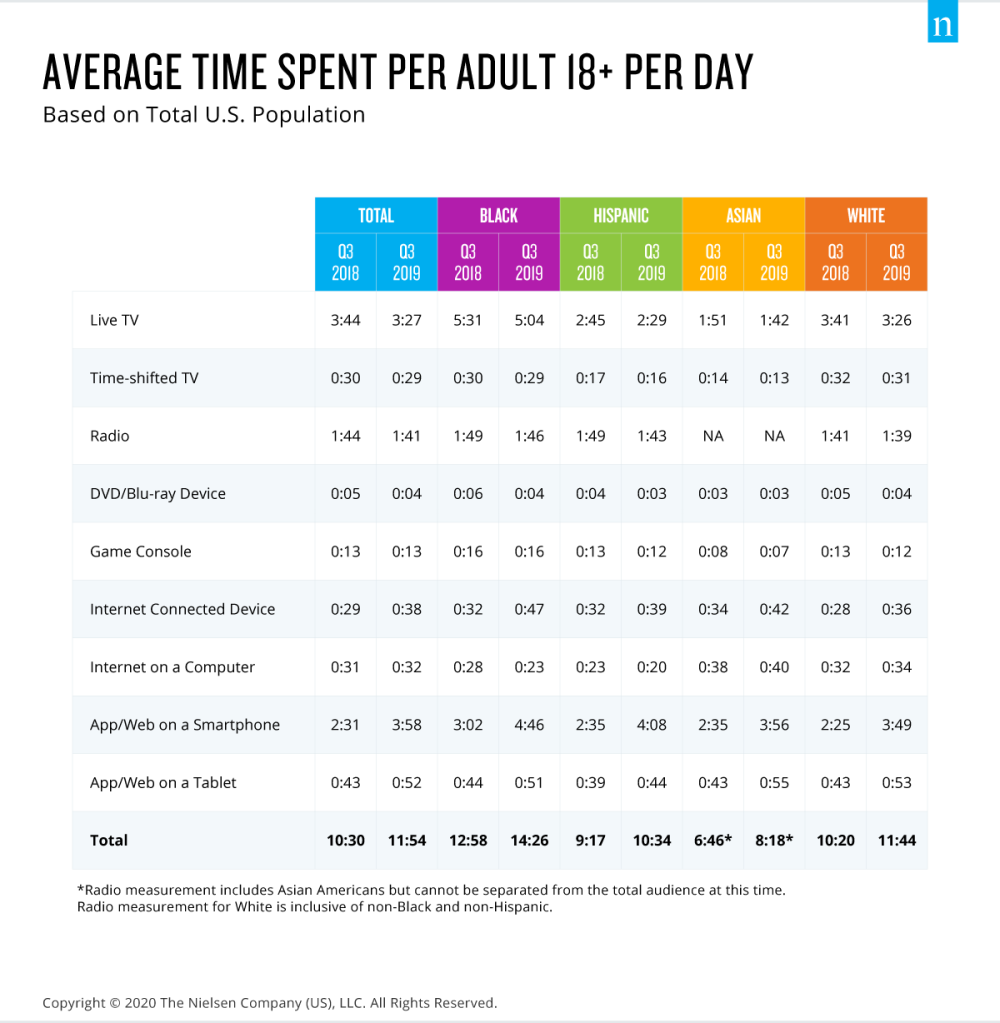 These connected devices are enabling and encouraging a shift from traditional to streaming, and as the connected TV becomes the new normal, so will streaming.
And when it comes to streaming content, this group is again leading the charge. Some highly-popular streamed content featuring Black stars include:
Jada Pinkett Smith's Red Table Talk, which is streamed and available only on Facebook Watch, has been so popular that it has opened the door for similar programming with Gloria Estefan and multigenerational women for Latina storytelling, produced by Westbrook—the company Jada and Will Smith own.
Netflix's Strong Black Lead features conversations with key influential Black actors, directors, comedians, etc. available via podcast and Instagram.
Roland Martin took his cable news show, News One Now, to a streaming format (Roland Martin Unfiltered) across social and digital platforms, and it now has a devoted follower and viewership—with more than 100.7 million views and almost 435 million minutes viewed across YouTube, Facebook, Twitter and Instagram in just one year.
Streaming consumption has also been growing in Hispanic segments. And subsequently, we also see the proliferation of content by and about Hispanics:
Netflix has the Con Todo channel on Instagram highlighting all things #LatinXcellence. They also launched a podcast called Brown Love to highlight Latinx content and experiences.
Pantaya, Lionsgate & Hemisphere Media's Netflix-style streaming service, recently launched. It targets the Latinx community and offers premium content, including original programming, to the Hispanic American market for $5.99 a month.
Viacom's free, ad-supported streaming service, Pluto TV, added a Latino category, featuring 11 linear Spanish and Portuguese-language channels, with content encapsulating movies, comedy, music, true crime, reality, sports and telenovelas.
There's also been growing demand for more diverse Asian American content. Just look at the recent success of Asian-centric movies and shows such as the Oscar-winning Parasite, box-office smash, Crazy Rich Asians, and Netflix's hit rom-coms, Always Be My Maybe and To All the Boys I've Loved Before. Asia is also Netflix's fastest growing region, pointing to a future with more streaming content featuring Asian storylines.
We also know that daily internet-connected device usage among Asian American consumers increased from 2018 to 2019 by eight minutes per day; Hispanics by seven minutes; and African Americans by 15 minutes. Content creators and advertisers should take note of these evolving habits and tailor their offerings to reflect the shifts in usage.
It is important to note that, for reaching the masses, traditional linear TV and radio still present great opportunities. Radio reach has remained steady year-over-year and is the highest across all platforms at 92%, including 96% among Hispanic adults.
Whether you've increased your viewing or not during this global health crisis, now is a great time to turn a negative into a positive. Spend more time bonding with your loved ones—even if it's over a discussion about whether or not you believe in Netflix's "Love Is Blind" experiment.
Marketers and content creators also need to rethink their usual strategies. Provide free trial services for your streaming platform. Use creative or brand messages that are positive or encouraging to cut through people's fear and uncertainty. Package your content to help address our new reality; for example, TVGuide has created a guide of educational TV shows so parents can provide better quality screen time (and reduce guilt!).
For more information on our viewing habits, check out our 2020 Total Audience Report and data from recent crises that we've outlined in Staying Put: Consumers Forced Indoors During Crisis Spend More Time on Media.
Follow me on Twitter at @PowerfulPenny and on LinkedIn to stay in touch with me about the latest on diverse consumers and our impact in an ever-evolving digital world. Also, follow our Nielsen Community on Twitter at @NielsenKnows and on Facebook at @NielsenCommunity.