Few industries have been immune to the effects of the global pandemic, but the impact has been particularly notable for global sports. While the return of fans at live events midway through 2021 was cheered by all, behaviors have evolved too much for the sports industry to simply snap back to a mirror image of its pre-COVID self, particularly with respect to how fans engage with sports content.
The proliferation of non-traditional media channels, amplified by the acceleration of digital adoption over the past two years, has forever changed the media landscape–including how fans engage with sports. Today, 40.7% of global sports fans1 opt to stream live sports events through digital platforms, a percentage that reflects both fans' appetite for sports content and the growing wealth of available over-the-top (OTT) options for fans to choose from.
Yet while the expansion of non-traditional media channels has forever changed the sports viewing landscape, the viewership and media value impact of independent sports rightsholders like DAZN has been significant, but largely outside of the U.S.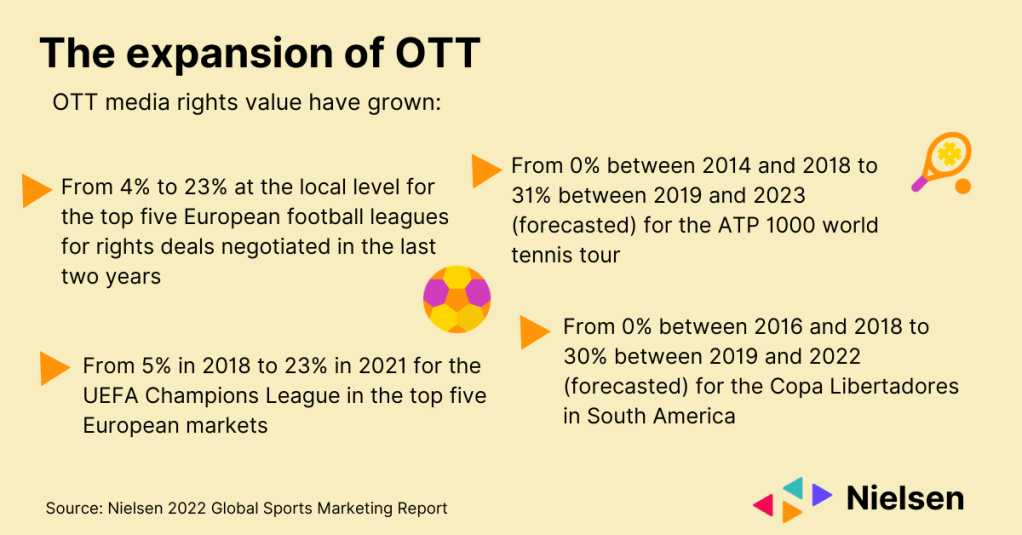 There is no substitute for live sports action, but the proliferation of content across an expanding array of platforms has sparked increased consumption of additional sports content—both related to and not related to live matches. This presents an array of opportunity for both rightsholders and brands alike, and it illuminates the growing importance of sports-related content, especially among younger generations. For example, just under 44% of fans 16-29 who watch non-live sports content that's related to live matches do so via digital, which is just 0.4% less than those who watch live matches via digital.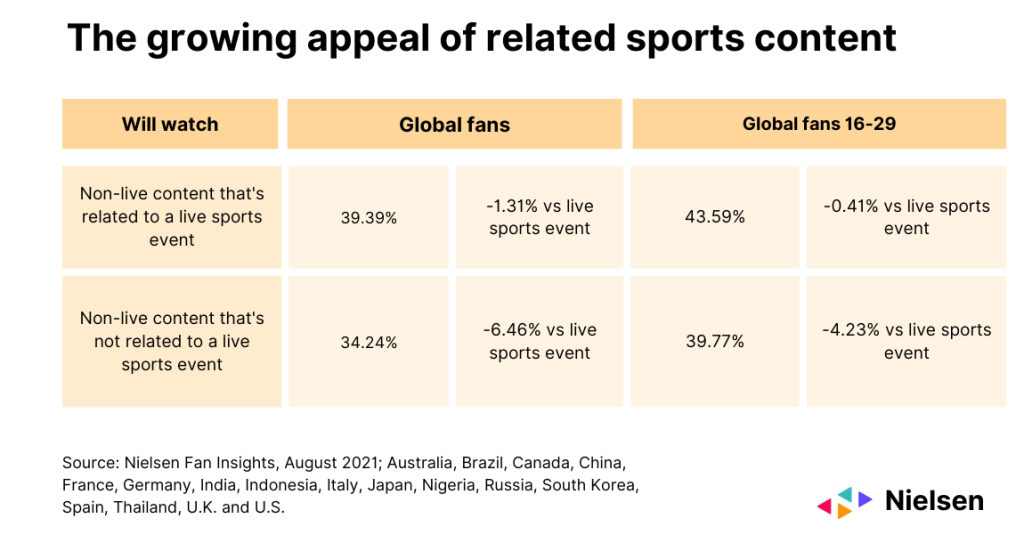 The demand for content related to a live event (match announcements, highlights, recap videos, etc.) is almost as high as it is for digitally delivered events themselves. And content unrelated to a live event (docuseries, behind the scenes, virtual events, etc.) is just slightly less sought after than live digital event content. Aside from attracting fans of specific leagues and teams, the non-live sports content has the power to attract new audiences to sports as well, especially when the content lives outside of the channels that are most commonly associated with sports matches (e.g., free-to-air and paid TV).
Importantly, media consumption is no longer limited to a single screen, even when a big match is on. For many, one screen isn't enough, as the general population has increased its multi-screen viewing activities (social media, texting, playing games, ordering food) by an average of 5% over the last year, with this percentage doubling to 10% among Gen Z2.
While much of the second-screen activity relates to social media engagement, especially as consumers seek new ways to be together, ordering food and online gaming have picked up steam throughout the pandemic, with Gen Z driving the greatest penetrations at 26.5% and 31%, respectively.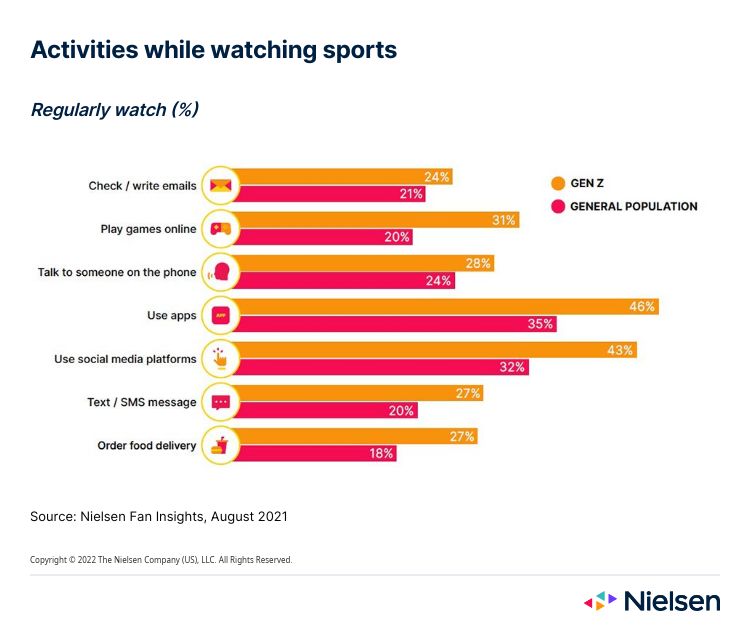 There is no denying the impact that digital connectivity is having on the way consumers engage with media and sports content. As channel and device fragmentation increase, it will be critical for brands and rights holders to remain connected to shifting consumer behaviors to ensure they're able to engage with them on the right platforms and in the right way.
For additional insight, download our 2022 Global Sports Marketing report.
Notes
Nielsen Fan Insights, August 2021, Australia, Brazil, Canada, China, France, Germany, India, Indonesia, Italy, Japan, Nigeria, Russia, South Korea, Spain, Thailand, U.K. and U.S.
Nielsen Fan Insights August 2020 vs August 2021 for Brazil, China, France, Germany, Italy, Japan, Russia, South Korea, Spain, U.K. and U.S.