Let's face it, shopping for back-to-school has gotten a lot more complicated since the pencil, pad and paper days.
As always, today's parents and educators look to give students a leg up when they head back to school—but for many, getting ahead increasingly means the latest technology. With educational devices—from two-in-one computers to tablet add-ons—as well as school time staples like notebooks and clothes to buy, school shopping has become a mad dash to find the newest gadgets and the best offers.
A recent study by Nielsen found that, like other "holidays," consumer spending on back-to-school shopping is happening earlier as savvy back-to-school shoppers look to get the most bang for their bucks on essential items. In fact, the August study found 18 percent of respondents have already started their back to school shopping—significantly higher than at the same time in 2013 when only 7 percent reported they had already started. And those waiting will start soon: 75 percent plan on beginning their shopping within the next few weeks.
It's no wonder.
Advertisers are starting their back-to-school campaigns earlier in the summer. While 2014's campaigns are currently underway, 2013 saw back-to-school television ads air as early as July and continue well into September according to Nielsen TV Brand Effect data. The biggest summer advertising push typically comes from retailers, such as Target, JCPenney and Office Depot, which made up 95 percent of last year's back-to-school advertising. This year, 54 percent of shoppers plan to head to mass merchandising stores, up 7 percentage points from the year before.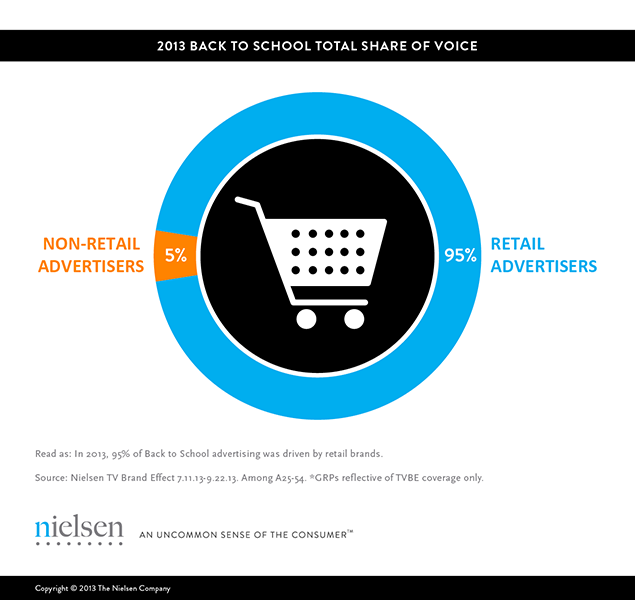 Ad effectiveness can vary based on where these ads run. In 2013, back to school ads that aired on reality and news programming were most effective at driving both brand awareness and purchase intent. Better still, deals and offers from back to school campaigns help retailers get consumers off the couch and to store. These ads were 16 percent more likely to drive higher shopping intent scores among TV viewers (as compared to non-back-to-school themed retail ads) in 2013. The study also found that ads highlighting a wide variety of products and competitive pricing drove the highest shopping intent during the 2013 back-to-school season.
"There's a correlation between the ads that air and how consumers shop across categories but especially among the back-to-school product category," says Randall Beard, Global Head, Advertiser Solutions, Nielsen. "From timing to location to actual items purchased, the influence of ads is pervasive, and it's key for advertisers to use strategic ad placement and best practices for back-to-school success."
So what are consumers planning to purchase?
While old standards such as notebooks, apparel and binders are all among the top categories consumers intend to buy in 2014, shoppers are less inclined to purchase them than in 2013. In fact, technology like laptops and phones are the only categories that show growth.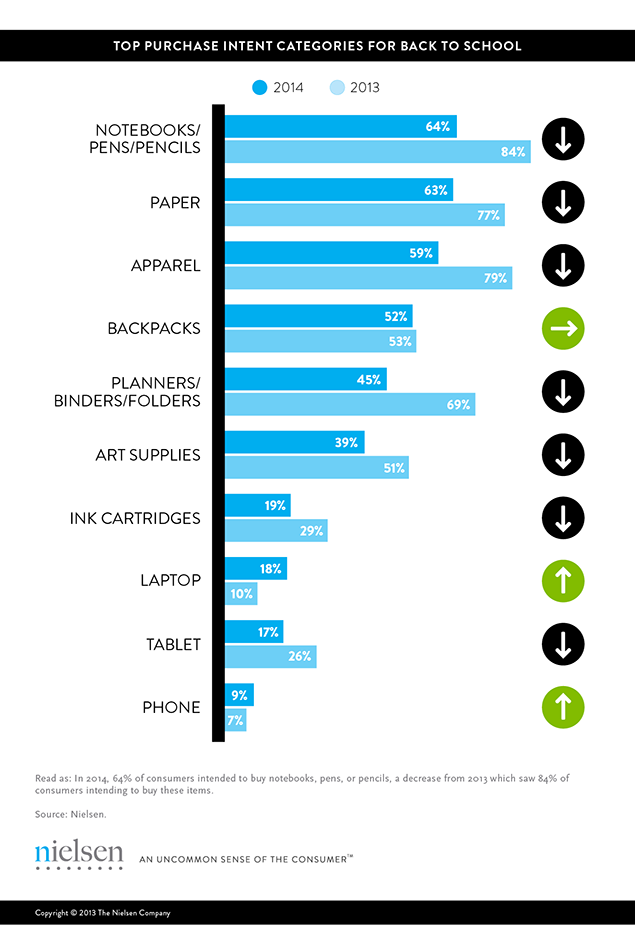 While back-to-school shoppers may also be less inclined to add tablets to their carts this year, tablet penetration among U.S. homes continues to increase quickly, with nearly 40 percent of U.S. TV homes boasting this device (a 187% increase since 2012).
And tablets have definitely found a place at the school desk.
According to Nielsen's Q2 2014 Connected Device Report, 55 percent of connected device owners who have children in their homes report that their kids use it for educational purposes. What's more, 41 percent of connected device owners have used their tablet for taking notes while at school, 34 percent for reading and nearly 30 percent for completing homework/school assignments.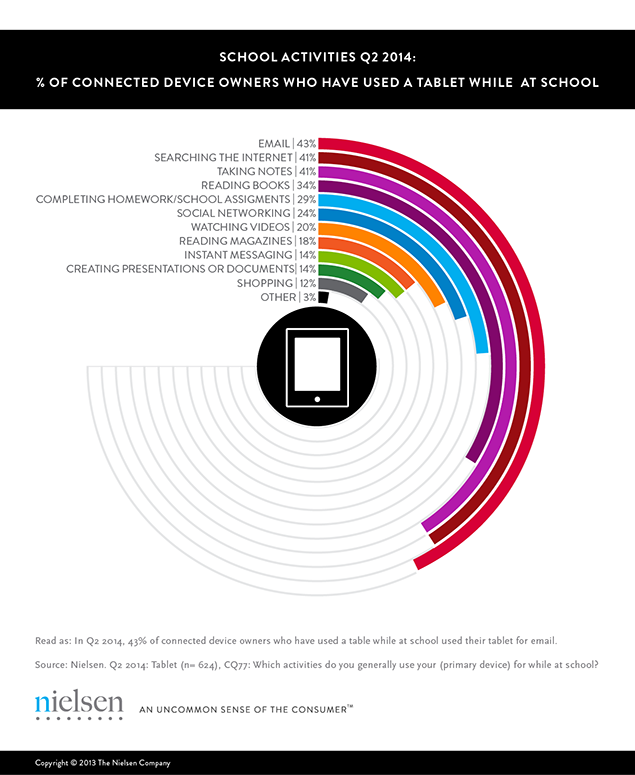 So how can retailers help shoppers get ready for the first day?
Once again, the top influences for back-to-school shopping remain the same as in 2013. When shopping for back to school, consumers report considering price first, making deals key for retailers seeking back-to-school shoppers. Consumers also consider value, convenience, in-store promotions and advertising. Finally, with so many devices gaining popularity, social media is playing a bigger role in back-to-school shopping and shouldn't be ignored by retailers. According to a recent survey, 28 percent of respondents say they're very likely to post about their back-to-school shopping on Facebook and 15 percent plan to Tweet about it on Twitter this year, both up from 9 percent and 3 percent, respectively, in 2013.