With an estimated buying power that now eclipses $1.4 trillion annually and a population base that's steadily growing, the U.S. Hispanic market's cultural and consumer impact can be felt across multiple industries—even at local bookstores. In fact, new research has found that Hispanic families are more likely to buy books for their children than the general U.S. population.
Women under the age of 45 are the primary purchasers of children's books, and the non-White ethnic groups, particularly Hispanics, are more likely to buy than the general public. Hispanics make 14% of all children's books purchases, and are 27% more likely to purchases children's books than the general population. Among the nation's 3.9 million children younger than age 1 in 2013, 49% were multicultural births, and most of the growth in the multicultural child population between 2000 and 2012 was attributable to Hispanic births. And while print and in-person experiences dominate when it comes to children's book purchasers, multicultural consumers are very connected and mobile savvy, using smartphones and other devices at much higher rates than their non-multicultural counterparts.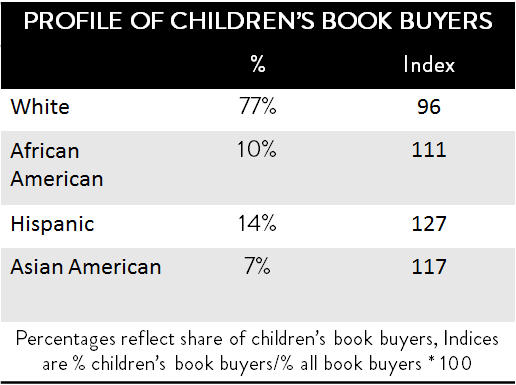 Propelled by the twin engines of population growth and expanding buying power, Hispanics are at the leading edge of converging demographic and social trends that are reshaping how marketers use culture to connect with increasingly diverse customers. What does this mean for the book industry? Publishers need to explore the opportunities presented by this dynamic and fast-growing consumer group. Is there an opportunity for bilingual editions? New promotional partnerships? By understanding what drives multicultural consumer behavior today, marketers can forge a long-term relationship with one of the most dynamic segments of the U.S. consumer economy.
Nielsen's 2015 Children's Book Summit on Sept. 16 will dive deeper into the children's book market—who your customers are, what they love and how to engage with them.
For additional insight, download Nielsen's most recent U.S. Children's Book Landscape report.
Methodology
The Nielsen U.S. Children's Book Landscape report uses data from Books & Consumers Monthly Tracker, an online survey of 6,000 book buyers per month, conducted in English from 2013-2014, selected from a nationally representative sample by age, gender and location. It includes representation of Hispanic, African-American, Asian-American and other multicultural respondents.