There's little doubt that podcasts, which have long been un-tethered from the iPod, are a media force to take note of. In fact, more than half of U.S. households are home to podcast fans—that's more than 60 million homes. And while the reach of this up-and-coming medium grows, many marketers and advertisers have yet to see the connection between podcast engagement and consumer spending.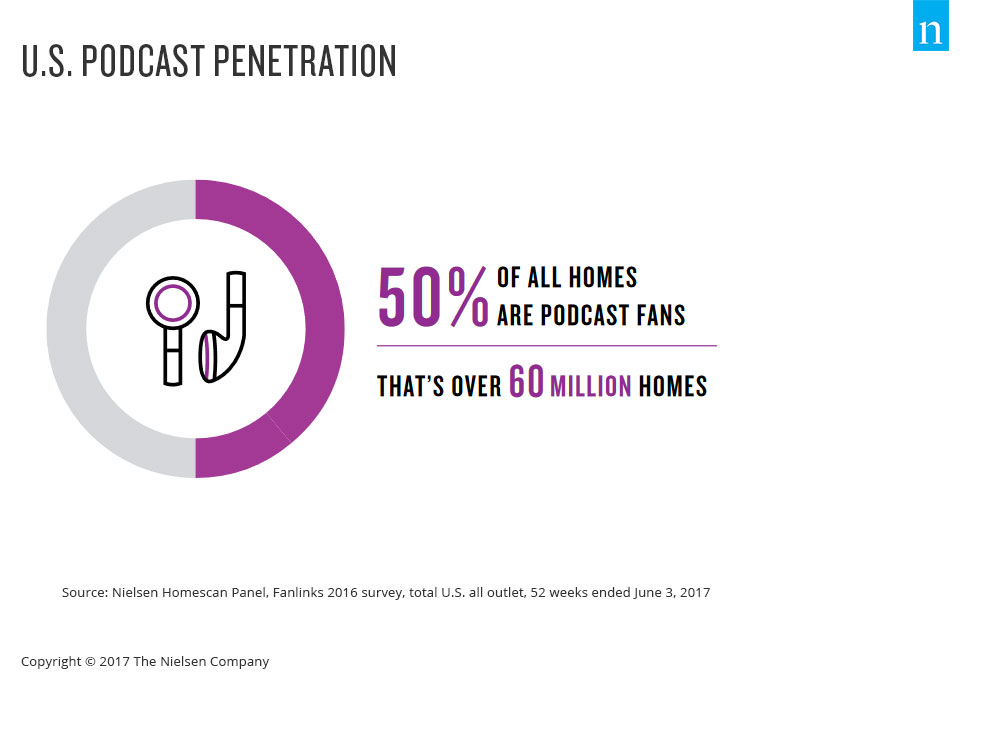 Yes, podcast fans are voracious media consumers who are extremely committed to the programs they're engaged with, but they're also very influential at the check-out counter of their local stores and retail outlets. But their consumption behavior is far from homogenous across categories. So for brands and marketers looking to tap into this highly engaged audience, it's critical that they know which categories are sources of rich opportunity and which aren't.
To gain insight into this question, Nielsen recently looked at the correlation between podcast tune-in and category spend by focusing on spending habits of podcast audiences across more than 300 key advertising categories. As the results of the study were too extensive to publish in a single report, highlights from the correlation between podcast audiences and three key categories (bottled water, baby food and beer) have been released in a new report that presents definitive insight.
Among the three categories, bottled water has the greatest household penetration, as 104 million U.S. homes (84%) buy bottled water. Of the homes that buy bottled water, 51% are podcast listeners. Drilling down even further, almost 12 million are avid podcast fans. Avid podcast fans are those who consider themselves extremely interested in a certain genre of podcast. When we look at the amount of money these consumers spend on bottled water per year, we see that the podcast audience influences $2.8 billion in annual bottled water sales. More importantly, the avid podcast fan spends more per year on bottled water, making them a more desirable target for advertisers.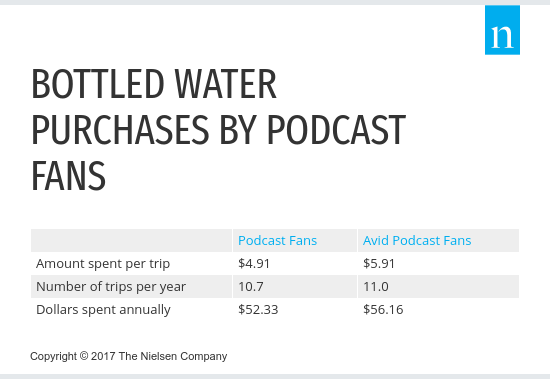 Given the nature of bottled water and its consumption, there are some podcast genres that influence more bottled water purchases than others. It is no surprise that fans of sports and recreation podcasts spend the most per year on bottled water at $56.74. When it comes to bottled water penetration by genre, Kids & Family podcasts lead all other categories, at 91.2% of households buying bottled water.
The baby food category is much smaller than the bottled water category, but there are similarities between the two. Fans of Religion & Spirituality podcasts spend the most per year on bottled water, at $124.91, while baby food is bought in 18.9% of all households who are fans of Kids & Family podcasts, the most of any other genre. These specific genres of podcasts offer advertisers a very unique environment to engage with baby food consumers.
Conversely, the beer category has a much different audience than bottled water and baby food. Fans of TV & Film podcasts spend the most per year on beer, at $125.43 per household. Fans of podcasts in the Arts genre scored the highest penetration of all podcast genres at 43%. Clearly, beer consumers are seeking entertainment from the podcast genres they are most interested in.
The other aspect to podcast tune-in that's worth noting is the increase in engagement across various ethnic groups—something that will certainly play a role in fast-moving consumer goods (FMCG) purchase trends. In terms of increasing diversity, 70% of U.S. podcast fans were white back in 2010. Six years later, diverse audiences have increased their consumption of podcast content, as only 64% of podcast fans are white.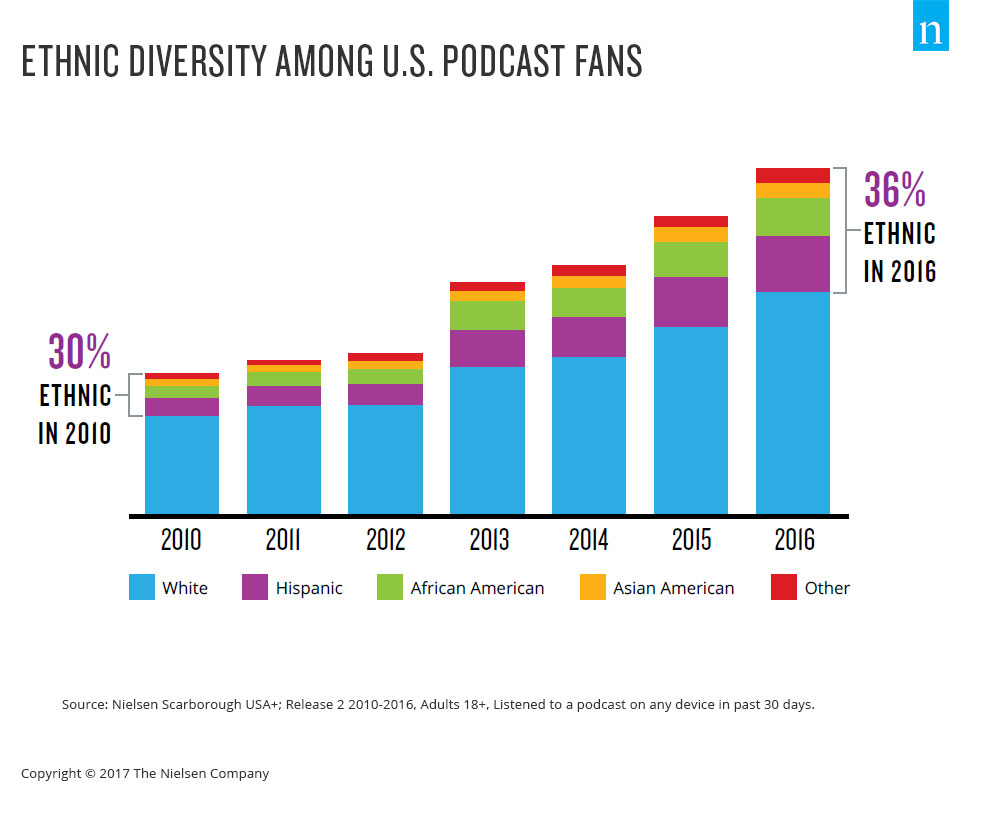 By matching purchase behavior to podcast fans, brands, marketers and advertisers have the ability to quantify the value of those listeners—down to the specific genres of podcasts they listen to. And in looking at the continuing growth in the U.S. podcast audience, there should be no doubt that these fans are a valuable asset to tap into.
For additional insight, download our Podcast Insights report.