It's no secret that streaming services and their content are thriving now more than ever—from an audience perspective and now from the POV of personal critics. From smartphones to tablets to smart TVs, access to this type of content has never been easier. But the luxury of choice also serves as a double-edged sword. With a world of info and entertainment at their fingertips, how do audiences decide what to consume?
Simply choosing what to watch or listen to from a seemingly never-ending, and carefully curated menu can turn into a time-consuming process, especially when consumers are with significant others or making content decisions by committee. As a result, audiences are relying on an age-old solution to solve this new age problem: They're looking to shows they already know of from traditional platforms and turning to people they trust to choose what they watch or listen to.
According to the Q3 2018 Nielsen Total Audience Report, the most influential factors for users as they explore streaming content and decide what to watch or listen to are what they know and who they know.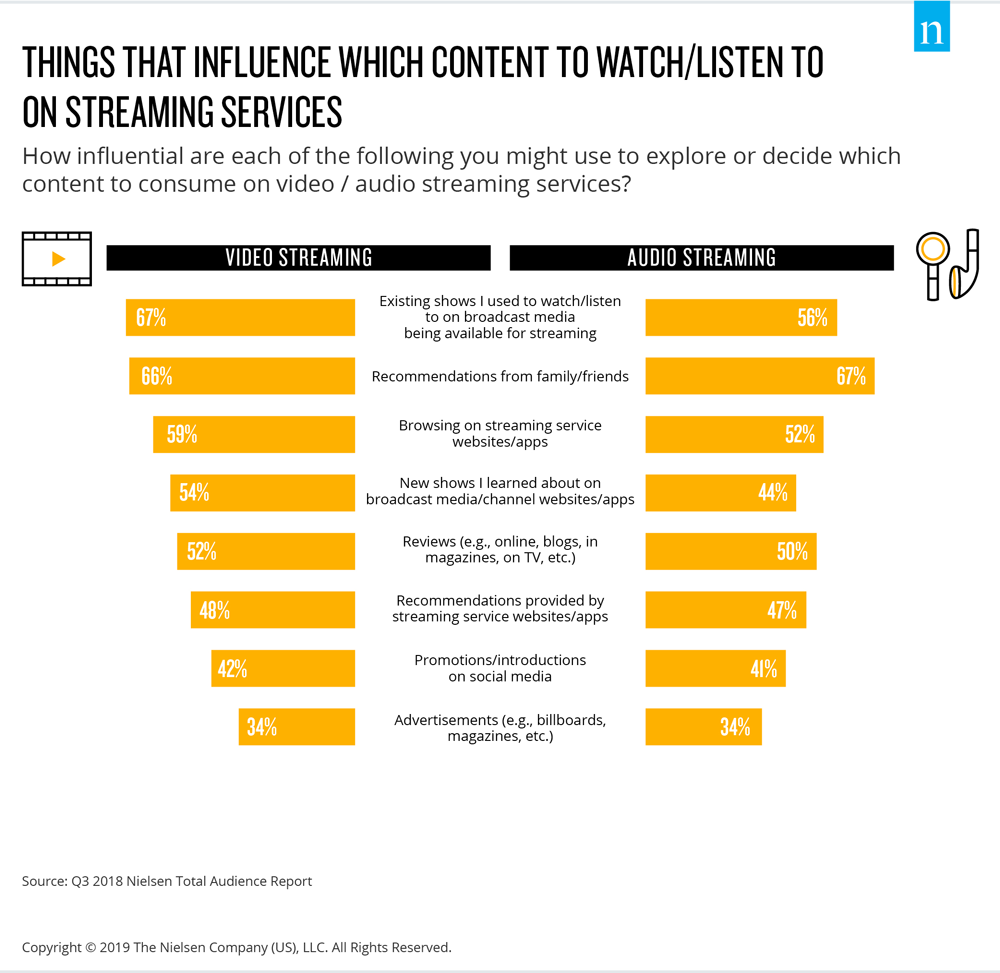 Based on consumer tracking survey data from the Nielsen MediaTech Trender, the report notes that two-thirds of audio (67%) and video streaming (66%) users said they were influenced by recommendations from family and friends. When not soliciting others for advice, they tend to look for streaming content from broadcast media that they're already familiar with. About 67% of video streaming users and 56% of audio streaming users noted that they refer back to existing programming they used to watch or listen to and are revisiting now that the content is more accessible.
While trusted sources and familiarity are key to users when choosing content, they're also relatively receptive to outside entities to an extent. Influence from content reviews accounted for at least half of video and audio streaming users, while just under half factor in the recommendations provided by streaming service websites and apps.
The Taste for Streaming Services
Americans don't just have preferences when it comes to what influences how they choose streaming content—they also have particular tastes in what they look for in a streaming service, too. With the number of streaming video on demand (SVOD) services and options available to consumers on the rise, it's crucial to examine which attributes of streaming services are most important to consumers as well.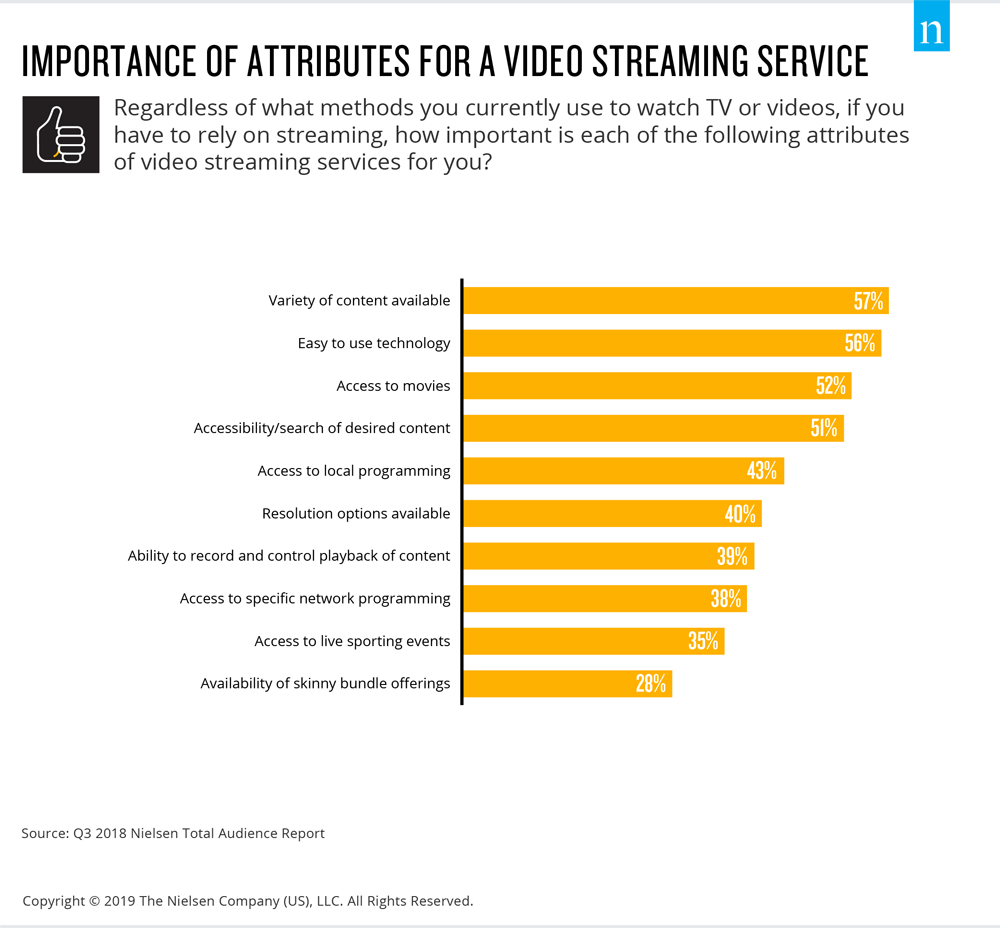 Most of all, users wanted access to a broad variety of content. The Nielsen MediaTech Trender survey data reported that well over half of users said they wanted access to a broad variety of content while using technology (57%) and an interface that is easy to navigate (56%). Aside from a wide-ranging content library, niche content was also desirable, as 43% wanted access to local programming, 38% were looking for specific networks and 35% wanted the ability to stream live sports.
Of course, a lack of an expansive content library and difficult user experience may not be the only factors to consider—there are barriers that dissuade audiences from using a streaming service at all.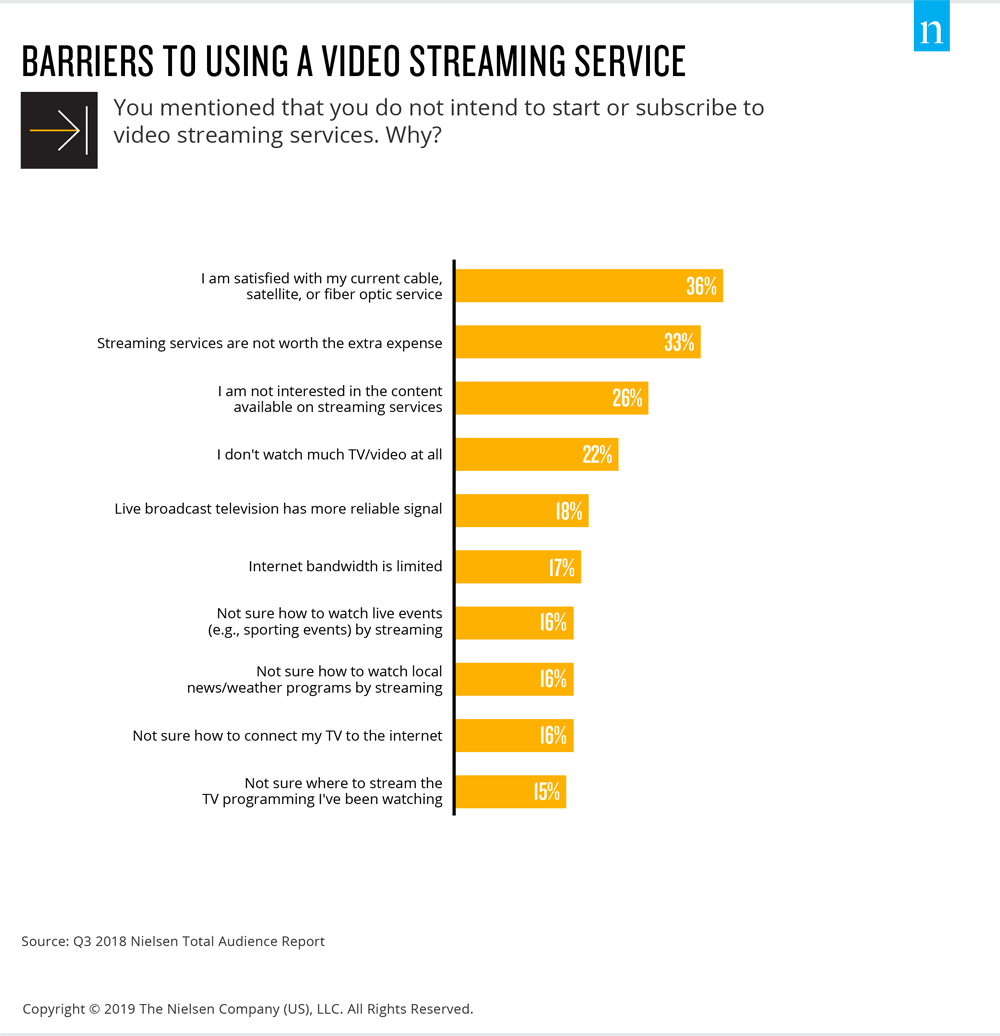 Among those who said they don't intend to subscribe, 36% are satisfied with their current services, with 19% citing that as the most important factor. Notably, one-third believed that streaming services are not worth the extra expense, while 26% are not interested in the content available on them.
Some barriers, however, are less involved with preference than they are with a potential user's ability. Awareness and technical limitations prevent some users from subscribing, whether that be through not knowing how to use devices, locate the content they want to watch, or by having sufficient internet bandwidth. Correcting those issues and increasing user knowledge, however, could potentially lead to additional interest in and usage of SVOD services.
With More Devices Being Adopted, Streaming Accessibility Grows
In today's landscape, even choosing a touchpoint for media can be perplexing. Yet, audiences are spending a substantial amount of time with media, especially those on newer platforms. Consider this: U.S. adults spend an average of 10 hours and 30 minutes—44% of their minutes in a day—engaging with media. Of that time, about 4 hours and 27 minutes belong to devices with access to the internet and streaming services such as game consoles, internet connected devices (i.e., Apple TV, Roku, Google Chromecast, Amazon Fire TV), computers, smartphones and tablets.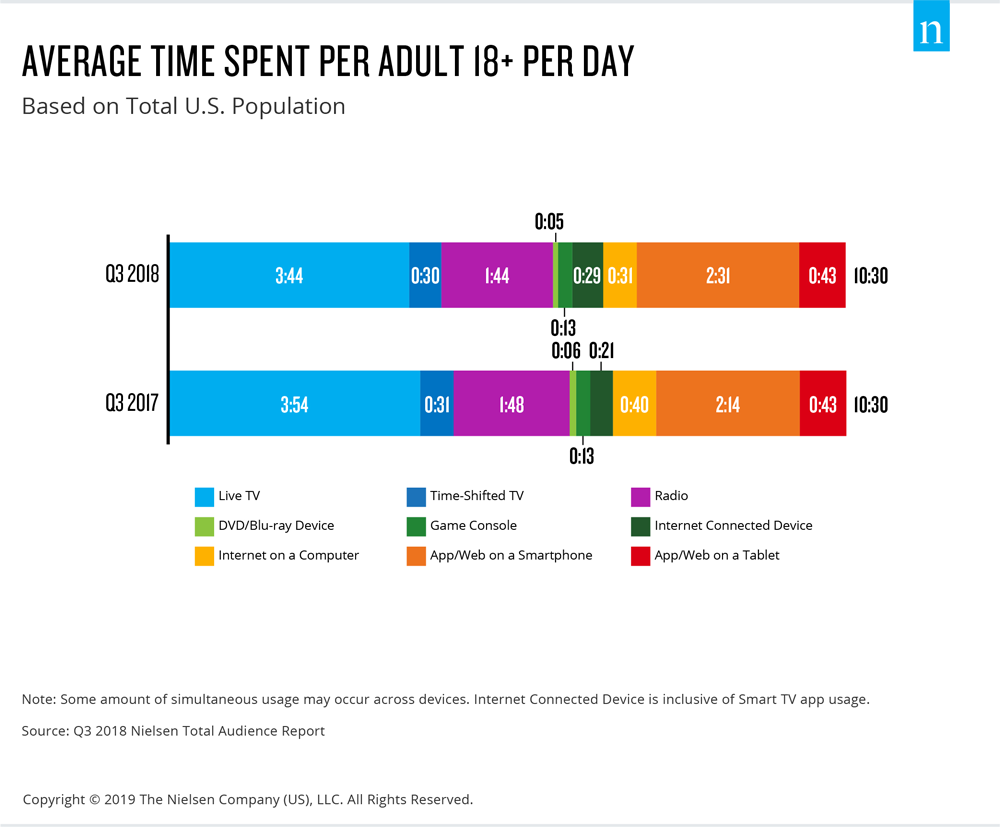 Time spent with streaming capable devices in Q3 2018 have shown notable increases since Q3 2017, namely internet connected devices (increase of 8 minutes) and app/web usage on a smartphone (increase of 17 minutes). These devices in particular present intriguing characteristics when it comes to streaming, as internet connected devices allow users to stream content to their larger, more established TV glass while smartphones provide the luxury of content consumption on-the-go.
From an audio-specific standpoint, streaming audio on a smartphone is becoming more prevalent among adults, too. This type of listening reached nearly half (45%) of all U.S. adults on a weekly basis, while broadcast radio remained flat this quarter as the leading weekly reach platform (92%).
Additionally, it would behoove marketers and businesses to take note of who the heavier users of these newer platforms are: young adults.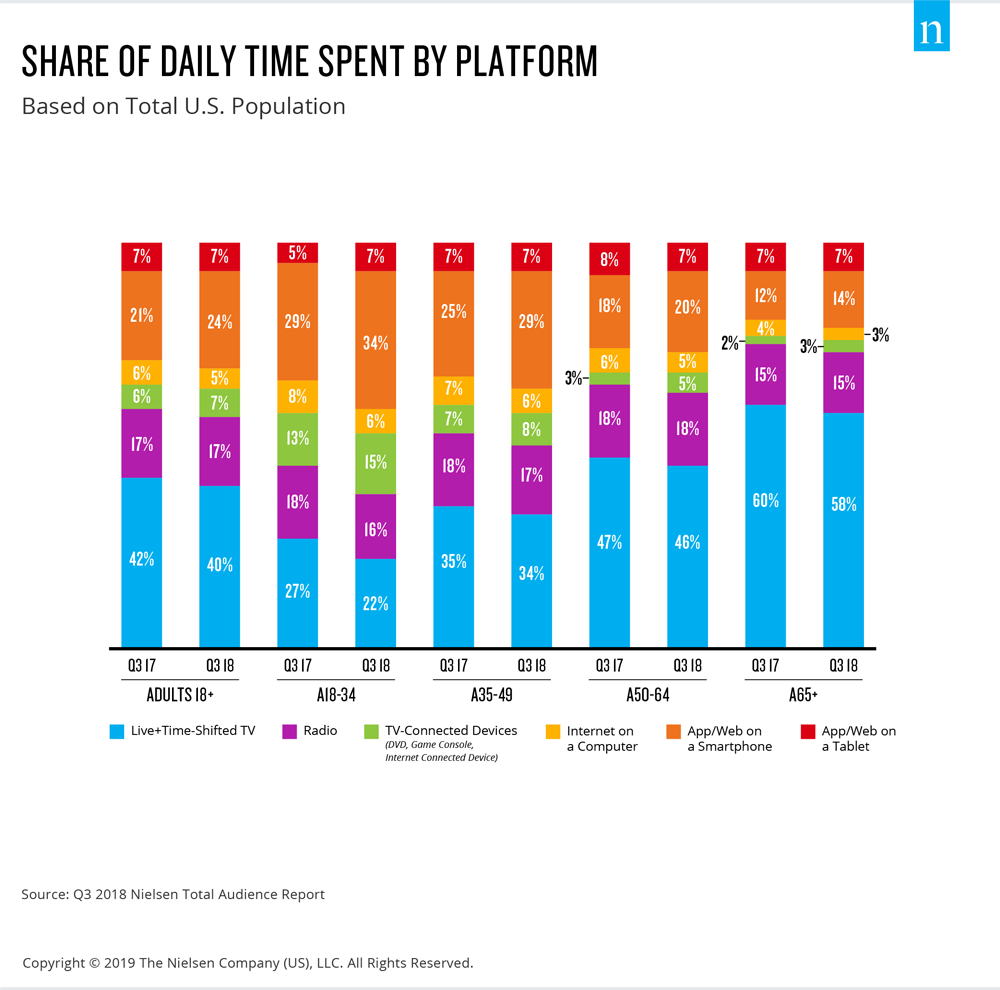 In Q3 2018, adults ages 18 to 34 had the largest share of the time spent with TV-connected devices (15%) and app/web usage of a smartphone (34%) than any other measured age group. That's not to say older demographics are not getting in on the new platform craze. In fact, each older demographic group's share of daily time spent with TV-connected devices and app/web on a smartphone increased from Q3 2017 to Q3 2018.
Not only are more Americans are increasing their time spent with newer platforms, more are finally adopting them.
For instance, Internet enabled TV-connected devices—enabled smart TVs, internet-connected devices and enabled game consoles—can be found in 68% of U.S. households, up from 63% in September 2017. Specifically, enabled smart TV penetration grew to 41% from 32% as users continue to replace their older television sets. Internet connected device penetration alone increased to 39% from 35% the year prior.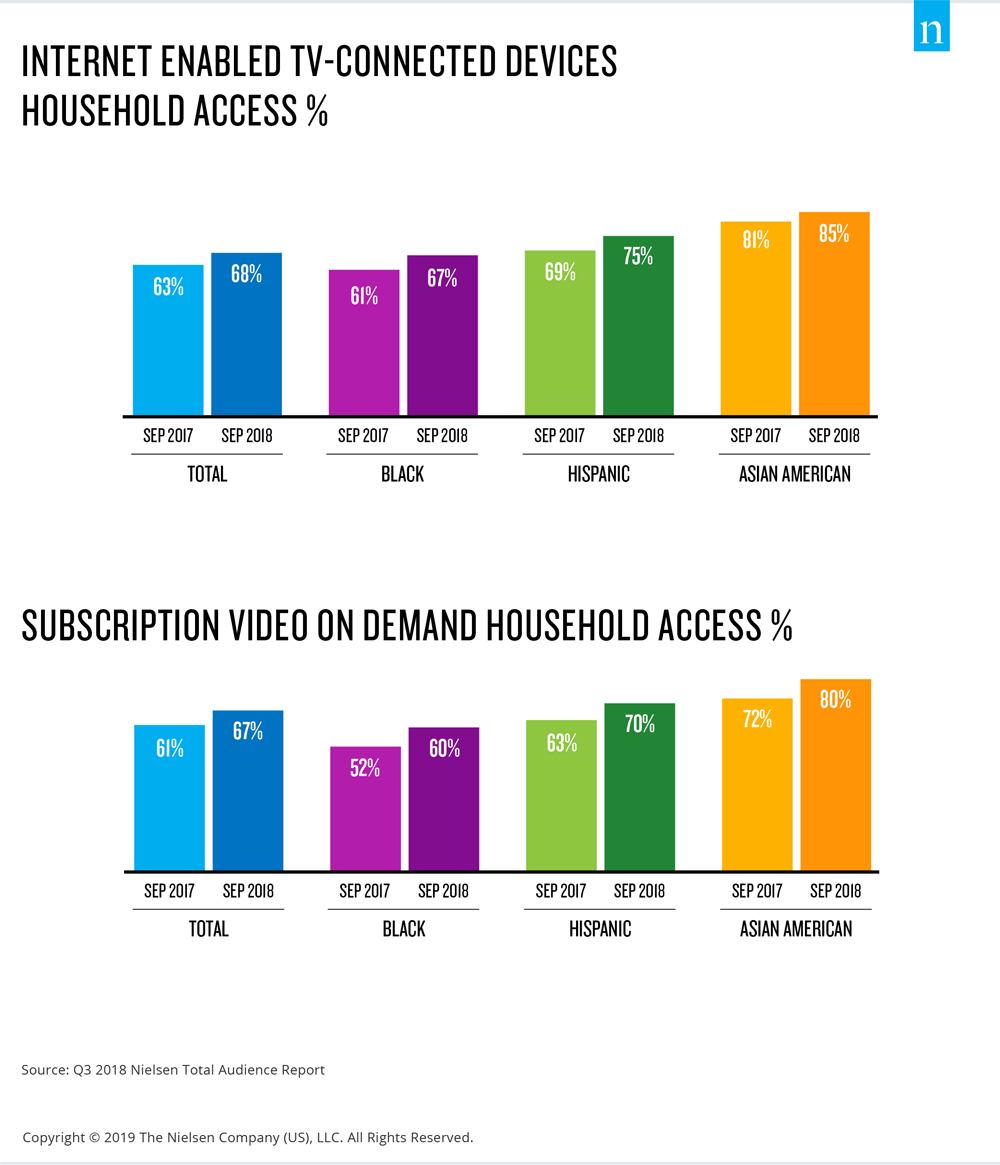 When looking at SVOD specifically, overall household access has jumped from 63% to 68%. Hispanic and Asian American homes, in particular, are big fans of the services, too: About 70% of Hispanic homes and 80% of Asian American homes are able to view SVOD content. While more and more devices become prevalent and affordable, more and more audiences may gravitate towards adding streaming content to their media appetite.
For additional insights, download the latest Nielsen Total Audience report.