In today's digital age, heading to an automotive dealership in person is far from the only way Americans shop for a new vehicle. Devices and technology have introduced a wealth of convenience and choice along consumers' auto purchase journey. And online offerings have proved essential for the automotive industry, like many others, during the novel coronavirus (COVID-19) pandemic. With a rising number of cases in states across the country, many consumers remain cautious. Digital will become more important than ever before, and multicultural consumers—who are younger and more digitally connected than the general population today—will become important leaders in this more digital future.
As auto marketers look to navigate this new reality, they'll increasingly need to think omnichannel when it comes to advertising. TV is still by far the No. 1 source of ad recall for automakers. But a collaborative approach to balancing physical and digital advertising strategies is the key to unlocking omnichannel success. And digital advertising will be essential for reaching multicultural consumers.
When it comes to deciding to buy a new vehicle, multicultural consumers follow a unique and distinct path-to-purchase, often different from the general population. For auto marketers looking to reach Hispanic, Black and Asian American consumers, understanding how these shoppers use digital and omnichannel methods to shop for new vehicles will help you spend ad dollars as wisely as possible in these uncertain times.
Auto advertisers should invest in digital video advertising. It was one of the fastest-growing channels before the pandemic, and new media habits have only accelerated that trend. Digital video comes with improved targeting, measurement capabilities, and it will boost your brand's standing among Hispanic consumers who use it heavily every day. They spend 50% more time watching subscription video and listening to the radio on their phones than the general population and are nearly 2x better than others at recalling car maker ads they see online.
As digital capabilities have grown, the auto industry has concentrated on developing capabilities to facilitate shopping from all angles. The companies that now have those infrastructures in place are well-poised for success. That's because at the end of 2019, more than 54 million U.S. households had become true omnichannel shoppers.
For auto advertisers, a well-balanced omnichannel campaign will resonate well with your Black consumer base. They're avid media users and react more positively to advertising than the general population. Of all the groups in our analysis, Black car shoppers have the highest ad recall for automakers who advertise on radio, on billboards and through direct mail. Their level of ad recall for digital campaigns is just as good.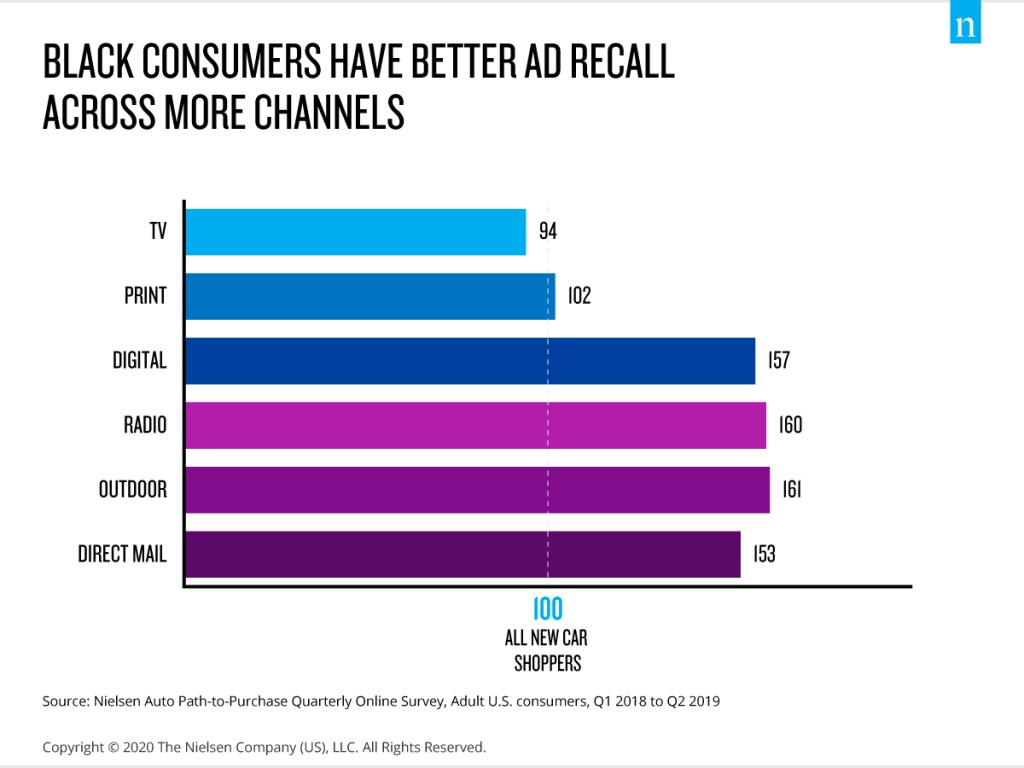 When it comes to digital in particular though, Asian Americans are one consumer group that's leading trends toward online shopping. Approximately 47% of Asian Americans are under the age of 35, making them digital natives. As a result, the group is more likely than the total population to own digital devices. And they're using these devices to shop: 87% have made an online purchase over the past 12 months, which means they're 22% more likely to do so than the general population.
When it comes to auto purchases, Asian Americans actually consider fewer options than the general population across all age groups—except for those that are higher digital media users. In fact, brand consideration among Asian Americans doesn't start to improve until they spend at least six hours a day online. Focusing on heavy digital media users among this group of consumers is key to maximizing your advertising's potential.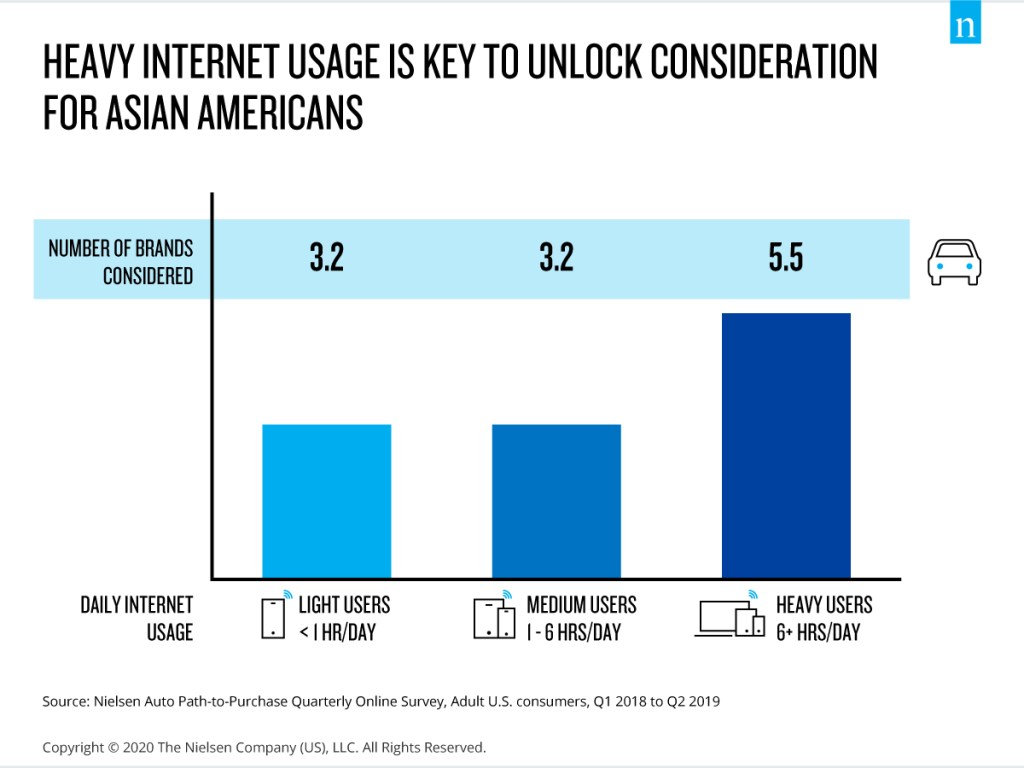 Your media budgets are under scrutiny even on a good day. In the current landscape, that pressure has increased dramatically. Rather than recoiling and waiting for better days to spend again, we think that investing in your multicultural customers today offers a unique opportunity to prepare for the new normal—and get a head start when broad economic activity picks up again.
Download the Nielsen Annual Auto Marketing Report: Drive Connections With Multicultural Consumers for insights into how your brand can develop an effective digital and omnichannel media strategy with these consumers.
Methodology
The Nielsen Auto Path-to-Purchase series consists of quarterly online surveys with adult U.S. consumers. The data collection started in 2012, and more than 250,000 respondents have taken part in this research so far. The data used throughout this report covers the period first-quarter 2018 to second-quarter 2019.