After the triumph of Everything Everywhere All At Once at the Oscars this year, many people from the Asian American Native Hawaiian and Pacific Islander (AANHPI) community were left feeling incredibly proud of that historic night. For one night, the community saw a moment of triumph, for a story and characters that reflected so much of their real-life experiences.
The AANHPI audience has made it clear – through their voices and dollar spend – that they desire for their stories to be seen and heard. In the 2022 Social Tracking of Asian Americans in the U.S. (STAATUS) study — an assessment of attitudes and stereotypes toward Asian Americans — 88% of Asian Americans say they want to see more Asian American characters on TV and in movies, compared with 77% of the total population. Brands and media need to do more to engage the Asian population, and content with Asian representation is winning: Squid Game topped the streaming chart in 2021, Everything Everywhere All At Once dominated the Oscars this year, and in advertising, P&G's campaign "The Name" and Honda's "Through the Window" campaign for its CR-V focuses on the Asian American consumer and their unique experiences. Yet, the question lingers: Will the media and marketing industry embrace more AANHPI representation?
With anti-Asian hate crimes on the rise in the U.S.,1 advertisers and media companies have a unique opportunity to change hearts and minds. Representation is not only the right thing to do; it makes tremendous business sense.
Connecting with America's fastest-growing population and their buying power
Among racial and ethnic groups in the U.S., Asian Americans are the fastest growing, according to the U.S. Census Bureau.
As the AANHPI population grows, so does its buying power — as well as the demand for representation in both content and advertising. When a company's ads are seen in Asian-inclusive programming, it illustrates that the brand sees the Asian consumer, and that it values them. Nielsen's Attitudes Toward Representation research found that Asians are the most likely identity group to say that they are more likely to buy from brands that advertise in content that represents them.
The advertising dollars from brands help fund the content that gets created. Prioritizing spend in Asian-inclusive content is an opportunity to influence the media and marketing industry; it can also affect how audiences see themselves portrayed.
Our study found that a quarter of brands are investing just 6% or less in the programs with Asian share of screen at or above the representation of Asians in the U.S. population. Brands with the most Asian-inclusive ad spend invest almost four times as much.
Affinity within AANHPI community
As AANHPI audiences are drawn to content that represents their community in appropriate, accurate and respectful ways, brands that increase their advertising investment in such content stand a better chance of increasing their awareness within the community. Increased investment in advertising is driving affinity for those categories in the AANHPI community.
For example, Asian Americans are spending more than the general population in fashion, electronics and travel—three of the top categories where brands are investing above-average ad dollars in Asian-inclusive content. Brands in those categories can differentiate themselves through advertising, reaching consumers who are already spending more, but may not already have an affinity for a particular brand.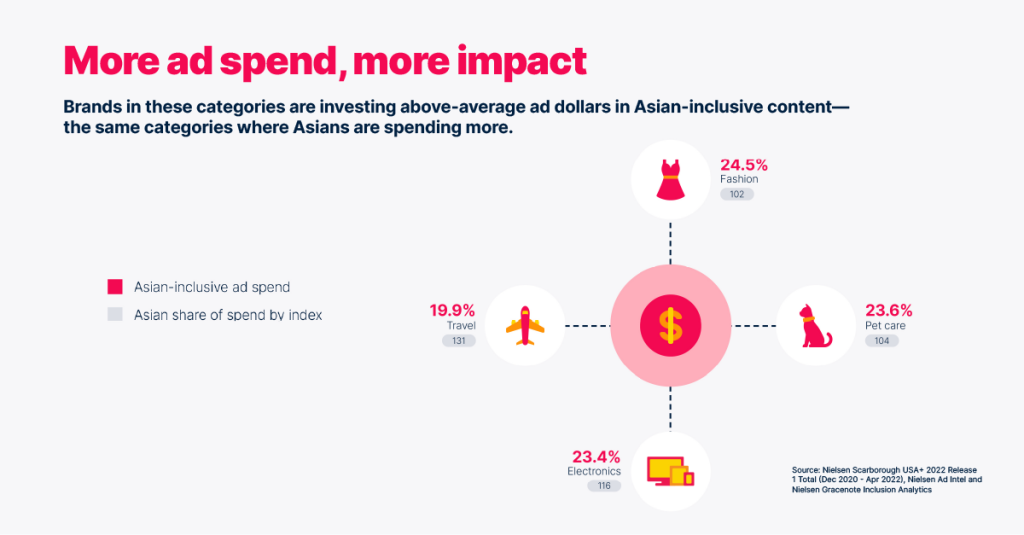 AANHPI representation drives audience engagement
Winning eyeballs is still a key metric when media publishers are deciding what content to greenlight. When it comes to attracting the Asian American audience, viewers are looking to TV to be entertained and informed just as much as they're tuning in to feel seen, connected and inspired. About 30% of AANHPI audiences felt more engaged when a show features a cast member who looks like them, Nielsen's Attitudes Toward Representation 2022 study found. Evaluating Asian representation overall in the top 1,000 TV programs in 2022, we see that streaming video on demand (SVOD) is leading the way, with more than three times the representation of Asians compared with broadcast and cable. No wonder that in January 2023, Asians in the U.S. streamed more content than any other group – 43% compared with 32.8% for the total U.S. population. With people in the U.S. watching more than 19 million years' worth of streaming video content in 2022 alone, this also opens new opportunities for all audiences to engage with TV programs that include Asians.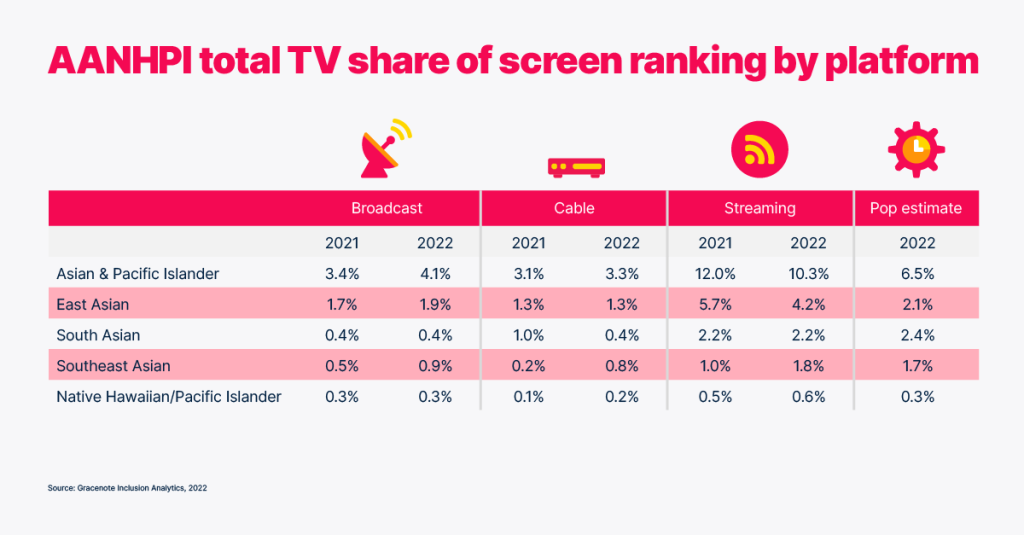 In addition, streaming shows with AANHPI representation are engaging all audiences. In 2022, the top streaming programs with high bingeability score that the total U.S. audiences can't stop watching, also have high Asian share of screen.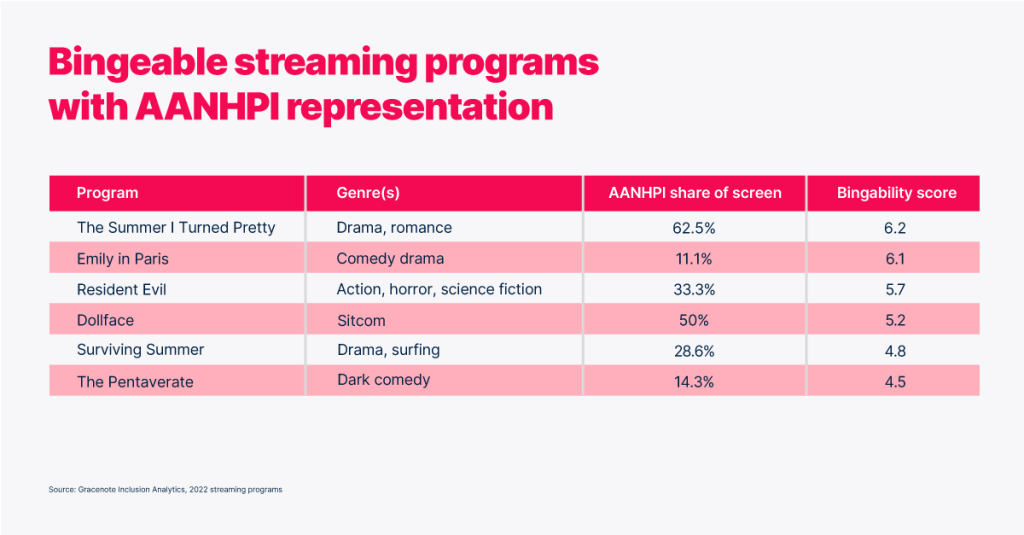 Spotlight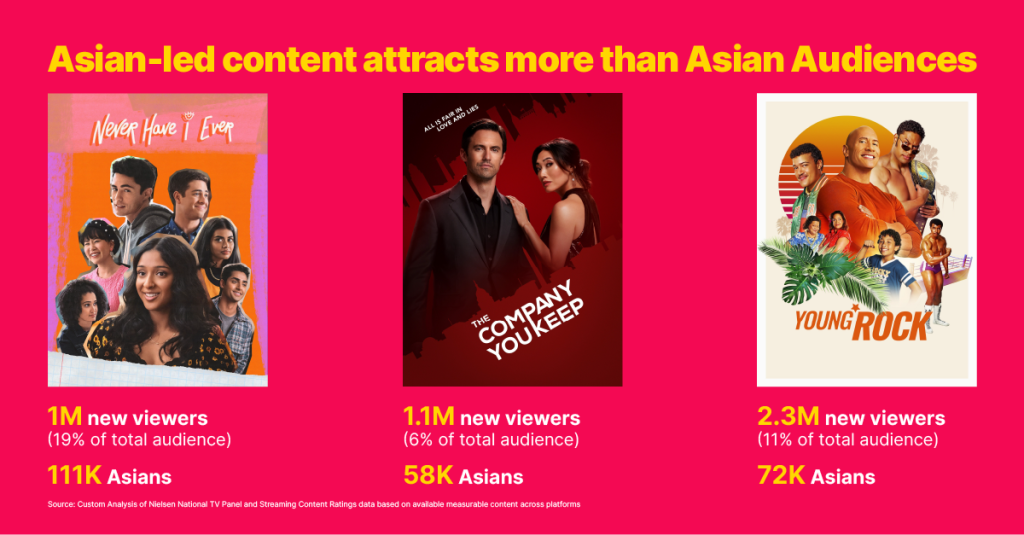 With the ongoing racial reckoning in the U.S., where and how brands show up in content matters even more to communities that have historically been left out of American media. Asian audiences who are still reeling from the effects of anti-Asian hate are continuing to search for content that connects with their experience, showing "people like me" — and are more likely to buy from brands they encounter once they find it. Industry investment in inclusive content opens the doors to a more engaged audience ready to watch content and to buy products and services.
For additional insights, download our 2023 Asian American Engagement Report
Note
1 In March 2023, the FBI reported that anti-Asian hate crimes in the U.S. were up dramatically from the year earlier (746 incidents in 2021 – the most recent data available – compared with 249 in 2020.